1-900-HOTDOG is a virile new comedy site from Internet champions Seanbaby and Brockway. Every weekday, you will behold unthinkable artifacts from the wrong universe. You will grow powerful with laughter. You will learn the elegance of the 7 foundational aspects of the hot dog:
🌭 Monday is Learning Day: By hot dog law, each week begins with a bettering of oneself.

🌭 Tuesday is Punching Day: On this day we, as all hot dogs, fight!

🌭 Wednesday is Nerding Day: Indulge your twerpiest fantasies and leisures, weiner!

🌭 Thursday is Fucking Day: I see we have your attention, ladies.

🌭 Friday is Upsetting Day: Happiness is for the weak. Embrace the disappointment of deranged failure.

🌭 Once a month, there is Reflecting Day: We must all take time to look at what our mostly-beef frank has done and answer for it.

🌭 Once a month, there is Teamworking Day: Because if you try to spell TEAMWORK without MEAT you only get KORW. What the fuck is KORW, you asshole?
Free updates come twice a week, while some material is so dangerously beefy only our Hot Dog Heroes can safely witness it. Your mind can prepare only for the vaguest of expectations! Your body cannot prepare at all! 1-900-Hotdog! It's not a phone number!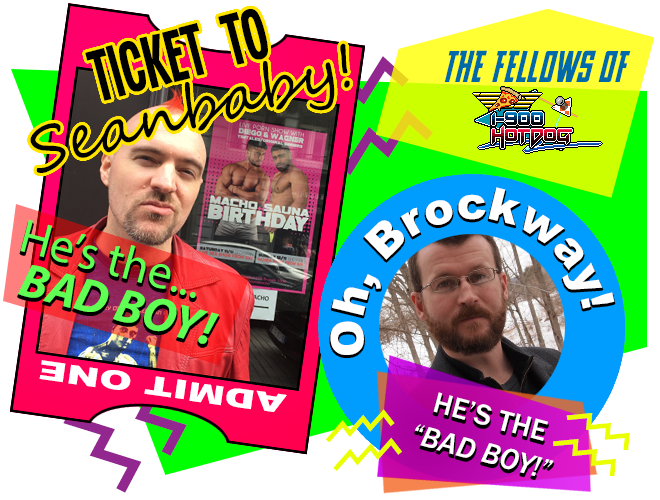 Seanbaby invented being funny on the Internet. Follow him on Twitter and play his acclaimed mobile game Calculords.
Brockway is a professional word puncher and author. Follow him on Twitter and buy his books on Amazon.
Credits:
Here we honor our Hot Dog Supremes. Those whose love of comedy drove them to make the ultimate sacrifice: $50.

NickH: The "what" in every "my god, what could have done this?"
Rhia: Whose name means "irresistible all-beef" in every language.
Nick Ralston: Villain Monthly's two-time Handsomest Lair Intruder.
Jaber Al-Eidan: The bard of every party, be it D&D, Superbowl, or political.
Zdarfan: The unstoppably chinned maniac with no Maniac License.
3 Finger Louie: The Blues legend banned from every musical venue past, present, or future.
John: The reason no truck-stop bathroom stall has a functioning lock.
Dean Costello: The Meanie of Weanie, the First Chair Cello of Hot Dog Jello.
Matt Reiley: Our only patron at any level with no criminal food fetishes.​DatFMCobalion: Once saved two internet comedians from a sexy jet-ski accident and all he got was this lousy credit.
Eric Spaulding: The only man alive who remembers the Berlin Foosball Massacre from an erased timeline. Pity him as much as you envy him.
Neil Bailey: The undisputed shogun of Kansas City (Missouri, not Kansas; that is GapeWulf territory)
LaziestManOnMars: Might be lazy but he made it all the way to Mars. The fuck did you ever do?
Neil Schafer: Was voted 'Most Likely to Fuck a Whole Mountain Range' Senior Year, and while he hasn't succeeded yet, you have to admire the way he tries.
toasty god: duly elected mayor of uncooked bread.
Ethan Rangel: half wolf, half cop, half cyborg, and all wolf again twice, for a total of 2.5 wolves.
John McCammon: who left fighting behind him, at least until Baron Arena took his daughter.
Hawk: and that's pronounced with eight additional seconds of silent eye contact.
Armando Nava: whose name is an anagram of how they were conceived: a rad van moan.
Lyman: a magnificent youth who brandishes the magical broadsword, Lycheaper! 
Micah Phillips: joins together with four other pure-hearted warriors to form Zorklon, Protector of the Cosmos! He pilots the left leg — the invaluable left leg!
Josh Fabian: who spends montages nodding yes to every single hat you try on.
Michael Love: who came here to do two things: kick ass and watch you as you realize there isn't actually a second thing.
Cale Block: who only now, this sentence, realizes he is being hunted by a Showtime Pizza robot band.
Zach Harrison: winner of the Kumite with fastest face punch with also kick and spin (174 mph).
Brianne Whitney: who discovered the scientific formula for diagnosing a crew of being "through" or "2 legit 2 quit."
Timmy Leahy: the true meaning of Christmas.
Mike Stiles, on whom the story "The Robot Who Fell in Love with Mike" was based.
​Aidan Mouat, the Patron brought to you by the new Arby's Edible Six Cheese Sandwich Mask with Cheese.
​Adrienne Hisbrook, who has gotten away with every human crime and six dog ones.
Zachary Evans, who fills every room with his boisterous spirit, and also bees.
Yossarian, who will burn this place to the ground unless they change the Sonic movie back.
Josh S, who appears whenever you whisper "Beefbod" six times while looking in a mirror.
Ken Paisley: The Shogun of Slam, the Daimyo of Damn, the Tenno that's a straight ten, yo.
Dr. Awkward: The 5th dentist when they say "4 out of 5 dentists recommend Crest."
Benjamin Sairanen: The hidden secret face unlocked when you beat Mount Rushmore.
Jamie Gordon: who was not listed in the UFO papers and would like for it to stay that way.
​Lane Haygood: Undefeated Heavyweight Champion of eating a whole burrito and regretting it.
Rich Joslin: If a jetski could be a man, it would be honored to be called Rich Joslin.
Jeremy Neill: the man, the myth, the reason your favorite Golden Corral shut down.
Michael Rader: the Supreme and Unquestionable Holy Ruler of the Chuck E. Cheese Ballpit.
Alpha Scientist Javo: the first of the Scientists Javo, and *gun cocks* one day the last.
Children Love the Meat Milly: who is already under investigation, arrested, convicted, and now executed for that name. RIP.