Hello to you folks, I have learnt of a recent news situation what I think is being mispresented and probably un-understood in important ways and I am of a hope that I can use this Hot-Dog ''Megaphone'' (a metaphor) to provide a claritizing light in a way that will promote kindness and compassion in these some times.
I am sure you all saw this same news item across your smartphones and maybe desktops: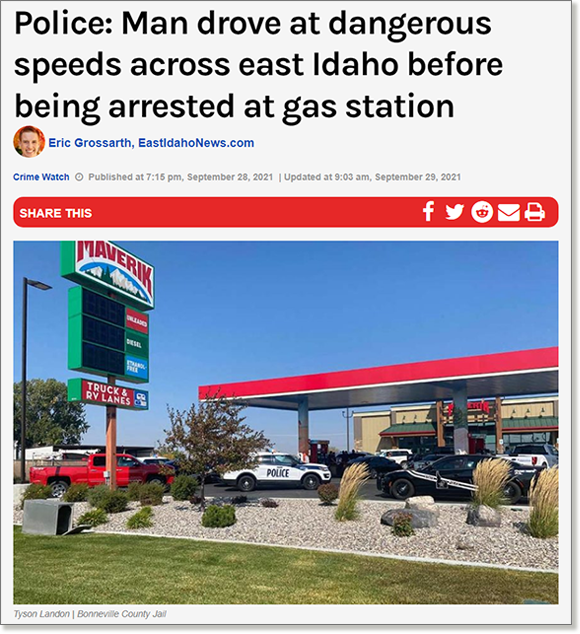 Whatupon we read that a Idaho man, last name of Landon, drove a Kia at 120 mph to a Maverik Adventure's First Stop Gas Station and then got out and yelled at the cop who followed him. Landon said the eff-word to him and then went in the Maverik and then came back out and was doing push-ups in the parking lot even though there was one half empty and one all empty vodka bottles in the Kia. Which maybe our natural first reaction would be to say that's crazy or just 'whoa' or maybe come up with a goof like the people in the comments:

Which I can see why that's a editors' pick my aunt Nancy had a Bonneville that thing drove like a pig got into the budwiser. But even though we too might want to make sport of this man's enigmantic behavior what seems confusion and irrational and so stupid to us, remember what the eastideahonews.com has also taught us:

So it might be that if we were to look closer, with perhaps a experienced Adventure's First Stop Guide who remembered to bring a mostly full bic lighter into this culvert of dark and mystery, we might look past our judgements to instead see Landon's humanity and truth. I volunteer to be the guide feller because, as some of you may know, I am somewhat of a officianado of all matters Maverik and I think you'll see that I bring some competents to these matters. You could definitely say to me: Is the Bonfire Grill (that's what they call where you get food in Maveriks) your favorite restaurant or something?
And I could only answer YES
If we PROPOSE that there is a innocent or at least understandable motives for the man Landon's behavior we don't gotta think that long before a probably truth comes floatin up to the top of this big fountain soda, to with:
1) this Landon fella had that specific hunger you know, where your SUPER hungry but still somehow only for one thing. In his case, a item only to be found at the BonFire Grill and nowhere else, so he was just
2) MOVIN ASS to the Maverik out of fear and worry that whatever he was so hungered for would be already sold out.
3) And then cops etc etc.
So for us pretty much all we got to do now is figure out which specific BonFire Grill Item it was what enticed Landon for our Hot Dog Duty to be discharged, and maybe we could tell his attorney in case it would help. So, (Ad)Venture with me, please, into the under the bleachers of The Maverik Adventure's First Stop Gas Station Bonfire Grill!
I will be rating the food entries up on these final categories:
🌭 CLEVER NAMIN
🌭 PHOTOGENICS AND OPTICS
🌭 OF COURSE THE TASTE
🌭 BATHROOM COURAGE REQUIRED
🌭 LEVEL OF SASS FROM PUNK COUNTER WORKERS IF YOU ORDER IT
On that last one because: if its just FayLynn working the grill we don't got a problem, she's a lil older and nice enough. But othertimes no matter how good you know a Deli Item is gonna be, if you also know that that Hawkins kid is at the counter and he's gonna make some crack about you for eatin it, then even if you do firm up, and stand without hitchin, and order it anyway your gonna be so probably just UPSETTED that it wouldnt taste good anyway.
So there's our rubrick, and please note that the last two are reverse scored so a higher score is always more positively-minded!
ITEMS:
SEASONED BEEF & TOT BURRITO
CLEVER NAMIN 6/10
This one really doesn't need to be that witsome, the words of "beef" and "tot" have obviously already got us on the hook but it's the unspecified "seasoned" that i found intriguin and bumped this from a 5 to a 6, for me (the season was pepper i think)
PHOTOGENICS AND OPTICS 8/10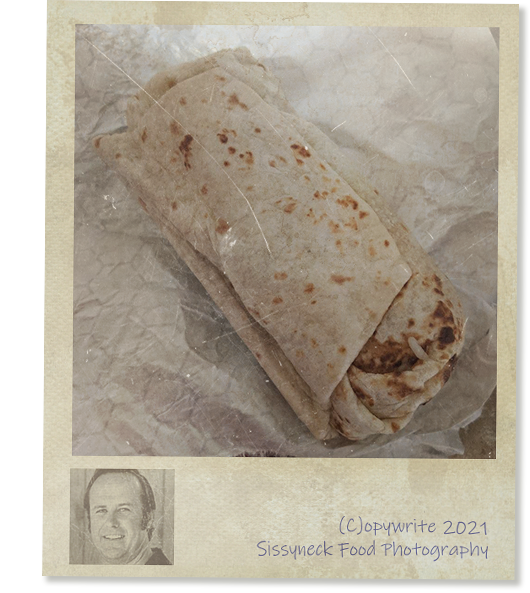 Honestly it looks like you'd hope, I meant to take a picture of the inside but once I bit it I just kinda forgot cuz it was…
OF COURSE THE TASTE 9/10
Yep, really tasty this feller don't think I added that heinz sauce cuz of lackin FLAVOR nope it's just I am just a little bit of a hot sauce nut
BATHROOM COURAGE REQUIRED also 9/10 (GOOD)
the roughage from tortilla and tots I think balanced out whatever grease-affect the beef may have had so my bathroom visits did not change in frequency or intensity or viscosity
LEVEL OF SASS FROM PUNK COUNTER WORKERS IF YOU ORDER IT 3/10 (BAD)
I thought this would be a safe one because I didn't have to say a funny name when I asked him for it, but that little Hawkins shit, he's just gonna put his claws in cuz when I asked him for it he said: "Oh are you sad that they don't do the TotBox anymore?" Which yes of course I am and I started to nod but then I realized he said it in like a mean teasing voice, so I know he didn't have really sympathy, so I said "No" and then a business-professional "Thank you" and left but it took about 5 or 6 bites before I could really taste it I was so mad
LUMBER JACK'D BOWL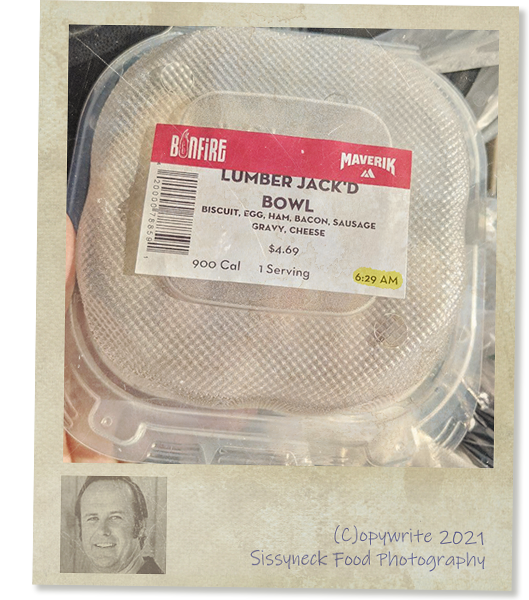 CLEVER NAMIN 9/10
'JACK'D' I think has like three meanings here:
1) Paul Bunion
2) You'll get strong if you eat it, and it's like
3) Jack-Full maybe? So that is efficient marketing communication of multiple good images direct in to my head
PHOTOGENICS AND OPTICS 9/10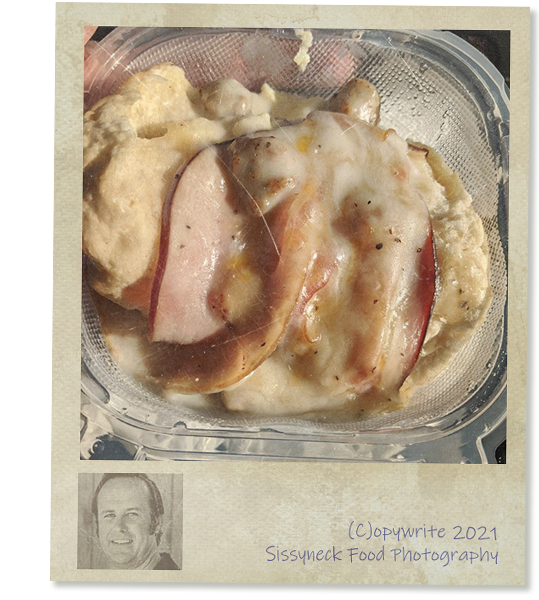 I really appreciate the stagin of this one because there is alot going on ingredient-wise here, but the conciensouss consumer STILL needs to be able to quickly check that there all there before gettin in the truck and leavin and then havin to turn back if they forgot the ham. And try it for yourself: just sweep your eyes quickish across that image and man you can just visible all three meats so clear and the cheese is melted but not enough you can't see it and just great job here
OF COURSE THE TASTE 7/10
Even though it sorta seems like you should take at least one maybe two things out of this to make it good, I was surprise that it all still "worked for me" and I enjoyed my breakfast quite a lot. So now your sayin 'so why didn't you give it at least a 8/10' and I know you'll agree once I say it GRAVY IS IMPORTANT and this was lackin in tang
BATHROOM COURAGE 6/10 (MIDDLE)
Moderate eyewatterin: seems it gathered up on its tang levels as it made its passage of me
LEVEL OF SASS FROM PUNK COUNTER WORKERS IF YOU ORDER IT 9/10 (GOOD)
You'll note the "6:29 AM" timing on the package? Guess what little Hawkins shit's shift's start's at 6:30? Yup, you guessed it and I knew that too, so I got there in a strategy known as 'early' and had a nice little chat with FayLynn bout 'you think we're gonna get a sunrise today? haha just kidding i bet we will' – and then I only had to avoid eye contact with Hawkins as he was comin in at the door (WITHOUT his name badge i noticed). So that's a little victory for the day and it honestly was nice to have another 20 min just sittin in the truck before work started sometimes I don't slow down on my own enough i think
OH it's Jack Cheese so I guess their was a four thing, maybe this biscuit mess is a little too smart for me
PORK RIB BUNDLE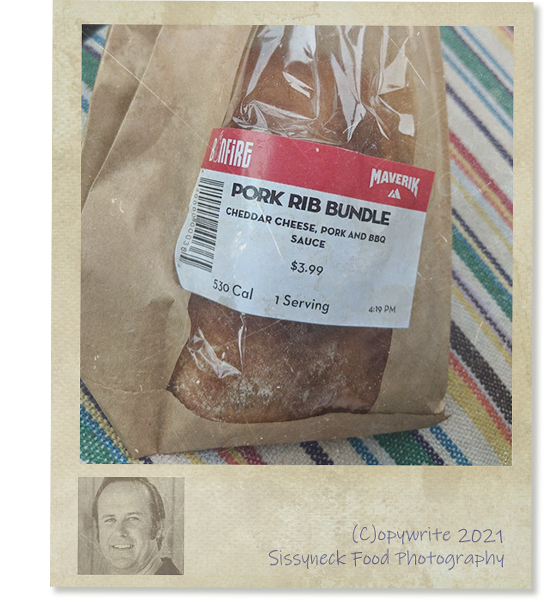 CLEVER NAMIN 7/10
Nothin too fancy but callin it a "bundle' is good I think, makes you feel like it's a spy package or a maybe chosen-one baby your spiritin away somewhere like in Willow
PHOTOGENICS AND OPTICS 4/10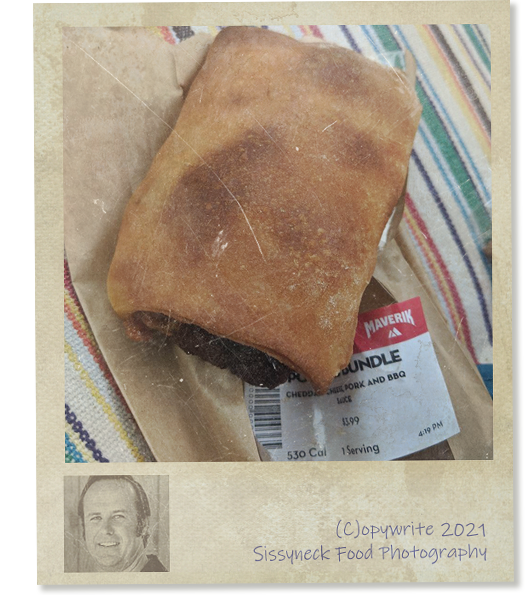 I mean you can tell its burnt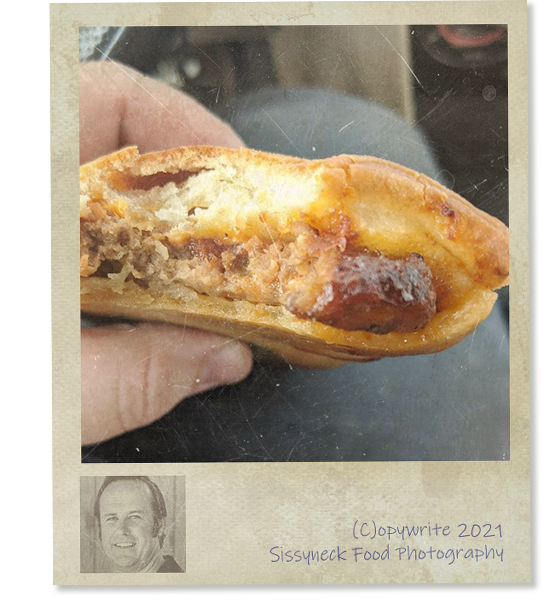 And also just from lookin you can see the regret is gonna initiate way before the hunger ends
OF COURSE THE TASTE 3/10
This one has maybe the biggest gap between gustatory promise and digestive realty. It should be good! It was s'posed to be good! I guess maybe under different circumstances it would be, you can tell I gambled by goin in there at 4:19 pm: While there was a chance of gettin a fresh new supper-time bundle, you can see I lost big this time by gettin a holdover from the lunch rush.
BATHROOM COURAGE 1/10 (BAD)
Just real rough, lots of trips to the toilet, all of em disappointin. Penny from the front desk, I told you i'd let you know when this "piece' was "up' to maybe look like a big man but that was before I wrote it so if your readin this I'm sorry for how I left it in there I didn't think you'd be the next one in.
LEVEL OF SASS FROM PUNK COUNTER WORKERS IF YOU ORDER IT 2/10 (BAD)
Whew pretty high, I tried to pre-counteract any hassle from the Hawkins kid by explaining that this is actually a business lunch for a online publication but this didn't shut him up like it did in my head. He just laughed and asked which online publication and when I said 1-900-HOTDOG he laughed even harder for some reason and even FayLynn did too so maybe I need a badge or a lanyard next time?
MACACACHOCOCHICORICONUT COOKIE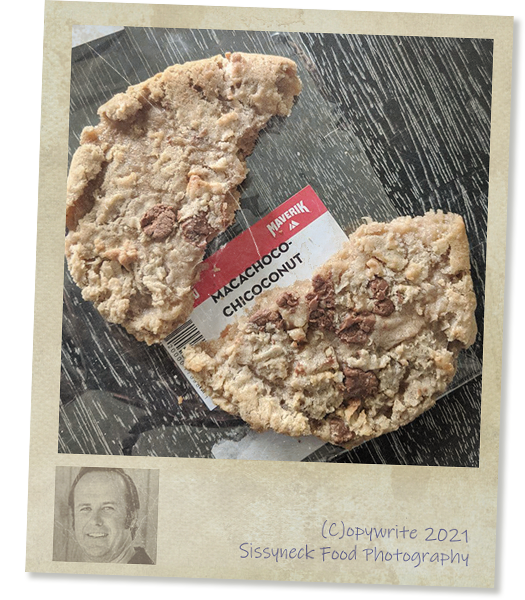 CLEVER NAMIN 5/10
Its actually 0/10 for when you have to say it aloud in the store, but then 10/10 when you and Larene are goofin on tryin to say it on the way back home and you just KNOW neither of you are gettin' it right but that just gives you both the giggles and then here comes Trayton with trying to do a RAP SONG of it and I hope Larene doesn't pee her pants in the truck again
PHOTOGENICS AND OPTICS 10/10
Tell me your mouth aint water even a little bit when you allow your gaze to ling 'er
OF COURSE THE TASTE 10/10
Real real good, enough to drive any sadden memories of pork bundles right from your mind
BATHROOM COURAGE 9/10 (REAL GOOD)
Almost perfect but there was some anal leakage the specific characteristics of which I remember all to well from the 90s so I can only surmise that Olestra is involved here somewhere. But still very worth it don't get me wrong
LEVEL OF SASS FROM PUNK COUNTER WORKERS IF YOU ORDER IT 1/10 (REAL BAD)
Cause when I just say 'coconut cookie please' he acts like he doesn't know what I mean and if I point at it he still acts confused and is like 'sir if you can tell me exactly which bakery item you'd like I'd be more than happy to get it for you,' and I'll say this for him he's got the Hawkins patience (his grandpa was a hell of a fisherman) cause he waited me out probably a full 5 minutes of tryin before I got it right
BREAKFAST WAFFLE SANDWICH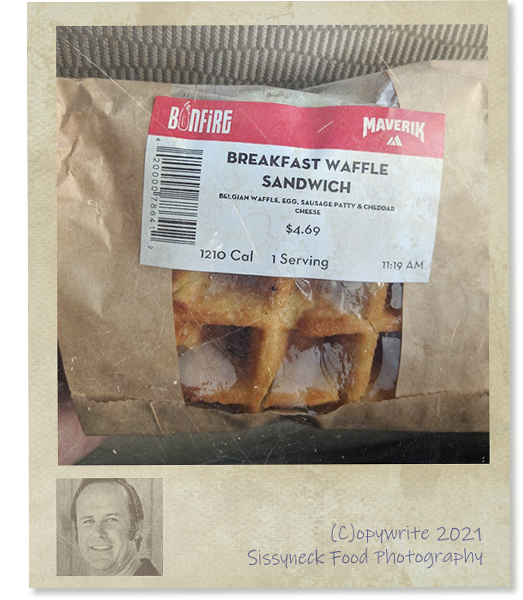 CLEVER NAMIN – 0/10
Well well isn't this interestin, on the website this one has a differnt name: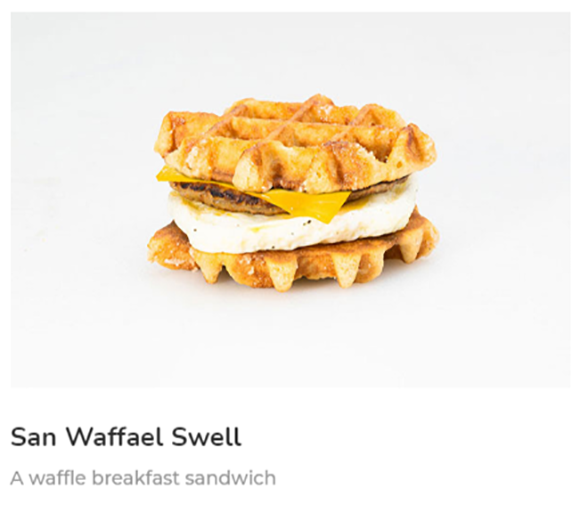 Which maybe someone told them the name was a little pretendious, but if your gonna change the name pick somethin fun like 'The WAFFLY GOOD ADVENTURE SANDWICH' – that didn't take me very long at all for example.
PHOTOGENICS AND OPTICS 7/10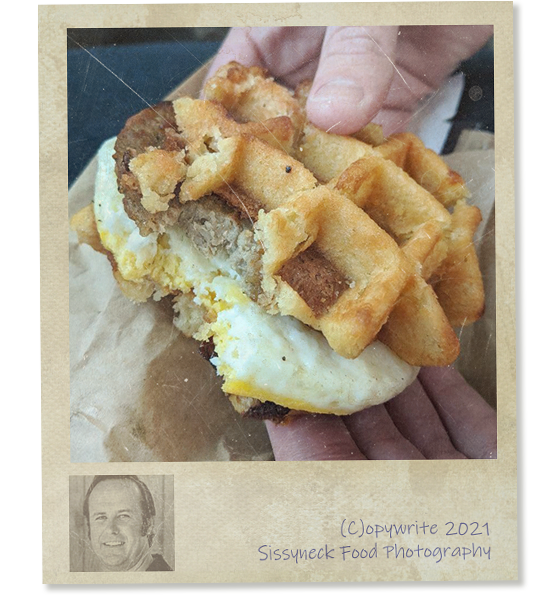 Well a coward's name does not a foulsome treat make, she looks good and also…
OF COURSE THE TASTE 9/10
Tastes good too! If you'll endulge me in playing fancy for a minute: me thinks me tongue doth a-spy a touch of maple extract in waffle, sausage, and mehaps in egg and cheese also?
Hahaha thanks for going along with me here if you want to talk fancy back in the comments that could be fun
LEVEL OF SASS FROM PUNK COUNTER WORKERS IF YOU ORDER IT 2/10 (BAD)
Surprisingly bad here again. I thought it wouldn't be cause this one seems like it's a nocuous, but dammit that Hawkins twerp was reading all the information aloud and REAL loud like he was showin off on me for FayLynn, and he was like "1210 calories in this sandwich, I read when they do starvation research they only give them 1200 calories a day so make sure this isn't the only thing you eat today so YOU don't starve." And I said 'don't worry i'm still plannin on eating lunch and dinner too' and he said 'no sh– dumba–' and I left without even getting any ketchup packets for this one.
BATHROOM COURAGE 5/10 (MIDDLE)
I think the thing with the Hawkins kid just left me so demoralized that the bathroom troubles here didn't even really register. I was like one-a those poor dogs the CIA tortured into learnt helplessness (he ain't the only one readin' up on psychology findins) but: there was bathroom troubles.
Now I know at this point what some of you are thinking: what's going on here? Why is Mr Neck not even talking about the most obvious suspect, but let me elucidate on why:
NOT A REAL SUSPECT OF CONSIDERATION AND WHY I THINK SO: CHORCHEEZO BURRITO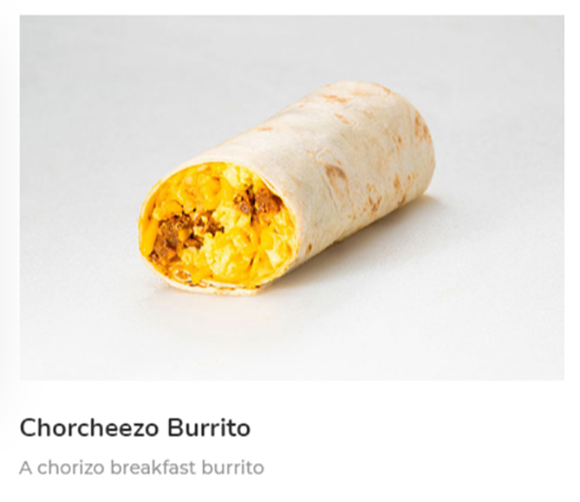 This is the item I would lift a heavyish object to uncover or run a moderate distance to achieve or climb a pretty scary watertower if there was one up there. They are just so tasty BUT here is where my Maverik's experience helps us all avoid a red hairing. You see, the bathroom courage level required for one of these it's not even on a scale of 1-10 more like a million, and even with my years of BonFire experience and daily training – yes even I can only abide about one of these fellas once a month or so, or the O-ring itself starts to degrade and structural integrity goes WAY down.
Now just to test my theory I went back yesterday and got me a Chorch to see if they changed the recipe with any toilet-amelioratin effects. I was so intent on eatin it and really just experiencin the taste and texture of the thing in the moment that I forgot the Hawkins kid was there – FayLynn wasn't working in fact nobody else in the store at all, it was just me and him watching me real close until he said:
"Don't those things do a number on your pooper?"
And all I can say was that the purity of the chorcheezo here-ness and now-ness had cleared away all ego and insecurity until there was only honesty and willin vulnerability and it was from this place of No-Self Truth, askin nothin and needin nothin, that I answered:
"Son, I can't think of any bigger tragedy than dyin with a intact asshole."
And I don't wanna pretend there was high fives or hugs like I might have imagined in the past, but you know what there didn't need to be. He gave me a manful nod and maybe even the lil'est smile of respect too and that is sufficient, to me.
Anyway that burrito still shit me up somethin' bad come 2:30 through 4:30 so its disqualified from this deduction.
FINAL GUESSTIMATIONS
So now we have narrowed the pool. Have you sorted it out yet based on the clues from the news story and these descriptions, what food item it was that led a man into such pushup madness? Ill tell you it was none of em!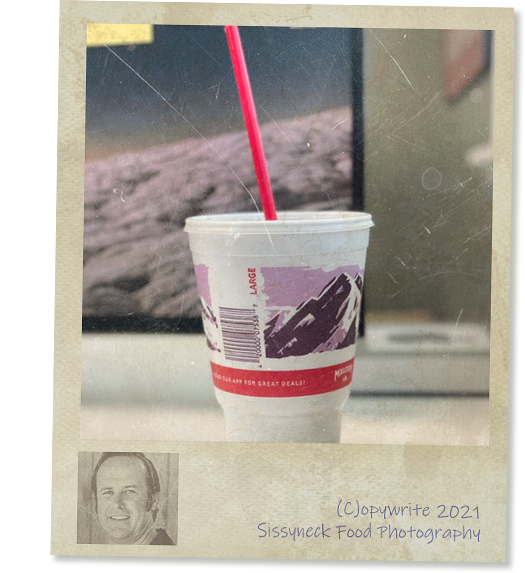 That's right! It was the simple fountain drink all along! It might seem cheap to you that I didnt include this one as a suspect in the write-up until the end here but I thought that doin' it this way would for sure make it seem like I'm the smartest one.
And so it is with a pride of a mystery well-solved that to you all I say: til we meet, til we meet – you, me, Landon and hell even that Hawkins kid, he's still got time and his dad was a decent man – til we meet at Jesus' feet, in the name of Jesus' Feet, amen.
PS sissyneck would like to acknowledge a gratitude for the assistances and GI sacrifice of one L., one S., and one M., in the preparin and researchin and goofin of this article.