Fucking is simple. Find the hole or surface of your choice and apply friction until your mother is ashamed of you. Technology made fucking complicated. The internet drove fucking insane. Let's talk about Hololive, which is a Japanese Vtuber talent agency for Idoru camgirls.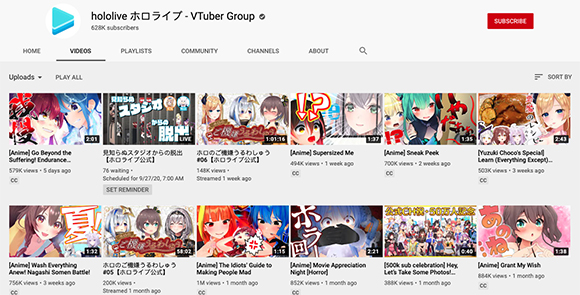 If you lead a wholesome and balanced life, that last sentence was the least helpful explanation you have ever read. You probably got through "let's talk about" just fine, and then looked at the computer like a dog looks at a vacuum cleaner for the rest. Here are several explanations that will make you a slightly worse person for knowing them.
Vtubers are YouTube stars that use digitally created avatars to represent themselves online.
Idoru are manufactured media stars whose personalities and actions are assigned or created.
Camgirls are sexy ladies that pretend to orgasm online so men can carefully consult a list and send them the appropriate blender they believe that orgasm warranted.
Let's put it all together: Hololive is a collection of real women operating digital cartoon puppets whose identities are controlled by an online talent agency, and whose primary job is to help nerds who have disassociated with reality have an interactive orgasm.
Aren't you glad you learned this today? Don't you feel enriched?
I'm serious about the disassociation. These are not actresses playing a normal role — check the talent section on the agency's website and you won't even find a mention of a real person.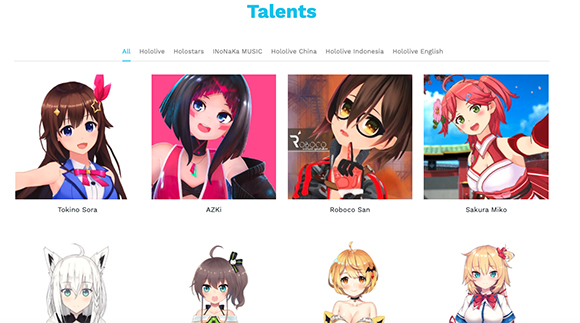 They are never allowed to break wank kayfabe. This is deep anime shit all the way down: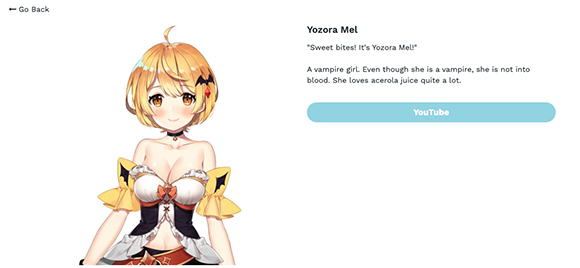 This one's a cute vampire! She'll help you masturbate! That's not your thing? Don't worry! There are robots you can pretend to bang, dog-girls, witches — whatever you need to maintain maximum psychic distance from the real world while you rub one out.
Here's a girl whose whole schtick is that she's technically a child, but she's also really a dragon who looks like an adult woman with debilitating tits wearing one-third of two different shirts.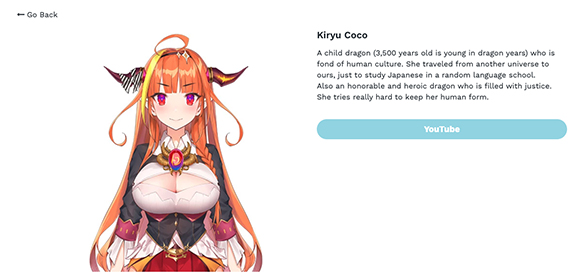 That's actually a pretty standard anime loophole for creepy nerds trying to confuse their FBI agent. But the tricky thing about Hololive is that it's not all wank material: They also put on cutesy little skits that scan as just straight-up cartoons. They're animated instead of mocapped, they're directed, they have a script, and the only fan interaction is in the comments. For all intents and purposes, it's just anime, and that gets these clips put in front of a younger audience in a less sexual context. Your mom probably won't even sigh heavily at you if she walks in to see you watching something like this!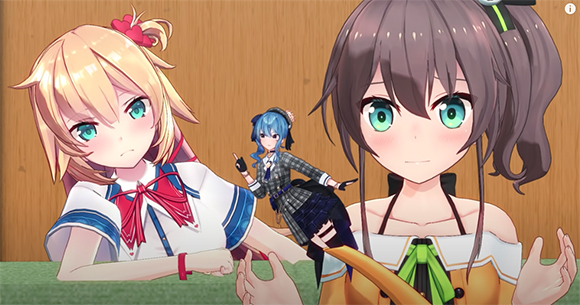 Not heavily!
But that's the hook. You like those skits? You like these characters? You can interact with them live! They pull the girls right from those sketches — same character design, same voices, same personality traits — and have them do livestreams using mocapping and digital avatars. Complete with all of Japan's many interesting problems.
They're not always sexy. Maybe one is just a cute anime girl dancing with teddy bears. You can chime in and tell her you like her moves!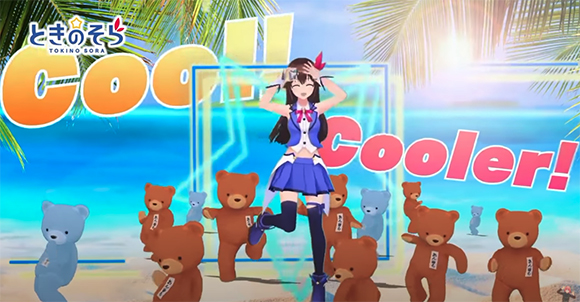 Maybe one is a fake radio call-in show with a demon shadow frog: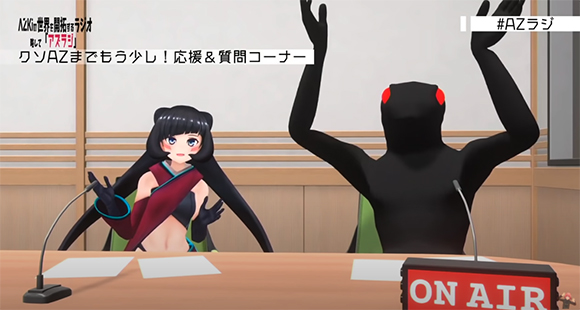 You could call in and pretend to have questions only a demon shadow frog can answer. "What are ponds like in hell?" You could ask, and it would respond "ribbit [screaming in your grandmother's voice] ribbit." The cute girl would giggle!
Maybe it's an edgy english lesson: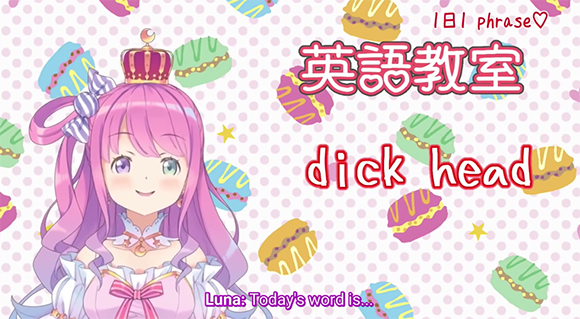 And you can type along with her live! She'll teach you how to spell 'dick' and you won't even know the psychosexual damage that's doing to you until you grow up and can only get off to porn parodies of spelling bees.
You could just watch one awkwardly chase a star around your grandma's wallpaper.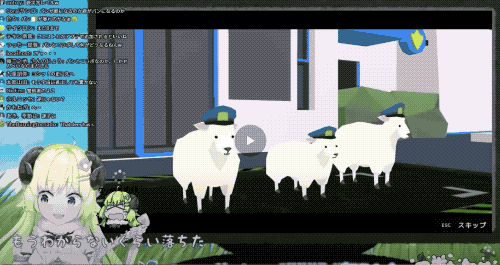 And tell her how much she sucks at frisbee. While you're there, ask her what the fuck those sheepcops were about.
Those are the innocent ones. Others just brush up against sexuality like a salariman on a crowded train. Here's the lolli were-dragon complaining about those, again, absolutely life-ruining tits of hers: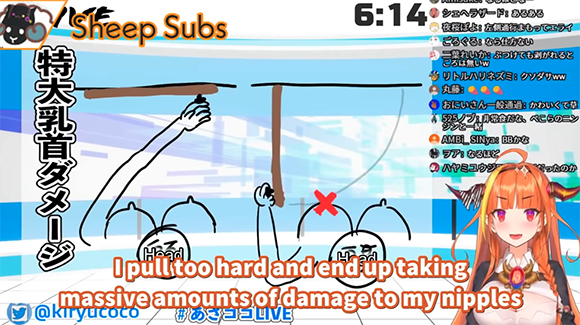 These are the ones that get so big the algorithm has no choice but to start recommending them. People are constantly stumbling in with no context only to find themselves neck deep in an incomprehensible nerdmire.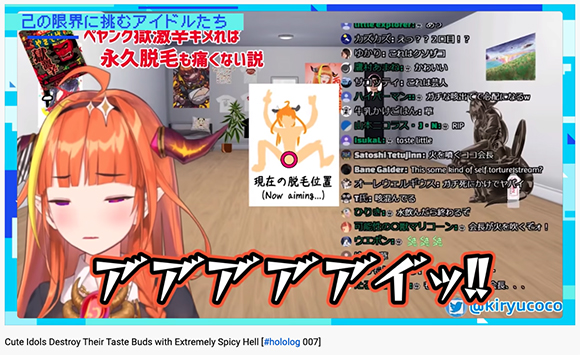 I do not understand, or even have a guess as to why there's a crude drawing of her with crosshairs centered over her crotch, but at least I went looking for this. Check the chat: BaneGalder up there just stumbled in, webweary and exhausted, only to find a big-tittied toddler dragon eating spicy foods and making sex noises. With all the resignation of a soldier returning from the front, he asks: "This some kind of self torture stream?"
Here's the debut of a worryingly young-looking were-shark girl. She's filling out her application so otaku can know her biggest fear as they jerk off later.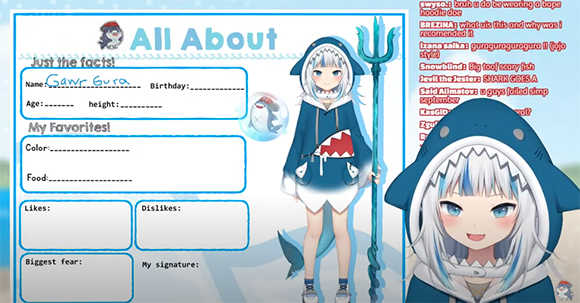 Check that chatlog again: Brezima just turned left instead of right and now they're in an alternate universe they can almost recognize but never comprehend. "What uis this and why was i recomended it" they cry, but in this universe everybody speaks pig, and the only answers they get are squeals.
Fuckin' Diablo down there even has an anime avatar: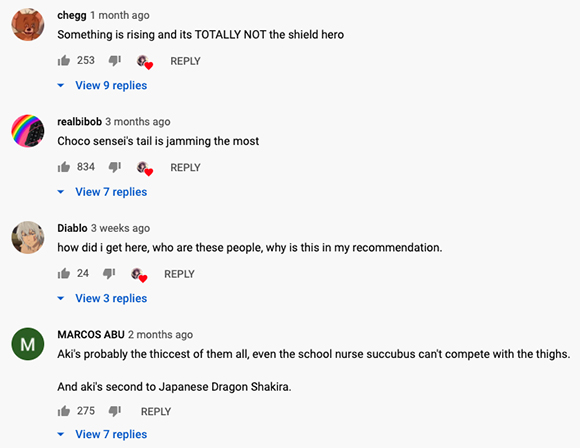 And he is still utterly befuddled by the many confusing layers of abstraction surrounding this pornography. Because — stay with me – we'll get to the pornography! The tamer stuff is just to get you attached. Because once you're in a chatroom with your favorite 7th grade cartoon were-dog and a credit card, they know you're…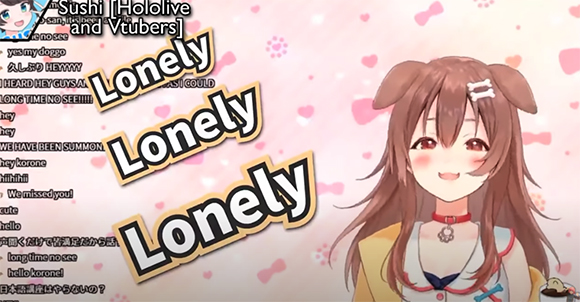 That's when they drop some of the pretense and get right to the sex stuff. Here's where those 'language lesson' videos invariably wind up: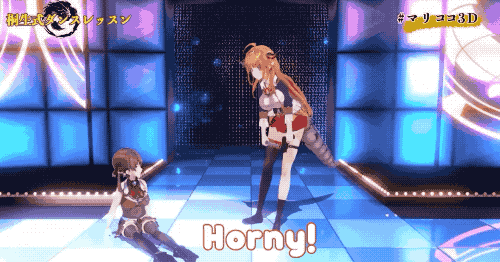 And thanks to the freedom of this embarrassing cyberpunk fetish, they can do some real weird shit: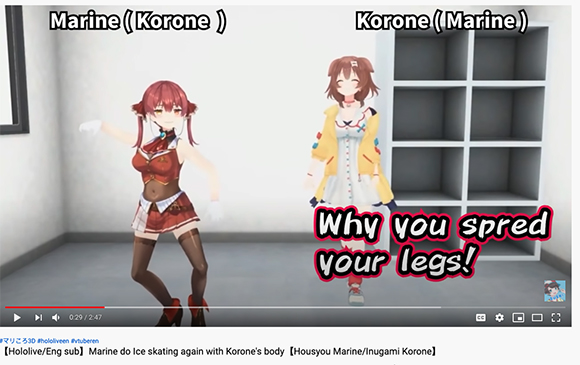 Those two actresses switched digital avatars, then had to watch their own bodies do things as another girl piloted them. It's like the Freaky Friday fetish you never knew you had until right now: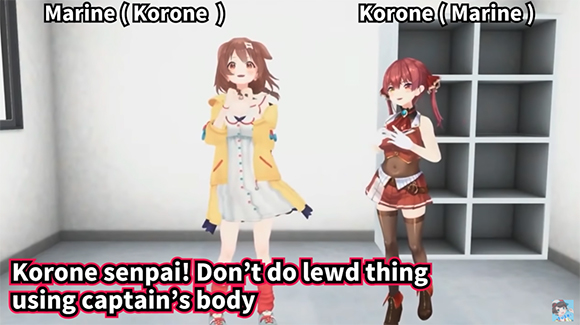 Yeah, check this out: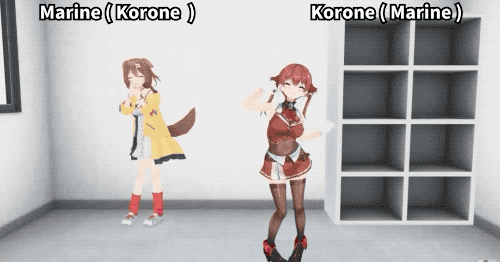 The owner of that body is just standing in the corner, looking away, trying to reconcile themselves with this disturbing new world of lost autonomy — that's part of it. That is part of it. That's like booping the clown nose in normal porn; it's just not complete until you hear the honk.
Remember: There's no nudity allowed on YouTube, so a lot of these wankstreams are kind of tame. I'm not exactly a prude (I don't mean to brag, but you need to go at least three nested subcategories deep to find my jams on Pornhub) so these PG-13 'sexual situations' do not offend me. I only bring it up to prove that yes, this is absolutely a sex thing. It's not a fine line these girls are walking: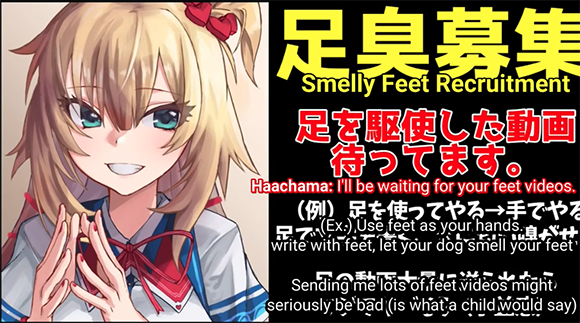 That schoolgirl who was so concerned that somebody else was piloting her body? Here she is hanging out with the dragon-child: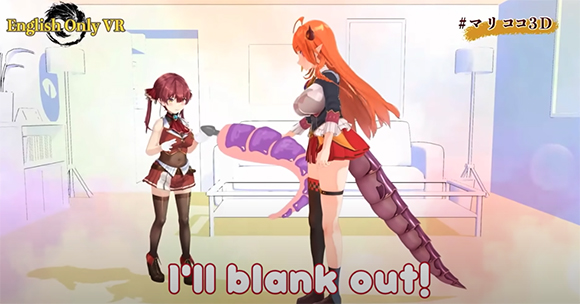 That is exactly what it looks like. Schoolgirl made a rookie mistake and mentioned how fun it looks to have a tail. Anybody who's stumbled drunk into the wrong Sea-Tac hotel and then tried to use the bathroom only to find it was the last night of Yiffycon and they'd just crossed the DMZ ropes could have told you that — but they won't. They won't ever speak of it.
We don't cut away or anything — these two mime the entire insertion process, as the schoolgirl struggles and cries out: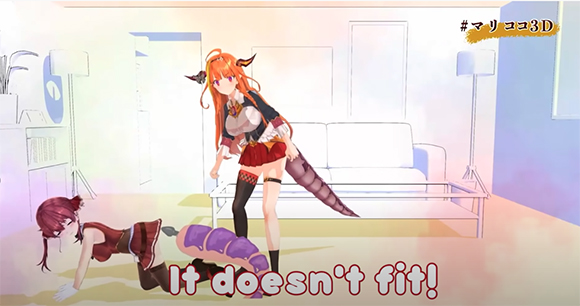 This is all on YouTube. I'm sure this particular video is flagged so it doesn't get recommended to random children looking for cartoons, because I'm a naive optimist. But that's why they have those wholesome skits for the kids to enjoy! Nothing wrong with the algorithm plugging those. Then the kids can follow those same characters into a livestream for the other kind of plugging.
Please remember that these girls are actually alone in an empty room somewhere, hundreds if not thousands of miles apart, each miming half of a sex act so their digital avatars will look like they're stuffing things in one other's asses.
This is what I mean when I say fucking has gone mad.
Needless to say, this is all way more popular than you think — every video in the hundreds of thousands of views, many in the millions — and more profitable than you could ever guess. What does a normal camgirl call a good night's work? A few thousand bucks? And that's for showing her actual body.
Here's one of the lesser known sexy anime puppets making $12,000 dollars in about twenty minutes.
To be fair, that doesn't happen every stream. And not all of what they do is open for donations. I'm sure the agency takes an unhealthy cut. I'm not going to extrapolate out how much they make a year doing this, and say it's too much. That's not my business. But I will say: You can hold a full-time job in the US today and barely clear 12k in a year.
If you'd found me at 23, working graveyard at a gas station, and told me I could make a year's pay in twenty minutes by doing an anime girl voice while I work a cartoon puppet, I would have invested my first week's pay in Mime College just so that my dragontail buttplug insertion would be utterly flawless.
It's not all fun and ass-games for the girls, though. These talent agencies operate on J-POP band rules with a corporate culture somewhere between Wal-Mart and Scientology. Step out of line even a little bit and you'll get 'graduated' — what they call dismissal.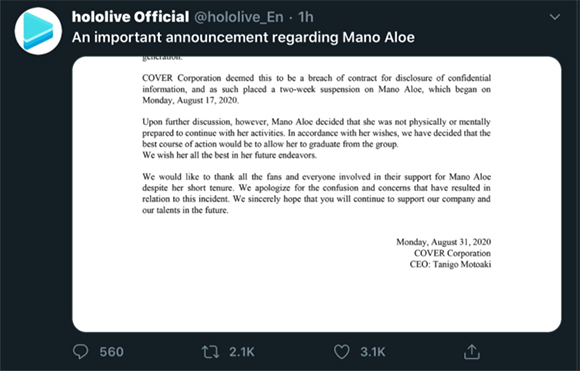 That post above is written so that her departure seems voluntary. The fan wiki doesn't seem to agree: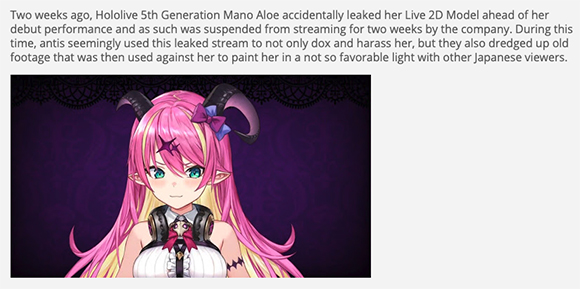 And holy shit — their 'retirement' page is downright ominous: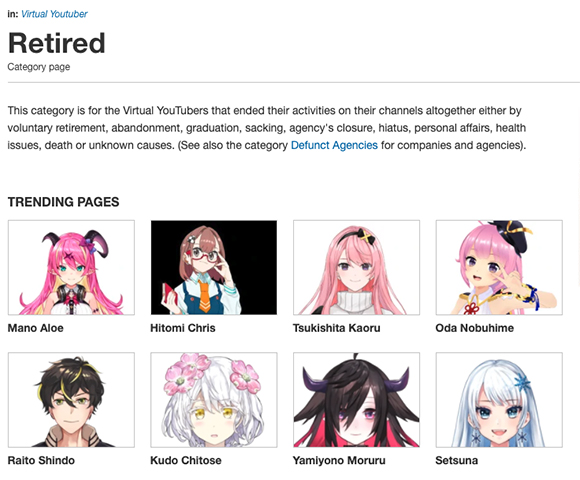 I read through all of those, and I didn't see a single mention of one dying or disappearing from unknown causes. But you know what they say about warning labels, right? Everytime you see 'don't eat the silica packet' it's because one time, somebody did that.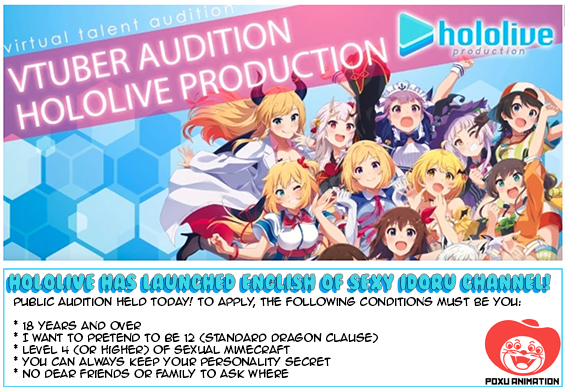 This entire world is separated from ours by so many impenetrable walls of sheer nerdery that you can stumble into a mass masturbation session where thousands of real dollars are just flying across the screen and you would have no idea what you're looking at. "Some video game thing," you'd assume, and then go back to knitting sweaters on a boat or whatever it is normal people do. And every single inch of it is designed as a slippery slope to get young people to click on a funny cartoon right before their whole life takes a waterslide straight into a dragon's vagina.
I want to be clear that I feel for the girls involved in this. I hope one day they get sick of the mysterious disappearances and unsolved murders that apparently plague the anime sex puppet industry, and finally get a chance to unionize. We will stand by them.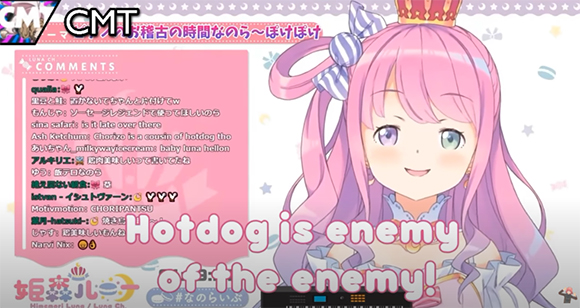 This article is brought to you by our fine sponsor and Hot Dog Supreme, Dr. Awkward: the 5th dentist when they say "4 out of 5 dentists recommend Crest."