Everyone has that moment when they realize an experience from their youth they assumed was universal was, instead, unique to their weird household ("Wait, you're telling me your family didn't have a Christmas carol called 'Santa's Throne of Scrotums'?"). Recently, I was stunned to find out that not everyone had seen the raunchy 1986 sex comedy Hamburger: The Motion Picture dozens of times, and that, unlike me, they couldn't quote large sections of it verbatum. In fact, only 9% of my Twitter followers have seen it, unless they just didn't want to feed a social media platform one more shameful secret: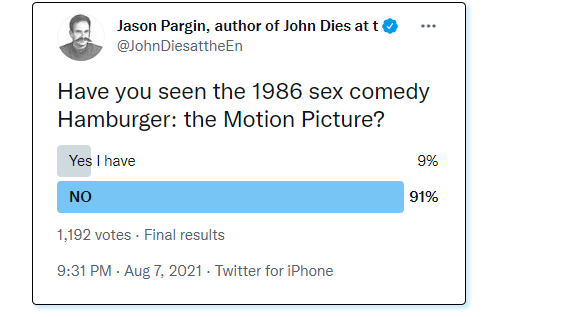 To put that into perspective, this means that of the nine members of the Supreme Court, it's statistically possible that not one of them have seen the raunchy 1986 sex comedy Hamburger: The Motion Picture. In an average NBA game, probably only one player on the floor has seen it (Klay Thompson). The next time you watch the movie 300, think about how only 27 of the Spartans had seen the raunchy 1986 sex comedy Hamburger: The Motion Picture prior to their glorious deaths.
As with most things, the modern media landscape is to blame: In my youth, our TV had something like six channels and outside of prime time, most of the programming was game shows and wildlife documentaries (and after midnight, they literally just went off the air). There was no method of buying or renting content — this was before we even owned a machine to play VHS tapes. But at some point, my parents sprang for HBO and it was fucking miraculous: A 24-hour network that just played movies all the time. "This," I remember thinking, "is the beginning of a life spent gorging on so much media that I'll have severed all ability to communicate with real human beings by the time I'm old enough to drink."
Looking back, I should have noticed HBO wasn't nonstop The Godfather and Raiders of the Lost Ark. Like Netflix today, their business model involved filling out their library with trash they'd bought for a song. As a result, when I was in middle school approximately 20% of their schedule was Hamburger: The Motion Picture.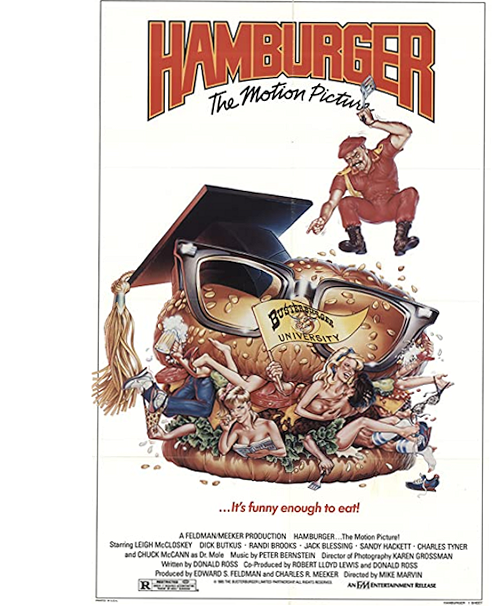 This is what mass media used to be like, kids: You had no control, you just waited with your mouth open for the universe to dribble in something good. Thus, any time you turned on the TV, there was a pretty good chance you'd see a slapstick scene involving a man being raped at gunpoint on a huge novelty hamburger bed.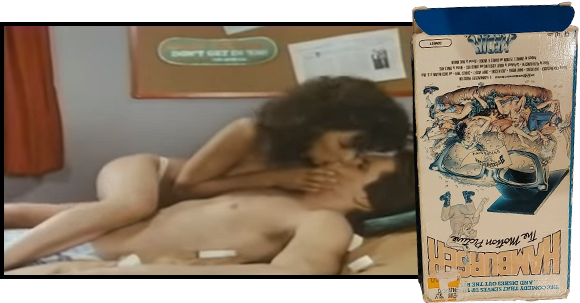 That was Hamburger: The Motion Picture in a nutshell and I loved it! I didn't know any better! When you're twelve and a media conglomerate is feeding you content on a loop, you just assume there must be some reason for it. This film has a wacky scene in a Chinese restaurant where their menu includes dishes like, "Gang Bang Fu", "Sesame Chicken Balls", "Wung Hung Lo" and "Mao Tse-tung." "This is real comedy for adults!" I would say out loud to my best friend, Nobody. "They wouldn't show it so much if they weren't proud of it!"
Today, you won't find this film on any streaming service and, in fact, it never made it to DVD. IMDB's trivia page claims the production company went defunct before getting a distributor and that today, nobody is sure who even has the rights, in the way that nobody is eager to claim the weirdly long turd on the dance floor. Here is the entire film on YouTube. WARNING: Includes gratuitous nudity, repeated female-on-male sexual assault and a scene in which a man performs oral sex on a woman while she eats ribs and former NFL great Dick Butkus watches.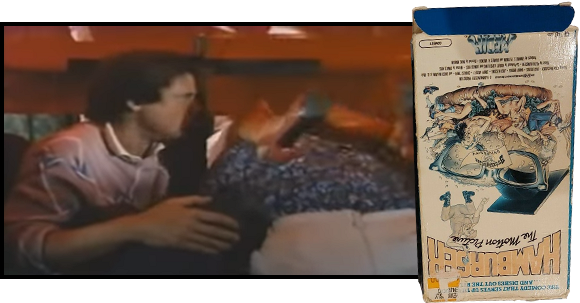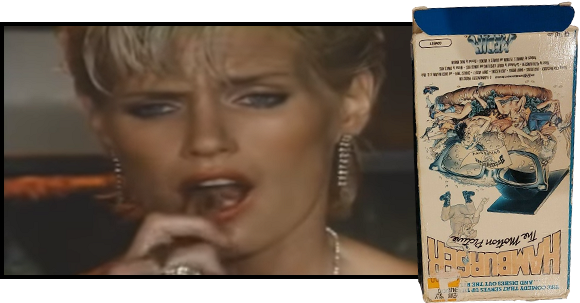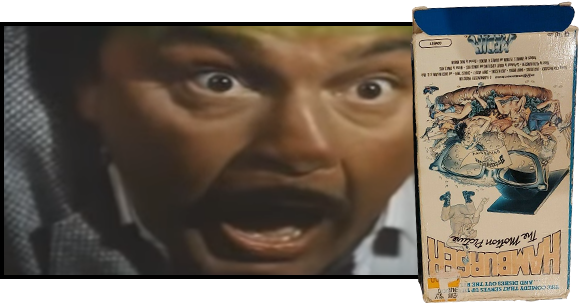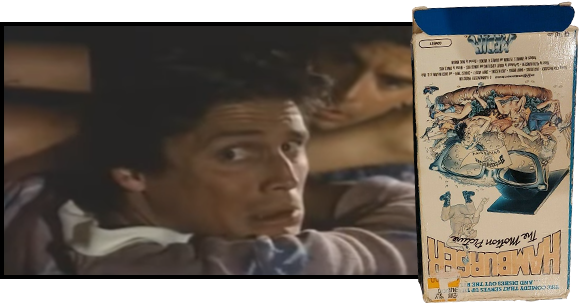 You may have guessed that I recently revisited this movie and, unlike literally every other comedy made in that era, it doesn't perfectly hold up. The setup is typical 80s sex comedy stuff: Russell Proco is a college student played by a 31 year-old actor who looks 40. The central joke is that he's so hot that women keep forcing themselves on him and, as a result, he has been kicked out of four colleges for having sex. You've all known someone in that situation. Got kicked out of their university? For having sex? When confronted about this problem by the hot female dean at his latest school, he tries to explain himself but is interrupted when she, too, sexually assaults him.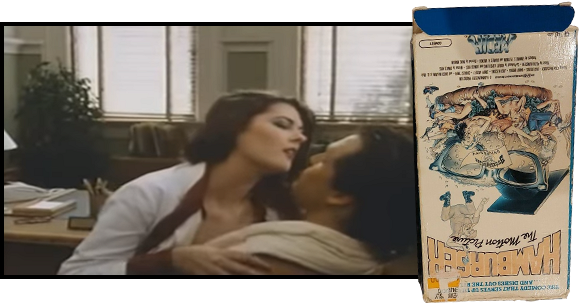 This is a personal crisis, because in true '80s comedy fashion, Proco learns from his parents that he will not get his inheritance unless he earns a college degree. So, he decides to attend a university run by fast food chain Busterburger to become a franchise manager or whatever. But on the very first day, the stern instructor (Butkus) informs the new students of their most important rule: No sex at Busterburger University! Also there are armed guards and no one is allowed to leave.
It's a classic comedy setup that perfectly encapsulates the struggles of the 1980s American male: Between you and your dreams is a swarm of young babes scrambling for your hog like it's a loose ball in the end zone. No, I have no idea why the generation who grew up on this movie gave birth to Incels. Instead of recounting the rest of the plot, I'll just describe one sequence and from that, you can extrapolate the rest:
We learn early on that one of Proco's fellow students is a hot young woman who is, in the film, said to be from the war-torn Central American country of Guacamole. The character's name is Conchita Margarita Consuela Maria Lopez Mezzanine. The running joke is that she's from a foreign country and exists.
The scene begins with Proco's horny male roommate exiting their dorm room. Proco immediately hears a knock on the door and says, "Don't tell me, you forgot your dick." Conchita then bursts into his room wearing only panties and brandishing an Uzi, screaming, "I WANT YOURS!"
Then she grabs him by the hair and propels him backward at gunpoint. The following exchange ensues:
Conchita: "Conchita Margarita Consuela Maria Lopez Mezzanine never takes no for an answer! Now strip!"
Proco: "What?"
Conchita: "Your clothes, you take them off, you make love to me now!"
Proco: "Conchita, there is no sex at Busterburger U!"
Conchita chambers a round into her Uzi and points it at his heart.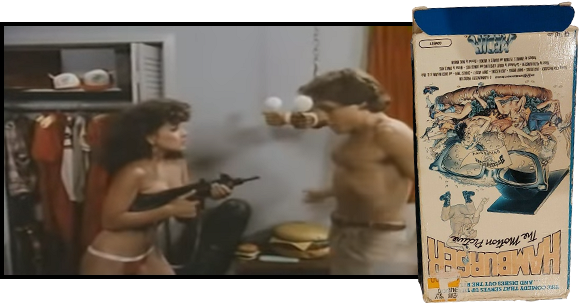 Proco strips to his underwear. She kisses him.
Proco: "Satisfied?"
Conchita: "I will tell you seven orgasms from now!" She pulls his waistband to check his penis. "Make that eleven!"
Proco: "It's just not my day!"
Conchita: "You will do as I say, or I will scream rape."
Proco: "Conchita, can we talk about thi-"
Conchita (screaming): "RAPE!"
Proco covers her mouth and shushes her, leading her to his bed which, again, is shaped like a giant hamburger.
Conchita: "Tell me, what would you like the woman to do to you?"
Proco: "Nothing!"
Conchita: "Nothing? Then what excites you?"
Proco looks like he suddenly has an idea.
Proco: "Oh, tall, dark, sexy, sweaty, suntanned guerilla fighters…"
Conchita: "Oh, si, si, si."
Proco (adopting a stereotypical flamboyant "gay" voice): "Like your brother!"
Conchita: "No!"
Proco: "Yes! He's spent a whole day fighting in the hills, single-handedly killing half a dozen government troops with his great big machete! At sunset he comes home and I'm waiting for him by the campfire!"
Conchita recoils in disgust.
Conchita: "Oh, you fruitcake!"
She literally spits on him.
Conchita: "What good are you? I come to this country to find a real man. And I will!"
Proco (in his "gay" voice): "Bitch!"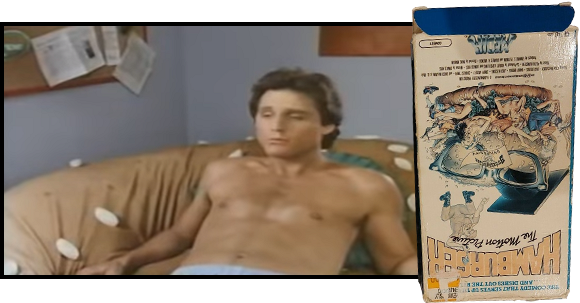 That scene was, for young me, what "Let it Go" was for little girls in 2014. My family would quote this movie to each other like college dudes used to quote Anchorman. "Mia! And Mia's momma! MOMMA MIA!" That sentence wasn't nonsense to 9% of you! And to them I say, "Put down the cookies, motherfucker!" By that age I'd only seen Star Wars twice (once in theaters, once when it came on network TV) but I'd seen this shit enough that I could play it in my head. "It's tasty, by God!"
As far as I can tell, the only thing interesting about the making of this film is that the director was named Mike Marvin and, based on his IMDB, he was banished from directing for several years and forced to change his name upon return: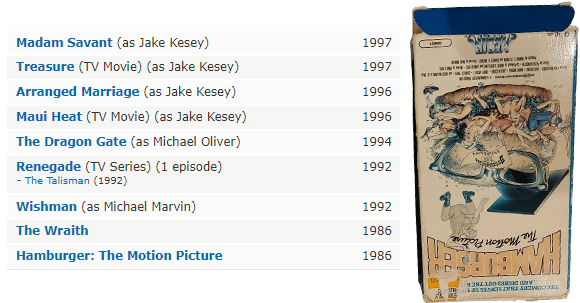 And then, there's the theme song.
When I ran my Twitter poll, most respondents said they'd never heard of the movie… but the rest replied with some version of, "HAMBURGERS! FOR AMERICAAAAA!" That's because this film opens on a weirdly sincere burger-cooking montage under a song that will be stuck in your head the rest of your life.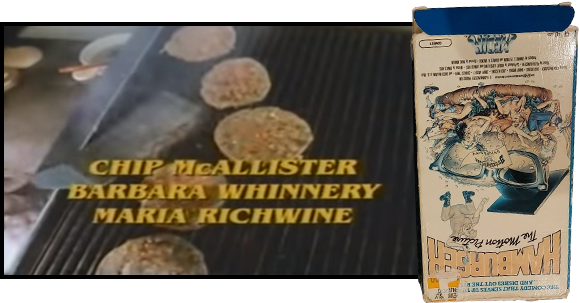 It's at the beginning of this YouTube video, with the rest of the film appended to the end in case you want to keep watching:
It's not a wacky comedy song, or a hilarious montage of dudes getting hit in the groin with hamburgers before being assaulted by hot female sex predators. It's literally just stock footage of people cooking and eating hamburgers, over an entire song that is, with zero irony, about how hamburgers are good. It's like the pump-up opening to a team building seminar for the National Cattlemen's Beef Association just before one of these guys takes the stage to wild applause.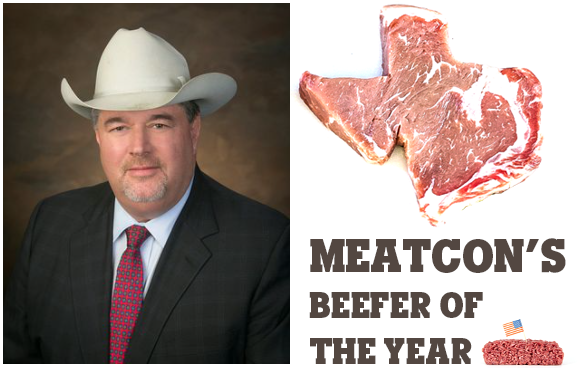 I'm going to transcribe the lyrics below:
♪On almost any corner of almost every town
On every lonely highway you'll ever travel down
You're gonna find a burger shop
Americana, mom and pop
How long there ain't no telling
That they been out there out there selling♪
♪Hamburgers for America (yeah)
Hamburgers for America
It's in their blood, it's their tradition
It's almost like they're on a mission
Selling
Hamburgers for America♪
🎸 [Guitar Solo] 🎸
♪If you're standing still and listen
You can hear them in the kitchen
You can smell the Frеnch fries frying
And you can hear the paddiеs sizzling
Sliced tomatoes
Cheese and bacon
Soda's poppin'
And shakes are shaking
And while you're listening and looking
It makes you proud to know they're cooking♪
♪Hamburgers for America (Hey yeah)
Hamburgers for America
Cookin burgers ain't exotic
But some folks say it's patriotic (Yeah)
Hamburgers for America (Yeah)♪
♪Hamburgers for America (Alright)
(Hey) Hamburgers for America
It's in our blood, it's our tradition
It's almost like we're on a mission
Hamburgers
Hamburgers♪
♪Hamburgers for America (Yeah)
Hamburgers for America
Cooking burgers ain't exotic
But we all know it's patriotic (Huh)
Hamburger
Hamburgers
Hamburgers for America♪
This goes on for the first three minutes of the movie! It gets me stoked for hamburgers in a way that no hymn ever got me stoked for the Lord.
"Jason, why would you bring this movie to our attention, was it just so we could hear that song? Surely you have some kind of a point!" I do! There's this thing movie critics used to do when they'd tear a comedy apart, which is pack their review with jokes to prove they could do it better than the film's writers. That said, here are some quotes from the New York Times review of Hamburger: The Motion Picture:
"If the Food and Drug Administration labeled movies, the warning on 'Hamburger' might be that it is likely to cause heartburn… The script, cooked up by Donald Ross and served by the director Mike Marvin with the finesse it deserves, uses epithets as its monosodium glutamate… Somebody must have told the waitress to hold the laughs."
That's right: As hacky as this movie clearly was, the criticism was somehow worse. It was low effort all around! And that, friends, brings me to my point.
My unique brand of optimism isn't that the present is great or that the future is bright, but that the past fucking sucked a hundred times more than anybody gives it credit for. I'm not talking about the Middle Ages, either; I'm talking about the actual youth I vividly remember. There's this filtering process that makes everybody lose their shit about '80s-era entertainment as if my world back then was wall-to-wall Back to the Future and Ghostbusters. Not only was approximately 40% of my total film minutes watched consumed by Hamburger: The Motion Picture (a good chunk of the rest was Cobra) but I was missing what we all take for granted today: That second level of well-crafted media devoted to examining the junk.
A few years later, we got a full cable package with Comedy Central. I saw an episode of Mystery Science Theater 3000 that aired at midnight and my life was changed forever. If you have any belief that art can corrupt, then you have to think that a 12-year-old today stumbling across the 2021 equivalent of Hamburger: The Motion Picture would benefit enormously from the fact that he'd almost immediately be inundated with YouTube essays — or columns like this — tearing it apart, some of them longer than the movie itself.
I unironically think that it's amazing that outlets like this can exist in the way that songwriter Jack Turner and vocalist Blue Miller were unironically amazed by the existence of hamburgers. Some of you still think I'm doing a bit, that it's ridiculous to focus on something so inconsequential in a world that is so clearly doomed. I'd ask you only to imagine this:
You're you and suffering through the same 18-month-long pandemic with no end in sight. You're locked down, unable to go see movies or concerts or even gather with friends without some apprehension. The only difference is it's 1987. There is no internet, you don't even own a computer — no YouTube, no podcasts, no Twitter. The only books are the dusty volumes available at the public library or the shelf full of Tom Clancy paperbacks at the pharmacy. If you're lucky, you own an NES, but games are over $140 each (adjusted for inflation) and your local department store has exactly four of them on the shelf. You're trapped at home and literally your only tether to the outside world is your TV. And, when you're up late, only one channel is still on the air. That means that night after night, for hundreds of nights, the only light in the darkness is the raunchy 1986 sex comedy Hamburger: The Motion Picture.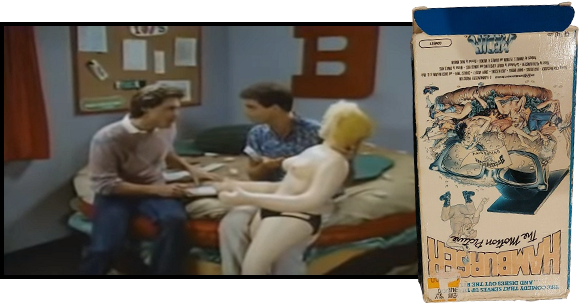 Things are bad. But they could be — and once were — much, much worse.
Jason Pargin is a New York Times bestselling author, his slightly more serious columns can be found for free at https://jasonpargin.substack.com. Or you can follow him on Twitter here.