Well, it's that time of year again, time to celebrate the fact that no one can tell me to shut the fuck up about Christmas anymore! It's the holiday season! And I'm horny for holidays! You know who else is so, so horny? Santa. Yep, I'm diving right into it.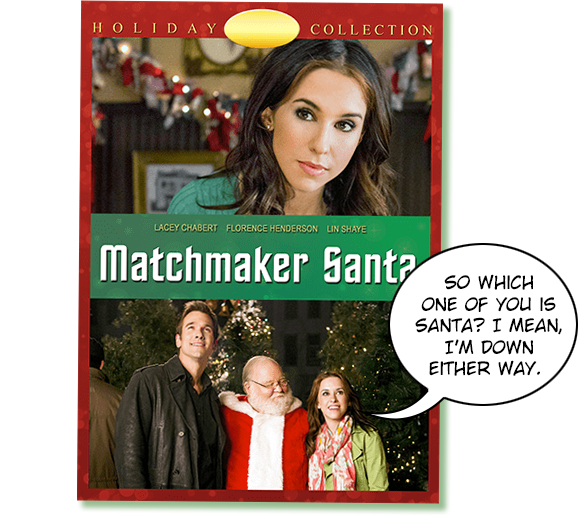 When I was a kid, I wondered, what does Santa do the other 364 days of the year? I thought Santa should be part of the side hustle economy, driving an Uber, shopping for Instacart, maybe selling some of those handcrafted toys on Etsy. As an adult, I realize the Toy Delivery Boy thing is his second job. What Santa spends most of the holiday season doing is getting beautiful women laid. I see I have your attention, beautiful women.
This year there are going to be, no shit, 146 original Christmas movies premiering across Hallmark, Lifetime, Netflix, Peacock, UpTV, GAC Family, The Foot Channel, etc. Christmas is second only to Halloween in magic holidays, but all Christmas magic comes from the same place– it's Santa, or it's his elves, or his sleigh, or his reindeer, or a holiday Gremlin slaughter. Either way, all roads lead back to Old Saint Dick.
We love movies where two hot people decide to kiss at Christmas. So, of those 146 movies, at least twenty percent will use Santa as a catalyst to make two hot people kiss. That's just math. There are only so many ways to get women to leave their stressful corporate jobs behind to have sex with a single dad who owns a snowglobe emporium.

In A Boyfriend For Christmas, Santa just straight up delivers a man who calls himself Douglas Firwood to a woman who told a mall Santa she wanted a boyfriend for Christmas when she was thirteen. First of all, if I showed up to work seventeen years late, I would get fired. Additionally, it seems pretty not cool to give a human being as a Christmas present! I guess it doesn't count as human trafficking if you're Santa? Like maybe the elf-owning sorcerer delivering sex slaves to teenagers shouldn't be in charge of who's naughty or nice?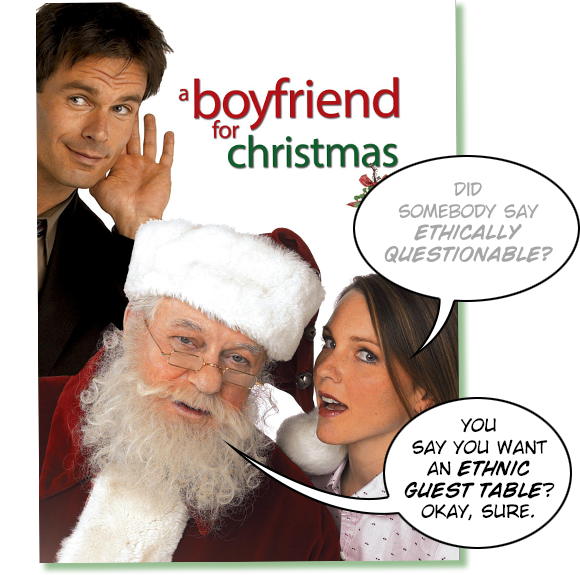 Spoilers for A Boyfriend For Christmas: Douglas Firwood turns out to be an actual guy that Santa sort of guides toward the heroine, but let's be clear: if Santa can't find a real flesh and blood man for you, he will magically create a living being just to get you laid. According to the synopsis for the 2018 Lifetime movie, A Very Nutty Christmas, Mellissa Joan Hart falls for a man who "may be a nutcracker come to life." Guess fucking what? He's a nutcracker come to life. Never. Ever. Has anyone looked at another person and said, I think he may be a nutcracker come to life and been WRONG. If you think that might be what's going on…let me tell you for sure that is what's happening. Look at this man: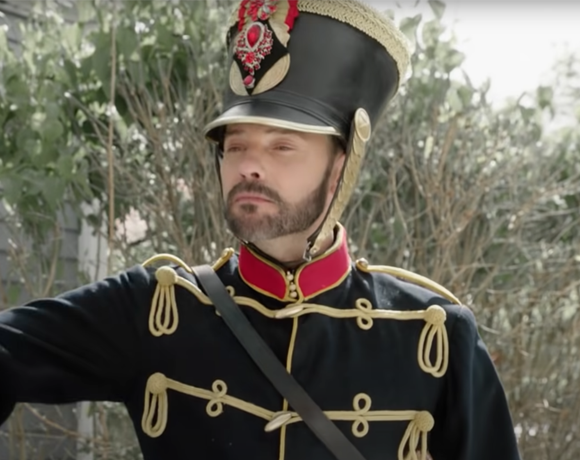 Do you think he might be a nutcracker come to life? Hmm, I don't know what it is, but there's just something? Some nutcracker come to life vibe that I'm getting off of him. I've got a pretty good nutcracker-dar, and it is going off! If this guy asks you to put your nuts in his mouth, that's a trap.
You know who gives Mellissa Joan Hart that nutcracker which may have transformed into a hot human man she can kiss? This suspiciously Santaish fellow: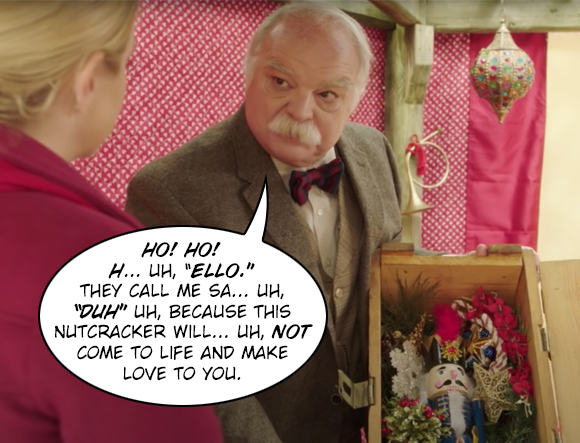 Oof, what does it say about your personality if Santa has to magic you a sex doll? I mean, he'll do it. That's how committed Santa is to getting you laid. He'll create new life so Mellissa Joan Heart can fuck it.
Obviously, Santa is dedicated to this task, but he's also a busy man. He's got that toy side gig, and there are a lot of lonely women in the world who need him to nudge a sexy, ice-skating lawyer with Christmas amnesia toward their annual couple's ice dancing competition. Santa's so busy making women's dreams come true he has to pull elves off the toy line and force them to do his damn job for him.
There's this guy who shows up in all three of The Princess Switch films at the most opportune moments. He gives one princess a pep talk to set her on her romantic journey and makes sure the other princess's fiance doesn't get to the airport before she can profess her love. In the third movie, he pops up again to help them escape a party during a diamond heist. There's a lot going on in The Princess Switch movies. I thought this was supposed to be Santa, but according to IMDB, he is "Elf Man."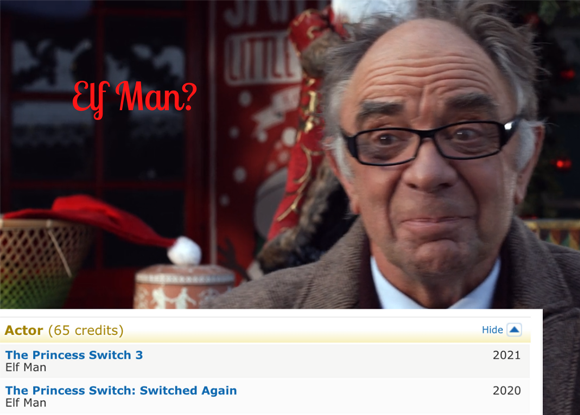 It seems like a weird burn to do nothing to this actor but mess up his hair a little and then say, "yeah, that looks enough like an elf, I guess? Elves are, like, kinda weird looking little dudes, right? This guy is a weird looking dude. I think it works!"
The phrase Elf Man upsets me. Does he turn into an elf during a full moon? Is it Elf/Man? Some disturbing hybrid Santa is working on so the elves can reach the tall shelves, drive cabs, and sneak into the modern world undetected to help Santa on his true mission of delivering Christmas sausage to women all over America? Are we overworking him with our insatiable need for Christmas sex? Is he genetically engineering the elves to spread holiday dick? With everything he is, Elf Man says "YES."
I've made it sound as if Santa is the problem here, but really, I know it's us. We've driven Santa to this, and honestly, as obsessed with Santa is with us getting laid, we are somehow equally obsessed with Santa getting laid. The Santa Clause 2 is all about how Santa has to have a Mrs. Claus. Nobody wants to be swiping through Tinder and see Santa, I get it, but it seems weird that Mrs. Claus is a required part of Santa cannon. Can he not satiate his lustful hunger with the tiny, calloused hands of his elves?
Another plot that comes up repeatedly in Christmas movies is that Santa's hot son, whose name is usually Nick or Kris, has to find a bride by Christmas Eve to become Santa. Santa's Boot, My Santa, Single Santa Seeks Mrs. Claus starring Steve Guttenberg, and its sequel Meet The Santas still starring Steve Guttenberg, are all about either women desperate to marry hot young Santa or hot young Santa desperate to find a bride so that he can maintain his father's toy/fuck empire.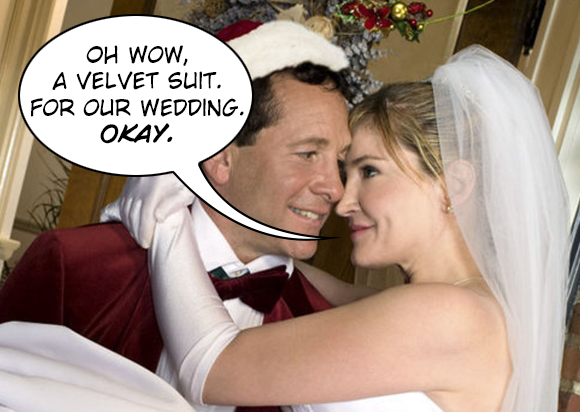 This isn't a thing that happens on one channel. It's not like Hallmark really likes to produce sexy Santa fanfic. It's everywhere– Lifetime, UpTV, and who could forget The Foot Channel classic, Santa's Hot Adult Son's Pretty Little Toes. It's my favorite Christmas movie!
We created Santa, and since we as a society are a bunch of perverts who've never created a pure and whimsical character we didn't immediately want to bang, I guess it makes sense we made Santa a pervert. He is always watching; after all, maybe that's why he's so concerned about putting together these smoking hot couples. He sees you when you're sleeping, including you, Steve Guttenberg, and we all get how creepy that is.
Within this genre of Christmas romance movies, considered the most boring and chaste of all movie genres, there's this super horny fanfic undertone. It's the tale of a fat, jolly, old man, with a hot son watching everybody bone on the most magical day of the year. Merry Beginning of a Full Month of Unrelenting Christmas, Everyone!
…
This article was brought to you by our fine sponsor and Hot Dog Supreme: Mike Stiles, who makes a great stocking stuffer.