Red Shoe Diaries was…man, how do I describe this? A 1992 erotic-ish TV drama wherein David Duchovny's fiancée cheats on him with a construction worker (who was also a shoe salesman?) then kills herself in guilt—because at peak AIDS panic, we eroticized death as the ultimate orgasm. And sorry to soak your shorts before breakfast, but there's more…
This film begat a Showtime series about Duchovny's character running a classified newspaper ad that solicits women's most erotic tales so he can read them to his dog. Okay. We all grieve in our own way, but it still feels like a betrayal of strangers' intimate secrets to mope at a bus stop in Van Nuys. No one's saying don't cry, Jake, but could you at least masturbate while you do it? That's what bus stops are for.
Do you want to know the secrets of '90s seduction, turgid reader? Your answer is irrelevant; we're already sliding gently into Season 2, Episode 4. Entitled, uh…oh, oh shit: "Kidnap."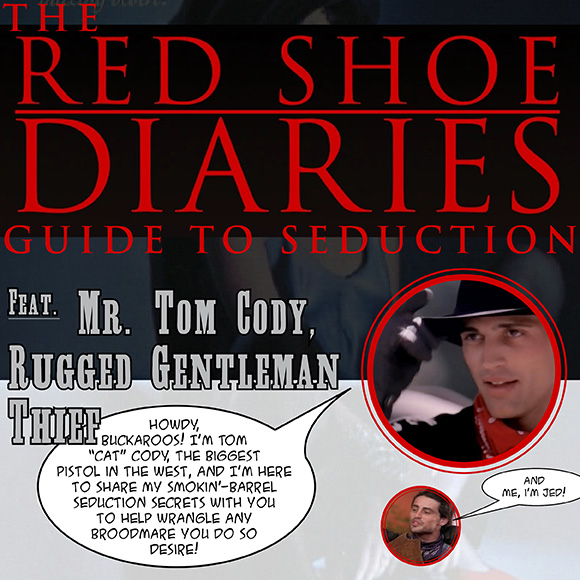 Tom Cody is a smoldering sexpot whose old-fashioned thievery makes no sense in this modern world. His gang robs Los Angeles banks on horseback, then flees to that part of the San Andreas map where you're a 20-minute jog from everything.
Also he's a disarmingly good actor. For a premium cable softcore, Red Shoe Diaries hired a lot of broadcast talent. We could easily pick a random episode and watch bike messenger Matt LeBlanc absolutely rail a secretary in an elevator. But we won't.
In this one he's a cowboy.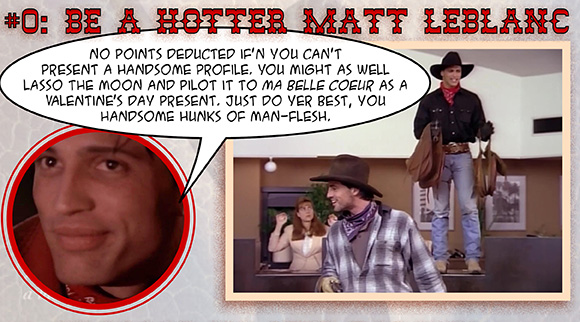 The word adonis gets thrown around a lot these days, particularly in my Friends fanfiction – Lovelife D.O.A.: A Raymond Chandler Bing Mystery —but it's entirely appropriate here. Look: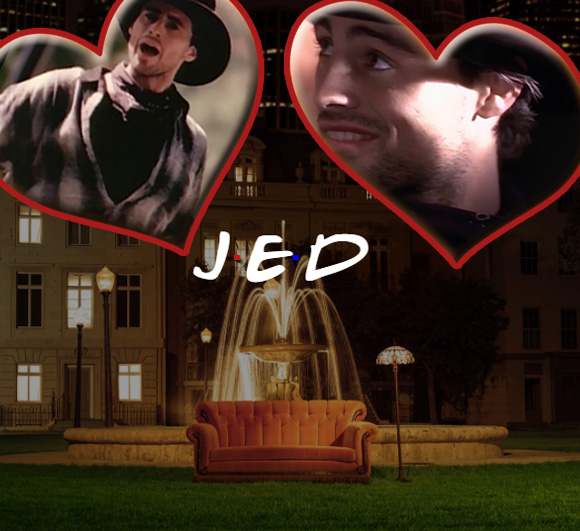 It's Joey, but younger, scruffier, and cowboy. He's the sexiest LeBlanc on record until 2014's courtly Sir Matthew the White, in my Fanny Award-winning novella, "When the Thane Starts to Fall: A Friends Timeslip FanFic." At 1.285 Anistons he's objectively the hottest Friend but he's not even today's smokeshow of choice. The camera follows Sarah's first sight of Tom like an arrow to his saddle-sore seat: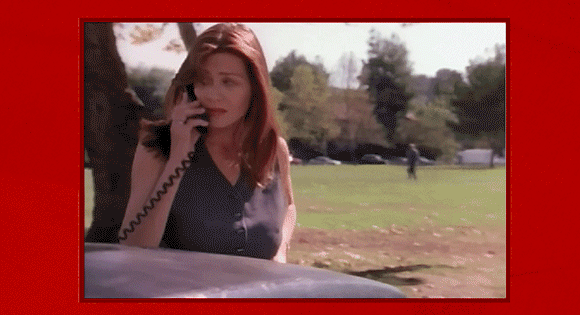 Maybe beauty doesn't excuse Tom's crimes, your honor—but can you truly kidnap the secretly intrigued?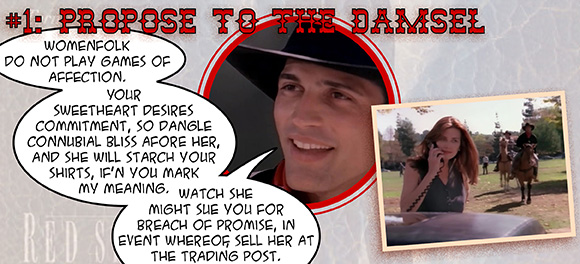 Fleeing the scene of the crime to the scene of the next crime, Tom espies Sarah McCloud, an investment banker with a competitive streak. The only games she can't win are ones of the heart, which lack Congressional bailout. Tom is smit!
Sarah keeps saying she has an important meeting in ten minutes, but she's hanging outside the branch staring at it. I guess for investment bankers, that's like picking your own lobster at the restaurant: the formality before you steal from everyone else's plate.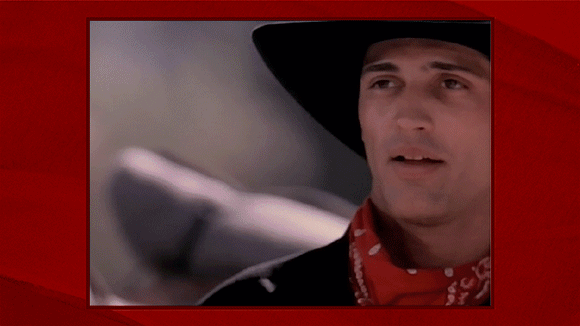 With practiced obliviousness, she ignores this complete stranger on a horse asking her to marry him. Or it might be LA women blank you if you aren't in a Lambo, I don't know how your stupid car culture works, America—a horse, you guys!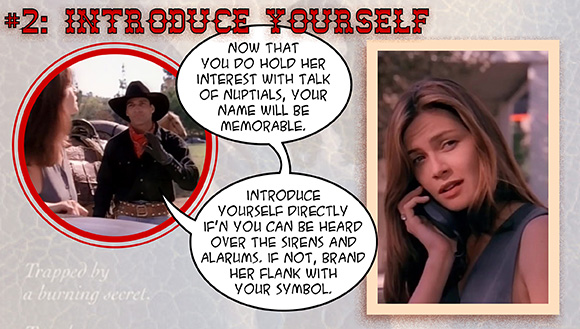 Even minus the horse, shotgun-toting cops, and screeching bank alarm, this is a bonkers way to offer a woman your penis-heart. Sarah is politely trying to have a phone conversation, and Tom demands her attention because, you see, he is actively criming.
It's like how you're reading this article right now while ignoring a TV show, even though you're technically working remotely at the Friends fanfic factory. In both cases, distraction makes failure out of what started off as a guaranteed orgasm.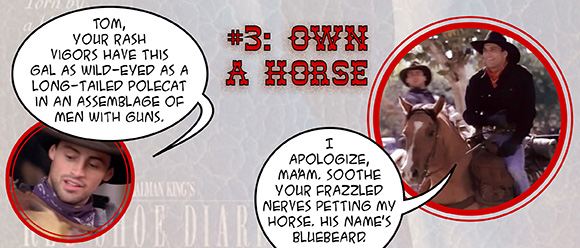 Women love horses, which represent everything society denies them: power, public bodily functions without judgment, and unbridled freedom—unless the horse is wearing a bridle.
But see, just like a bandit's horse secretly wants a bridle for the train heist, even the most accomplished power-suit-wearing bankeress wants a bridal train. The show has led you here with something called symbolism, which you can use to subtly manipulate women into a sexual mindset. For example, riding a horse is pleasurable to the female because it symbolizes dry-humping and no hand stuff with a man who smells like hay and can't interrupt when she's talking.
And did you know that guns can be an alluring phallic symbol if you point them at her head? That'll set a lady's heart racing!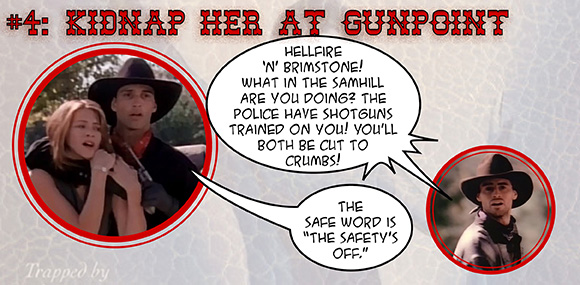 Taking Sarah hostage, Tom gallops away on his mustang like a manly man and not a stupid asshole who's going to get someone killed. By the time those lame cops are in their vehicles, the escape animals are cleverly boarded into a horse trailer waiting a full marathon outside of town.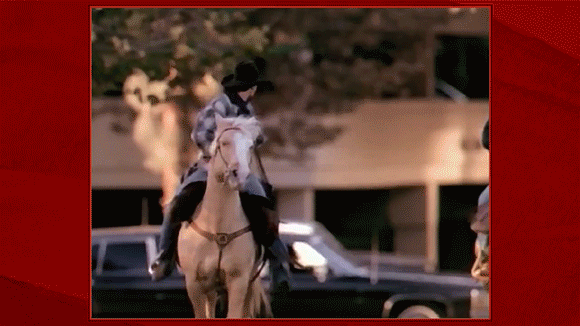 Of all the unrealistic aspects of this fantasy, the story only balks at a truck and trailer making a quick exit from downtown LA. Someone calculated it was more realistic for a horse to outrun the entire LAPD than a vehicle to make a left turn.
I'm not saying producer Zalman King shouldn't plan your bank heist. But he definitely shouldn't plan your sexual congress because he thinks both end in success once you're crouched under a horse's rear. There's a reason he's known as the Zalman King of erotic thrillers, not the Zalman Ringleader of bank heists.
More disturbingly, every choice Sarah makes from this point is seductively suspect, because her first erotic thought is sexy self-preservation.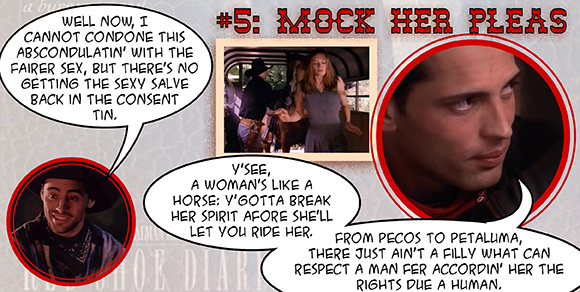 Sarah tries to bribe, bully, and beg out of bondage, but our handsome leads laugh at her fears. "You frighten men away!" lecture these frightening men. Though their ways may seem strange to those of us with emotions, total domination is exactly how you seduce financers. However, these methods would be absolutely terrifying to other humans.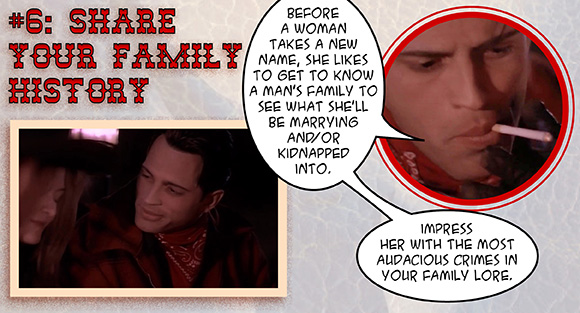 Tom and Jed tell Sarah their real names as bank robbers descended from Wild Buffalo Bill Hickody. It's like they want to get caught, yet I still can't compete with twin sexpots who own their own business.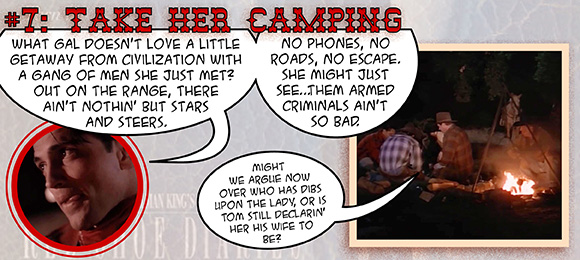 Them Cody Boys take Miss McCloud on a romantic camping trip in the hills. Like most Red Shoe Diaries, this episode was written by a woman, and I am just lost trying to find the sweet spot of audacity and atrocity a man should occupy in these here hills.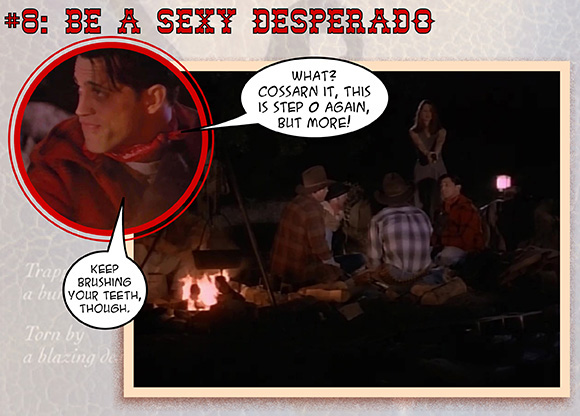 Sarah gets to know these cowpokes, and I promise you that nothing they reveal would change a woman's mind about her kidnappers. They say they don't want to hurt anyone, but don't seem to care about traumatizing them. As for stealing? It's not for the money. More of a tradition in the family of monsters she's been asked to join.
I'm rapidly learning I don't have what it takes to be a bad boy. I can't seduce on this level, and now I have to fly back to Kansas City to return my leather jacket because my horse is in the shop.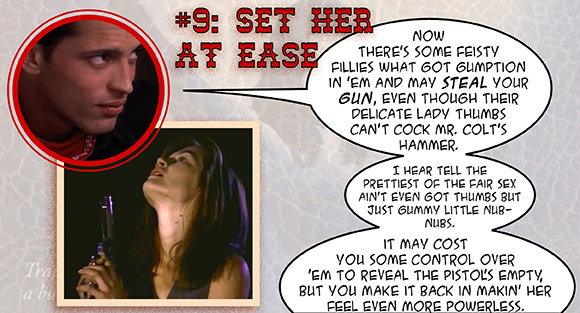 Sarah steals Tom's gun and pulls the trigger! The men laugh at her. In a deranged plot to conflate the sweaty palms and rapid pulse of terror with desire, the guns were never loaded.
This poor woman. Still, it must be a relief to know the posse of delusional outlaws she thought had her outgunned in the woods merely have her outnumbered.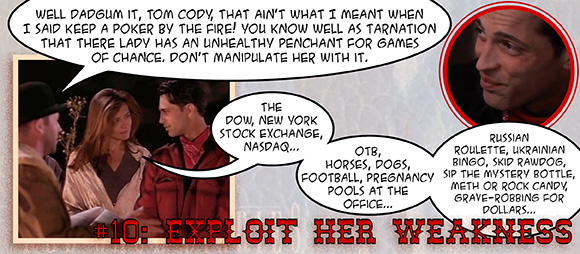 After reciting her gambling addictions, Sarah plays poker with these straight studs. She proposes freedom as the ante: if she wins, Tom takes her home and goes to jail. If he wins, she marries him. High stakes—but she's used to those as an abducted woman who would probably do or say anything to survive!
The show takes pains to show the audience Sarah's agency in proposing a bet and cheating to lose it. But how does Tom know that? Out here in hill country, the politics of desire are the exact same as survival.
Anyway, they have a folksy wedding.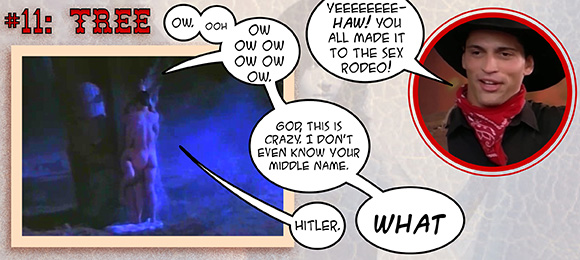 The newlyweds bang up against the marriage oak. I've never been married, so you'll have to make your own "Deadwood" joke.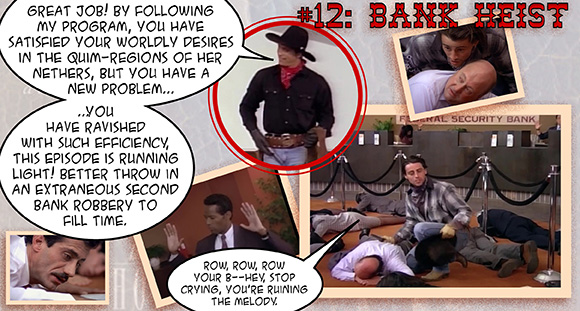 Sarah wakes up alone.
Matt LeBlanc leads some convincingly panicked hostages in "Row, Row, Row Your Boat" to calm them down. We're meant to fall for these crazy Cody boys, a couple of fun-loving criminals. But look around them! It's gonna get weird, man. Here's your Hot Dog Moment: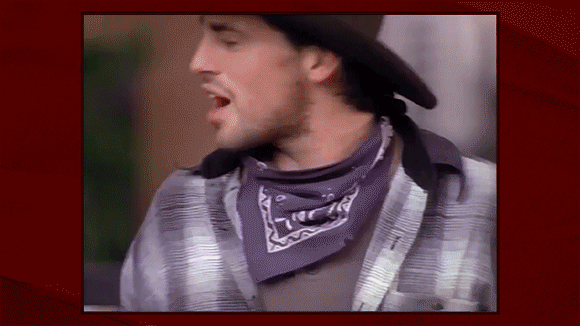 These people have no idea they're in an erotic fantasy for cowboy-loving professional women to jill off to. Every one of these characters is terrified the song is a sick game whose final note is the tom-tom hammers of a Smith & Wesson. One woman cries. A man stares dull-eyed at the floor, confident he has kissed his neighbor's wife goodbye for the final time. All Matt LeBlanc's Jed had to do was say, "Relax, this is an erotic bank heist," but noooo…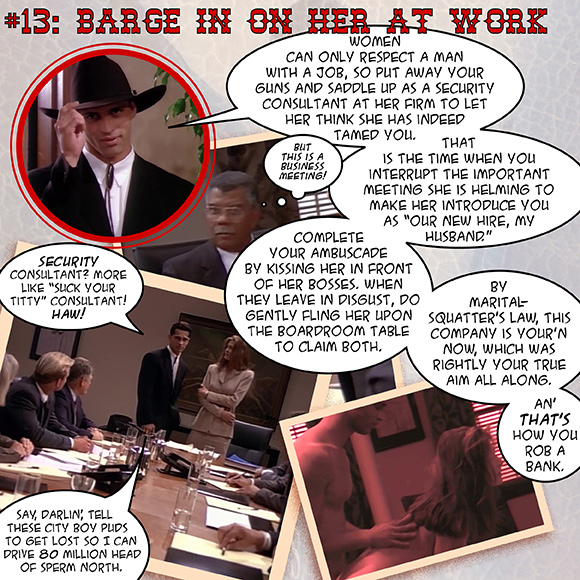 Sarah finally makes it to her meeting. Nobody asks about her kidnapping! She confesses to cheating at the card game to get what she wanted. Tom strides in, and says "You break the law, you get caught," which is untrue 100% of the time in this universe!
The board's staid faces tell us this is highly irregular, but Sarah explains Tom is their new security consultant. Then they mash face, and everyone else wanders out of the room with an unspoken shared disgust.
The entire world turns sepia! What is happening? Sex magick is reshaping reality around us! You did it, you two—the ultimate heist and gamble in one: you stole consequences right out of probability's grasp! You'll never die, you'll never get caught, you'll never get AIDS. You have beaten the '90s!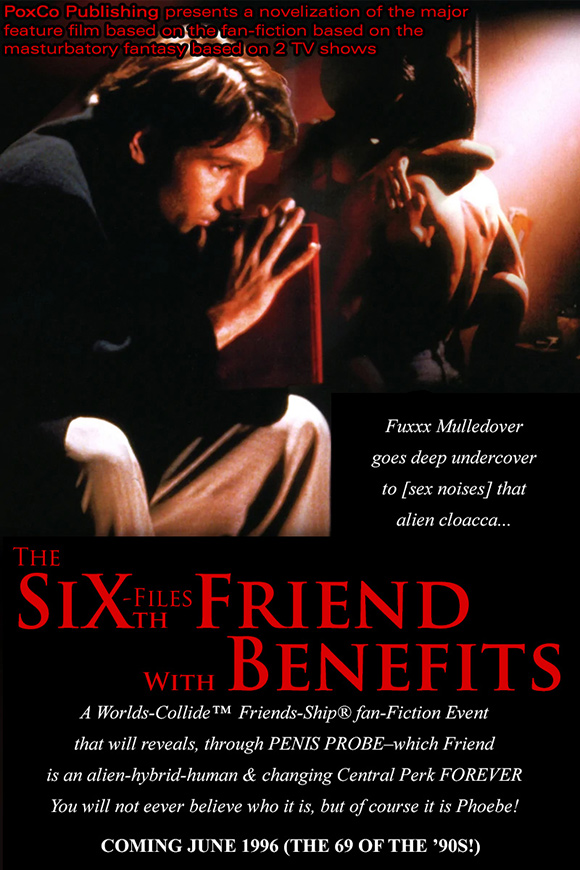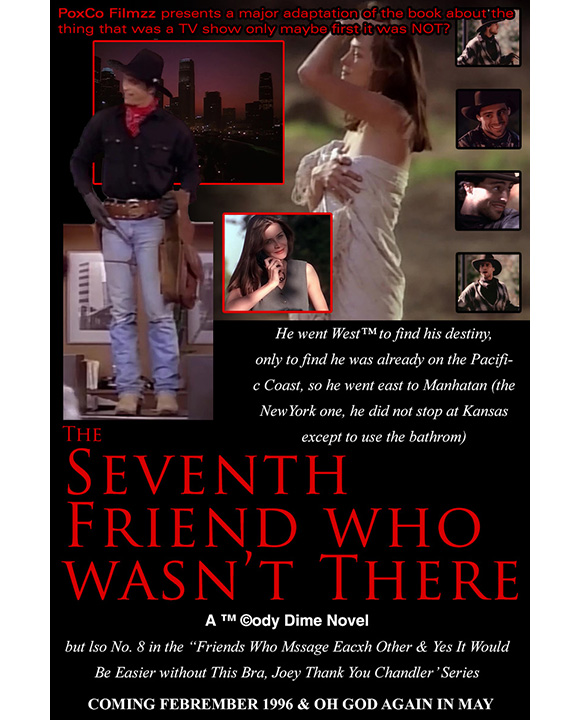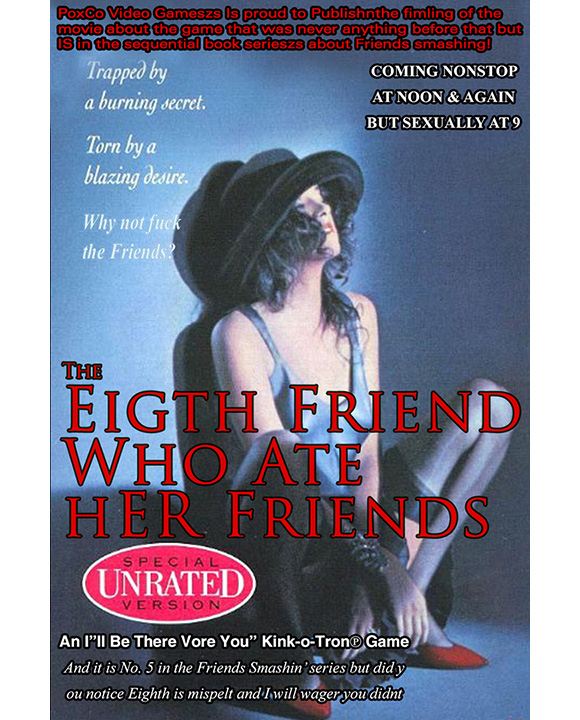 Seems to me you stand at a crossroads, pardner. You can go like this picture of Brendan's puppy, or you can go straight to hell.