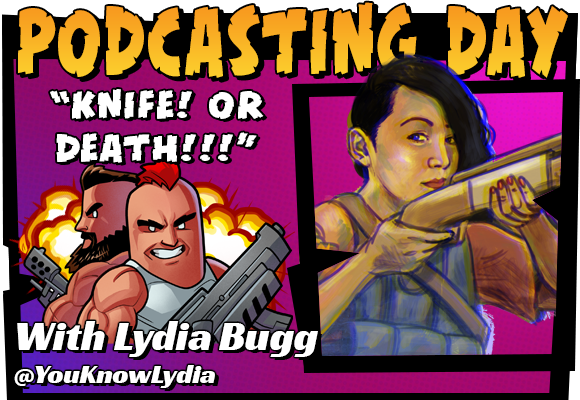 It's Dogg Zzone 9000 Day, and this week we are talking to our very own Lydia Bugg! We brainstormed on a fascinating topic she would love, and we both instantly and simultaneously said, "The way of the blade! The bond between man and sword! THAT SHOW ON NETFLIX WHERE ADULT NERDS CAN'T CUT THROUGH FISH!"
We're talking about Forged in Fire: Knife or Death: "The Last Samurai," so this episode is for the stab maniacs only. Non-ninjas, bow specialists, keep moving. Everyone else, you can listen here, or wherever you get podcasts!
FOOTNOTES: Behold, listeners, The Saga of Karl, 55-Year-Old Boy Samurai. It is eighteen screenshots of Karl's sad rampage through the Knife or Death knife course, completely unaltered– no silly word bubbles or sound effects. Enjoy his journey as we did, with your heart soaring. You will believe in the spirit of the samurai: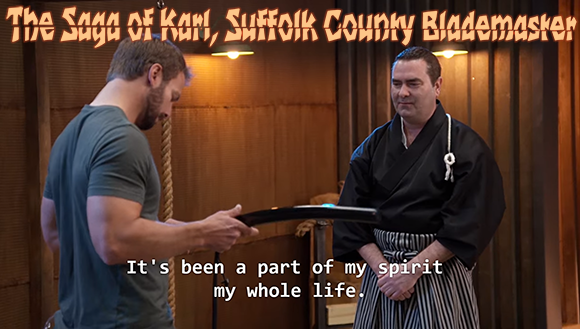 At the risk of spoiling the ending, after this middle aged man slowly gave up and failed his way through a sword-chopping obstacle course, he did not, in fact, end up "being the winner!" But we can all learn a lot from Karl. Follow your dreams. Every day is Halloween. Losing is just winning, probably. When something is hard, play something else. Sensible shoes are a comfortable way to fix any sword. Never. Take. Fish. For. Granted. Thank you, Karl.