Transformers were awesome. They took two bitchin' things, cars and robots, and mashed them together into the ultimate toy. Then some poor intern had to come up with a reason for that toy to exist, and everything started falling apart. Oh, not immediately: At first it was just "robot cars fight other robot cars because some robot cars are jerks," and it was good. But when you take any idea and stretch it out over decades, it begins to unravel. And at some point lunatics will take up those loose threads and use them to tie tiny nooses for their genitals, and that's how we wind up with stuff like Transformers: Kiss Players.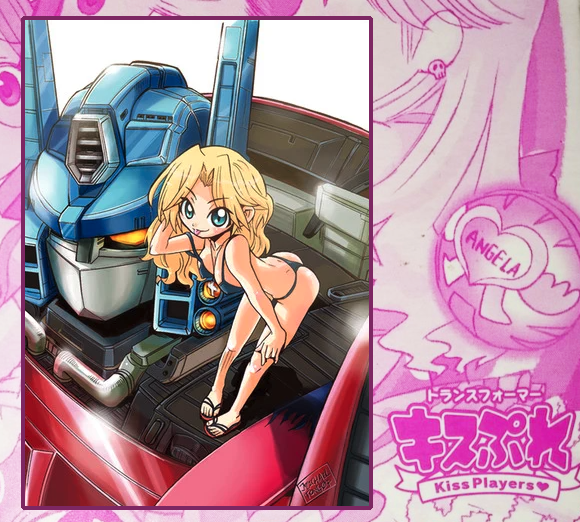 "Oh no," you say to the lonely apartment that will one day be your tomb. "What is this? More Transformers fanfiction? I actually got way into the asshole-building lore of the last one, but I'm not ready for more yet."
No, Kiss Players was not fanfiction, despite looking so fanfiction you can scratch and sniff this image for a whiff of Taki-dust and balls: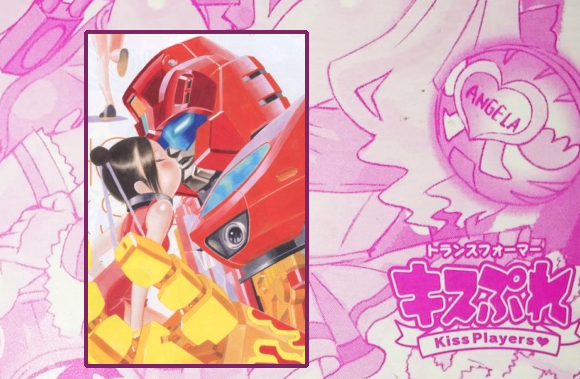 That picture looks like it wants to be evidence. It looks like the nail in the coffin for The People of Thailand vs. Rodimus Prime, Wheeljack, and Thrust (2006). It just sort of feels like that photo changed a life — like whoever had to paint that on commission finished the last brush stroke and then just walked the Earth for a while, trying to figure out where happiness comes from.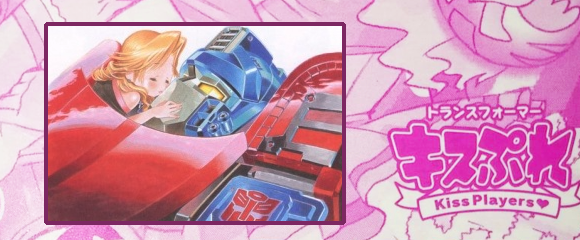 But no, despite giving off serious now-deleted-forum vibes, Transformers Kiss Players actually happened within the timeline of the official Transformers universe. And not only that, but for over a year it was their main IP.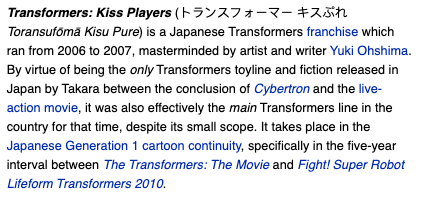 If you referred to "the Transformers" anytime in 2006, you were talking about the giant robot trucks that made out with little girls. And you would have been rightfully under arrest for it. There is, of course, an elaborate anime nonsense explanation for why these worryingly young girls absolutely must get to second base with a half-robot half-police car to save the world.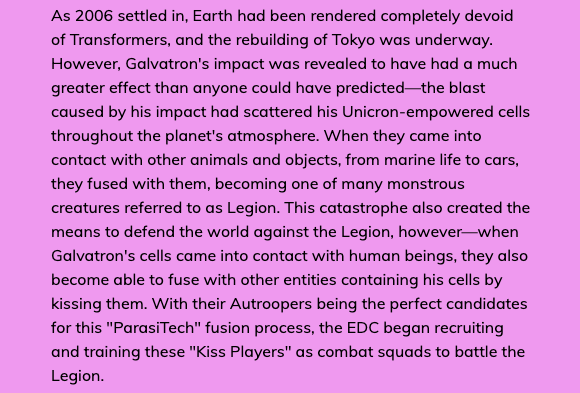 Oh, okay. That totally checks out. By all means, Grimlock, please continue penetrating the 12-year-old. It is I who am the fool for ever trying to stop you.
Now, my Japanese begins and ends with "Biru wa doko desu ka? Jinsei wa muzukashii desu." And I'm guessing that translating Kiss Players into English would make it prosecutable under our laws, so while I have outside sources to verify the details of the main storybeats, I may have to guess about the fineries of which Transformer is fucking which 9th grader in which degree of impoliteness.
Let's meet the colorful cast of characters, who look abused and terrified at all times: First up is Atari Hitotonari, whose name apparently means something like "bruised pear next door" and my god do I not want to know what that's a euphemism for. I'm serious. I will delete this website if you tell me.
Atari is just wandering an empty city, suicidally despondent, until a Decepticon with a dick tongue corners her.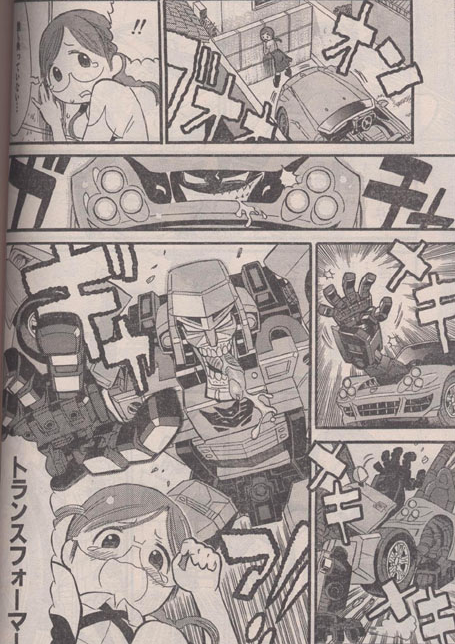 She suddenly decides she doesn't want to die, or more probably, does not want to die like that – impaled on the forever-cumming penile tongue of a mid-priced sports car. The comic acts like this moment fixed her suicidal ideation, but just because you don't want to be molested to death by a Miata does not mean you're over your mental health issues. But sadly, it is no longer up to Atari: The Decepticon looms over her, dripping viscous white fluid onto her hair and face which I'm sure is explained as "oil discharge" or something for plausible deniability, but the art leaves absolutely no doubt that this transformer has a urethra in his mouth: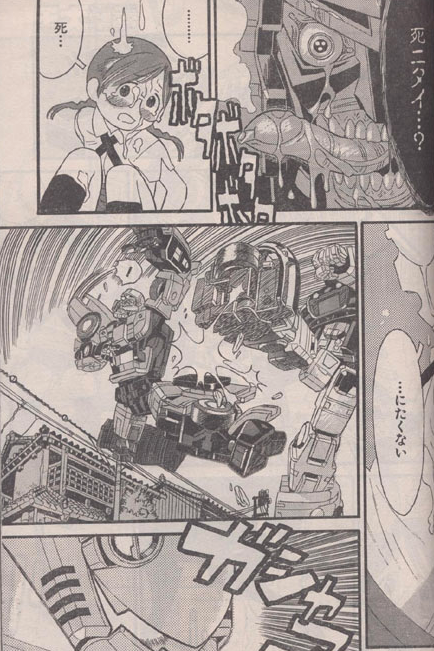 But oh shit! She's saved at the last minute by an autobot, huzzah! The good guys are here!
Then that good guy leans over and barfs up our next main character, a miserable naked teen in chains.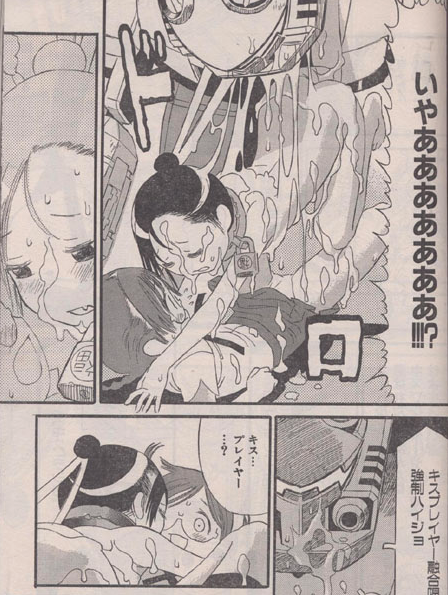 I hope this isn't racist, but I'm starting to think Transformers turn into cars because they're all sex traffickers. Anyway, that lil' robo-snack up there is Syao, and if it feels like I'm cherry-picking weird frames to make this look bad, I promise you two things:
1. These are the very first moments you see the main characters of this series — while one is being threatened by a prehensile dongue, and another is getting yakked out of the sex dungeon that a robot keeps in its stomach.
2. Kiss Players does not need anybody's help to look bad. In fact, if you ever need help looking bad — I don't know, maybe you just bought an exceptionally loud motorcycle and now lust-addled ladies keep hopping on at stoplights and they're starting to stain your seat — Kiss Players will help you. Just mention how you thought it was an underrated exploration of female sexuality, and long after you die women will travel just to spit on your grave.
Back to the story: The Autobot is wounded, but his little girl timer has run out, and now he needs a new little girl. As everybody knows, robots can only be healed by the passionate kiss of a girl who looks too young to give consent but definitely is, if you read the fine print. So Atari must – absolutely must – make out with a Mitsubishi to save the world.
Then all of her clothes fall off and the Autobot absorbs her body so it can make her do things. You know, your classic Robot Child Predator Reverse Conscience Scenario.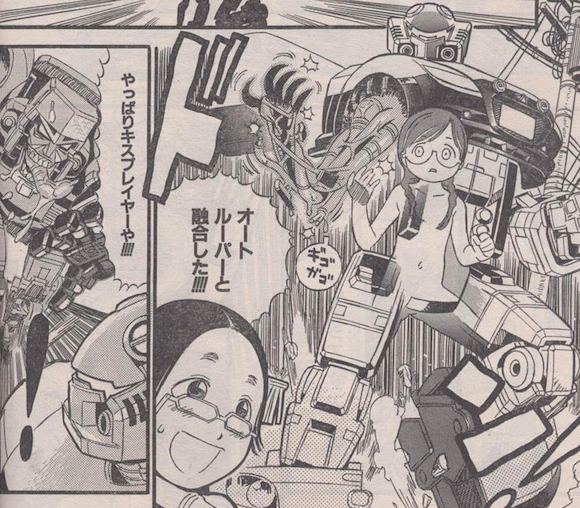 Yes, this is how Transformers power up: Violating consent. I miss the days when it was just "Energon," which was dumb, but generic energy Jell-O cubes was better than a young girl's mouth virginity.
Oh right, I forgot to mention that was Atari's first kiss, so I guess it grants whatever robot coerced her out of it more power? Listen, say what you will about Kiss Players, but I haven't seen this much worldbuilding put into child molestation since Neverland Ranch.
And that's it. That's the story. Like 40% of this comic is nude young girls being chained to giant robots and 60% of it is trying to explain why you shouldn't prosecute.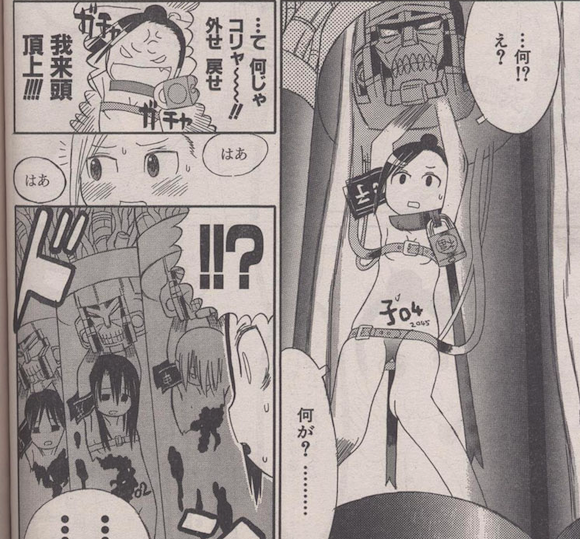 And I must reiterate: Not only was this not illegal, this was officially the main Transformers storyline for an entire year. It wasn't just a comic! It was also a serial radio play (we loved those back in 2007!) and every single episode synopsis looks like an overwhelmed moderator explaining why they deleted a piece of fanfiction from an all-ages Transformers forum:

What! Transformed her surfboard into a sword! That's nuts!
Oh also I guess a teenager sucked off Rodimus Prime's Exhaust Rod, but that surfboard thing is downright wacky!
Of course, Transformers have always really been about the toys — you didn't think you'd get out of this without seeing the official toyline did you?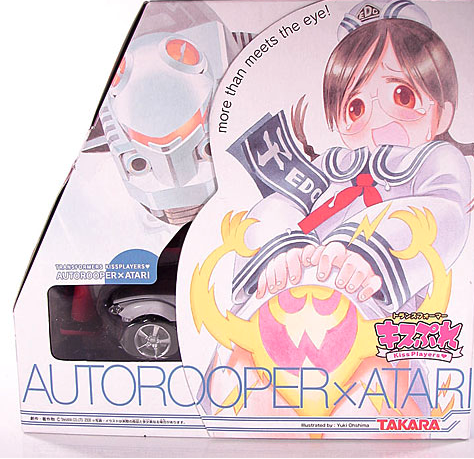 I cannot stress this enough, because how could you possibly believe me? We have not established that level of trust yet. We probably won't, now, after I did this to you. But I'm telling you, this was an official Transformers toyline. The only official Transformers toyline at the time. That is not a fucked up fan creation, an award-winning photoshop in a now-banned subreddit, or the tragic label misprint that brought down the Takara corporation. That is the actual box found in toy stores featuring the main character of this show getting forcible head from an energy goblin for reasons that cannot be explained by the feeble words of man.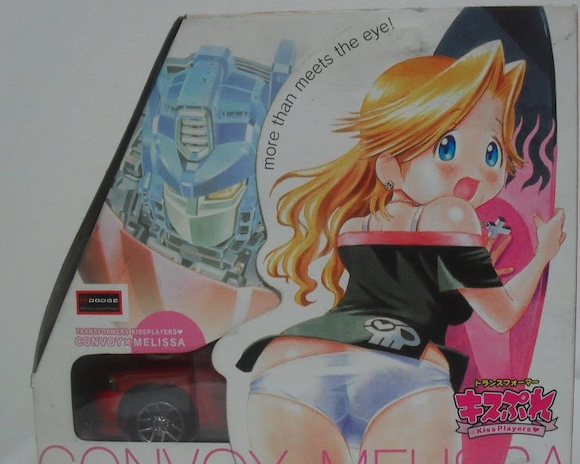 Is there more than meets the eye left here? Girl's presenting like a baboon that is very comfortable being second-in-command. This is Melissa, whose "boyfriend" is a version of Optimus Prime that turns into — remember, at this point I have clinically lost the ability to be kidding — a Dodge Ram. Look at the box. No, not the inside of the young girl's ass — there's something far, far stranger here. What's that up there, middle-left? Why yes, it is the official Dodge badge. Dodge signed off on this. It was a licensed tie-in!
And anyway that's why you should buy Ford, next time you're out truck shopping. Because Dodge molested a teenage girl in Japan and skipped out on the charges.
Aw, what the hell, we all know who the real star of this article is. Let's give the people what they want to see! More! Dick! Tongue!
More!
Dick!
Tongue!
MORE!