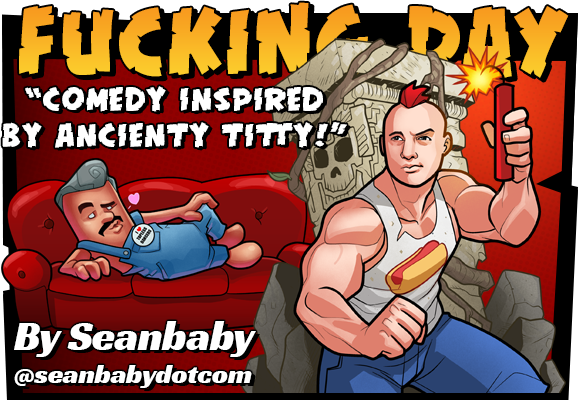 You might know Phil Hirsch from his exceptionally titled book, 101 Hamburger Jokes. Phil was very bad at one thing: writing jokes about one thing, and he made it his life. He wrote a vampire joke book, an ape joke book, a gorilla joke book, a titty joke book, and a naked titty joke book. And I think I was speaking for everyone when I learned about those and said, "Awesome, yes, I already said yes, I'm listening, and I'm very listening."
If you're wondering which ones we're looking at today, I have good news: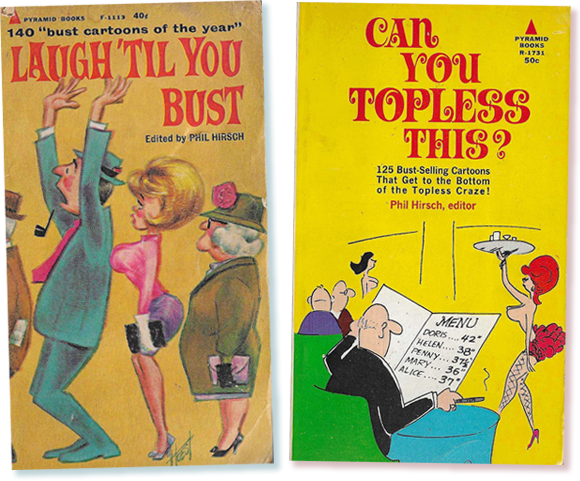 LAUGH 'TIL YOU BUST (1964) and CAN YOU TOPLESS THIS? (1967) are collections of cartoons somehow related to tits, carved into innocent flesh to summon a lesser pun demon. The female form is the main inspiration for all art since the dawn of time, and provides limitless opportunities for delight and whimsy. "No it don't, fuck you, there are exactly five kinds of honker jokes," said Phil Hirsch, adamantly and repeatedly over the course of his two books on the subject.
Phil's boob cartoons each fall into one of five categories: boob life hacks, being problematic even for a titty joke, the small breasted deserve to die, having boobs makes everything impossible, and what are those pointy things and what do they do? I'll come up with cute names for them and arrange them into a list starting… now: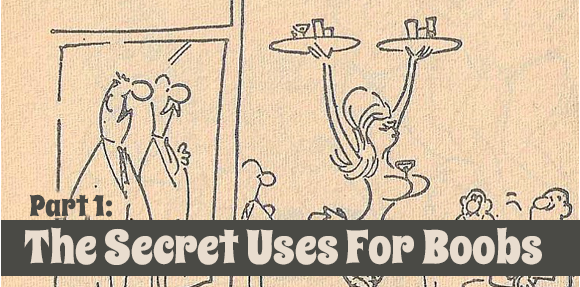 Boobs are an extra set of hands or an advantage when finishing a close race, and you might be asking, "How is that funny?" I'm so glad you brought that up. It's not! Ever! Phil approached boobs like a bronze age Spider-Man villain figuring out every last application of their weird super power. He was sitting around writing jokes like, "Maybe cans could steer a horse? Maybe you could tear one off and play basketball? Hmmm… is basketball funnier than the look in my boy's eyes as the car sank into the river and he realized I couldn't save him? I, Phil Hirsch, honestly can't tell." Let's start with LAUGH 'TIL YOU BUST.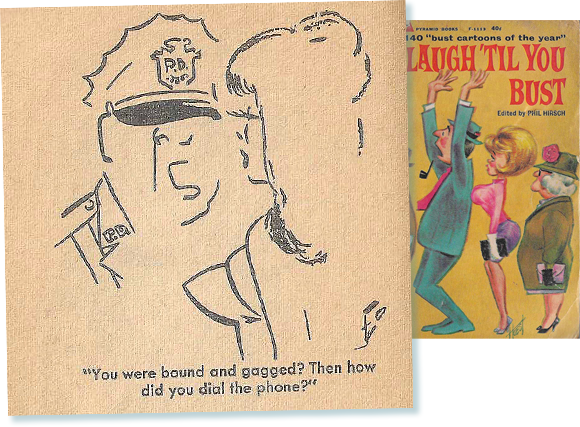 A single panel cartoon has to create the characters, setting, situation, and punchline using only a drawing and a line. It's an extremely hard thing to get right. This asshole drew 4% of a cop questioning a pair of tits in a void after their owner was kidnapped, and there's no joke. There's just the implication that this woman, after a maniac broke into her home and tied her up, had to poke her boobs against a phone in her desperate attempt to live. That's awful. And also, maybe she didn't? Boob-dialing a phone wouldn't solve all her problems since she was also gagged. So did she squeeze them together to fart Morse code at whoever picked up? Is that the funny part? The more I think about it, the more sure I am this is the spirit of a murdered woman being hassled by some ghost cop. Probably forever. Phil fucked up so bad, this might be the truest opposite of funny ever created.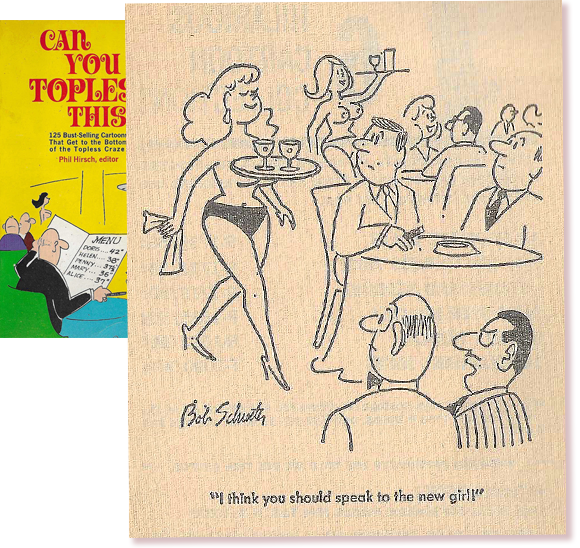 Let's do one from CAN YOU TOPLESS THIS? In this book of 125 "Bust-Selling Cartoons," there are dozens, maybe thousands of gags where a shirtless woman is carrying something with her boobs. Maybe there's no punchline, or maybe her boss is telling her she's doing a good job, but in this one they seem upset? I'm not sure I get it. I mean, I get this universe has different rules than ours, but wouldn't holding a tray up with your breasts be more amazing than ordinary nipples? Like when I show up to a Super Bowl party carrying two cases of beer and my famous levitating dip, my friends don't say, "Boo! Lose the tupperware! Let's see one more dick!!"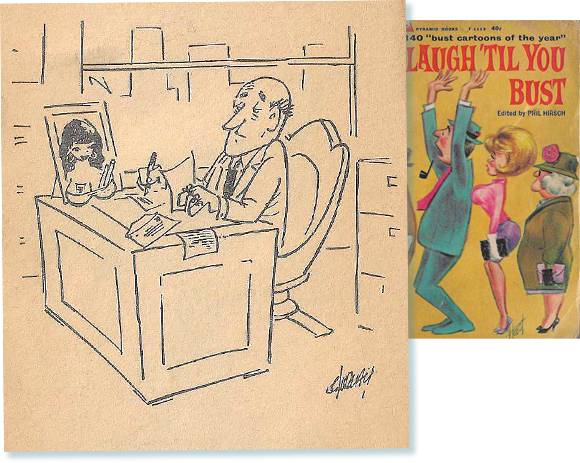 This is a tough one to understand. It's a picture of boobs, but they've come to life? Only it's not a sex genie type of thing– the man with the magic photo uses it to hold pencils. It's almost as if a cartoonist had been staring at pictures of boobs for so long, wishing those boobs were real for so long, that he forgot why he started. His lonely thoughts, over many years, turned from "GOD I'D GRAB THOSE BOOBS IF THEY WERE REAL" to "I'm back, real boobs. There was no bread, so I rolled the bologna around the mayonnaise. Your favorite. Oh, good, you found my #1 Best Boyfriend pens. You are real."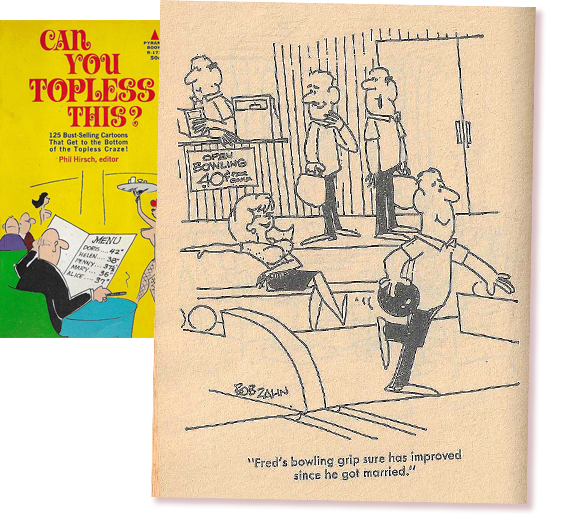 "I bet having boobs in your life would really help with your bowling grip," said one expert on tits to another.
"Yeah, it's probably why Fred's wife is always bleeding from three holes in her chest," said the other.
"Buzz! Therm! GET THE FUCK AWAY FROM MY WIFE!" said Fred.
Fred's wife said nothing, still deep in the afterglow of getting her left breast groped to completion by the sure-fingered claws of a local bowler.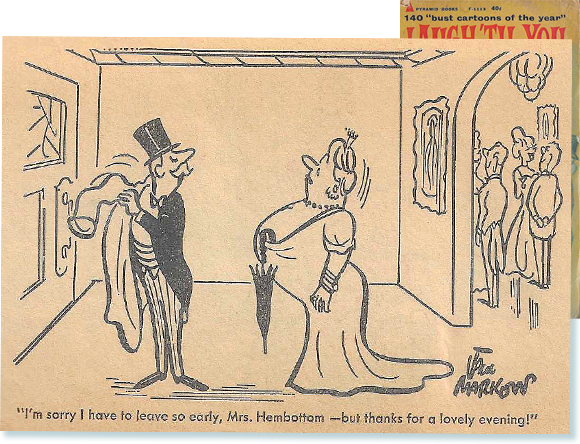 So the joke here is that he hung his umbrella on her tits on his way out, which is astonishing because despite it being both, I think you'd call this rude before you called it sexual assault. Mrs. Hembottom had to ask this guy how dare he two very different ways. I don't think I understand the joke he was trying for. Is there a certain bra size where you stop being human and become furniture? Oh my god, is that the premise of these books!?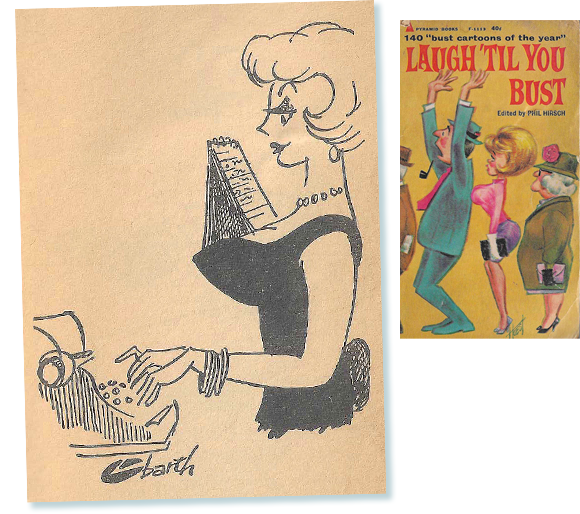 This one is great. Ha ha she's resting her notebook on her boobs! "It's so readably close to my face!" she says. "Oy Ssp readab;u c;pse tp ,mu gsvr@" she types.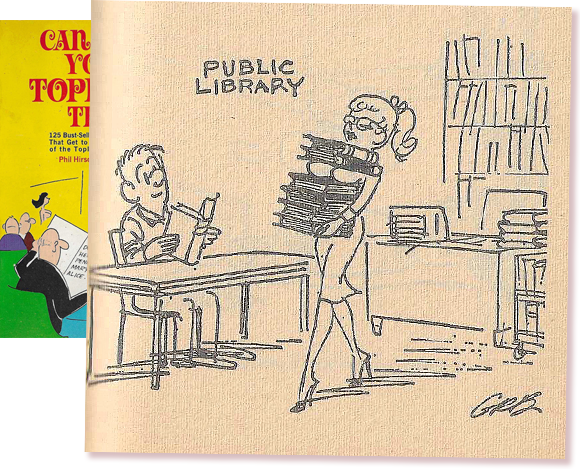 This is how people had to masturbate in the library before the Internet. They'd wait until someone with very long, very flat boobs had to carry two extra books. When you ask for a Chaucer at a sex dungeon, a woman will come out dressed like this and pee on your glasses.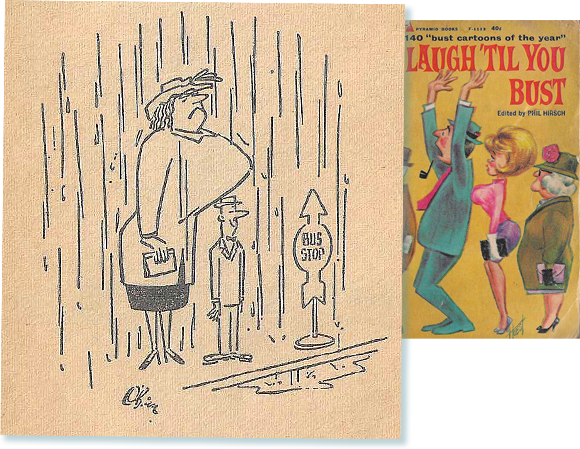 Page after page, the contributors to LAUGH 'TIL YOU BUST and CAN YOU TOPLESS THIS? come up with genius boob innovations. For instance, you could take shelter under a woman if she was 11 feet tall, had breasts the size of grizzly bears, yet also rode the human bus. How silly! Where could an idea like this even come from? "It came to me while I was taking pictures of wet feet on the bus," whispered a voice behind me just now.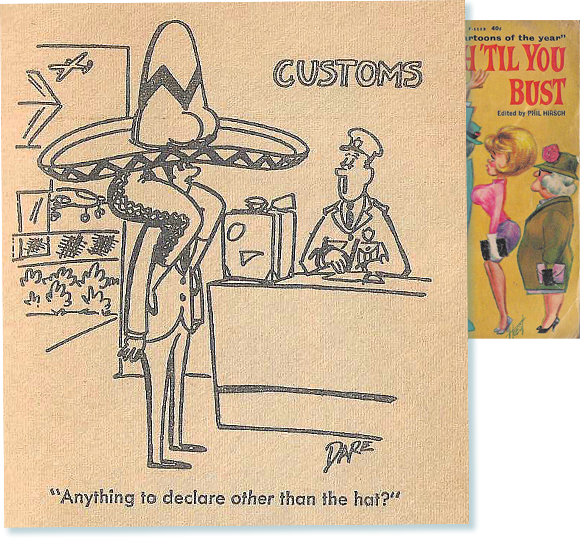 The thing nobody tells you about tits is you can dress them up like a hat and walk right across any international border. "I can tell by the luscious jugs on your sombrero it's a legal hat and not human trafficking, sir. Wait, stop. Let me get out my updated regulations… weapons… narcotics… ah, here we go: hats! Okay… 'hats are considered contraband unless real, determined by the following: by ordinance 36D, no real sombrero shall lack two heaving womanly breasts up to and including legs.' So… wait. Y– Okay, yeah, I think you're free to go. Welcome home, sir and hat."
What the fuck am I talking about? I'm melting my brain trying to figure out these cartoons, so let's move on to something I understand better: thoughtless zaniness turned to hate crimes by the passage of time.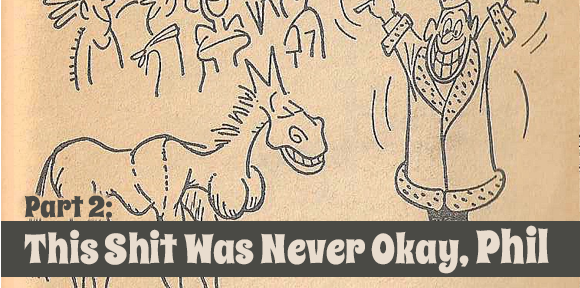 In the '60s, no one thought to ask, "Will the titty jokes of our worst cartoonists age well?" It would have been absurd. They were too busy thinking things like, "If a woman was tall enough, and her breasts large enough… my god, according to these calculations you could stay dry at the bus stop!" Anyway, here are some 58-year-old boob jokes you're going to have a real problem with: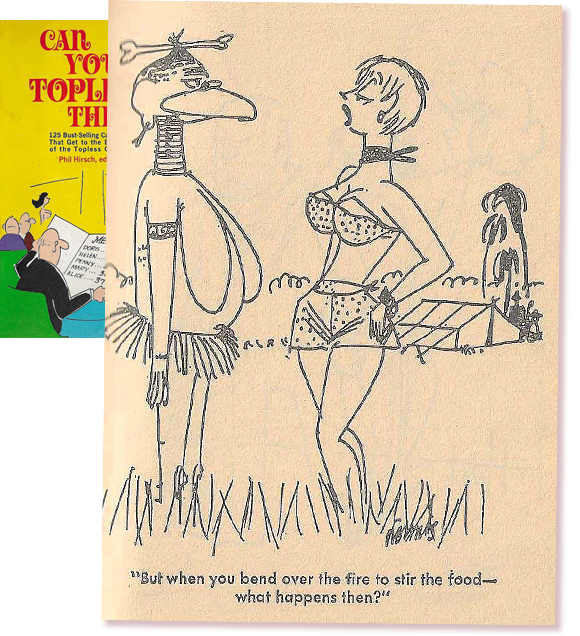 It takes a real specific type of racist to draw this and then wonder how the people in it keep their tits out of food. You tell us! You drew that duck-billed turtle monster! You can't invent a whole new creature and go, "What's the deal with creatures and their soup titties? I mean, aaah, I'm not a fashion guy, but I'm pretty sure you can't wear a tomato bisque bra with a ponytail femur, Gorpdar!"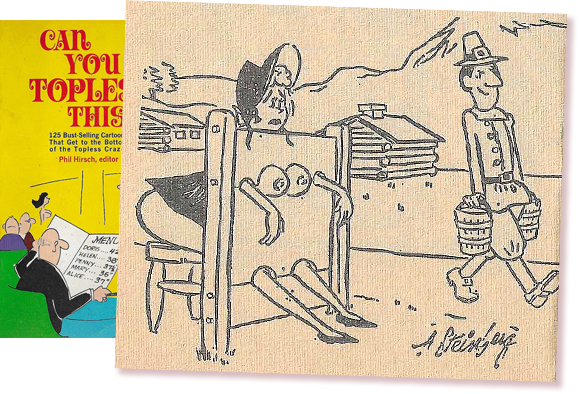 Oh my god, d-did that pilgrim just milk a prisoner? And there's no punchline!? No setup!? What the fuck is… where is he going with it? Does the joke take place months from now after he's made it into prank cheese!? This is the horror reveal in an Ari Aster movie. MY GOD, THIS IS A NIGHTMARE.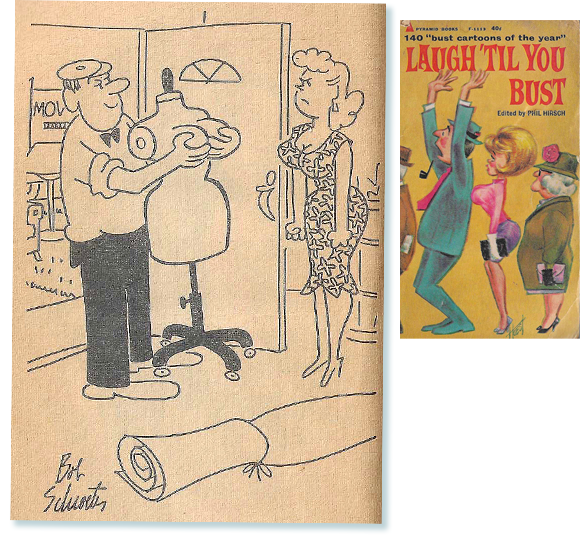 "Hey, lady, you signed the paper that said we could stop work to smugly grope any items or packages shaped like a woman. You're lucky Fred isn't here. He's tear these plastic titties right off with that grip of his. Oh, keep looking at me cranky like that. Yeah, I'm getting close."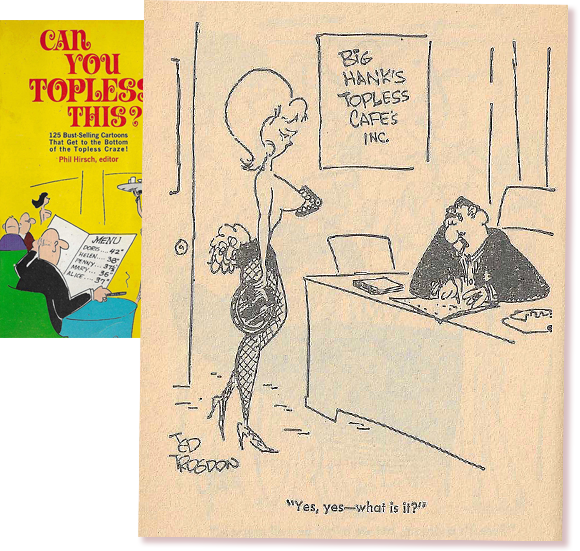 The setup for this joke is that a maniac at Big Hank's Topless Cafe fucking bit this waitress on the boob so hard his dentures came out. And the punchline for this joke is Big Hank does not care. It's not exactly ha-ha funny, but it makes a kind of sense if you fucking hate women and want to bite them.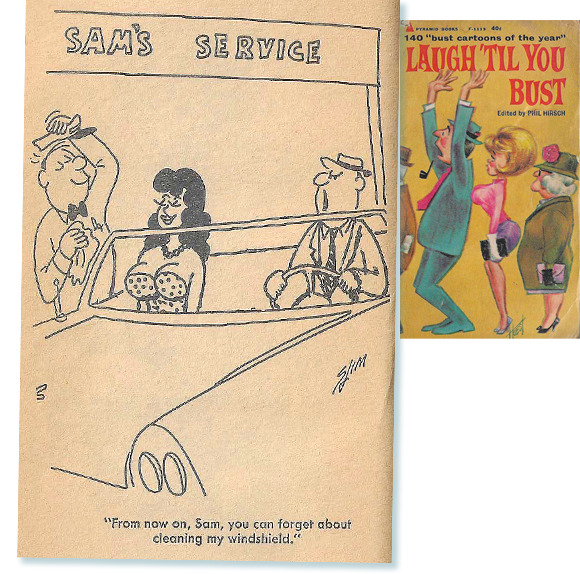 So did Sam…? Hmmm… So did he, instead of cleaning this customer's windshield, wipe down his wife's cleavage? Is this a bit about sexual assault or the lengths Sam will go to get out of work? "Welcome to Sam's, where full service means I'll molest your wife with an old rag. So maybe just fill up your car and get the hell out of here?"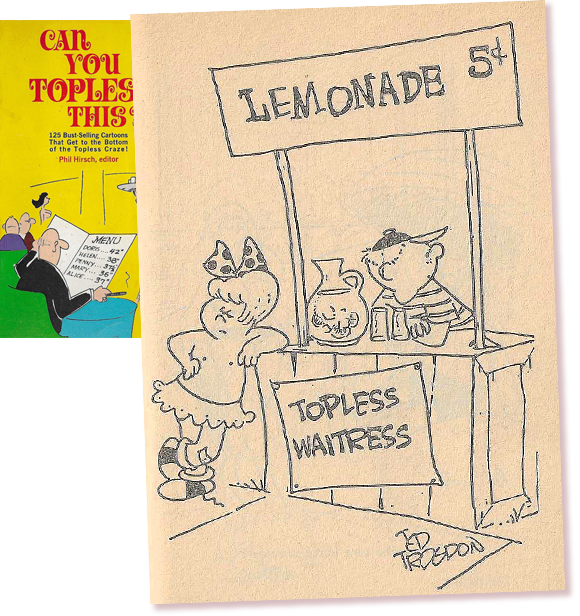 Oh my god. Oh my god, no. This cartoonist's entire idea was "sex workers, but kids," and Phil Hirsch said "hilarious, yes, draw that I want that." And he wasn't disappointed. He put it in the book. If you found a dead body holding this you would instantly say, "Well, I see why someone killed this piece of shit."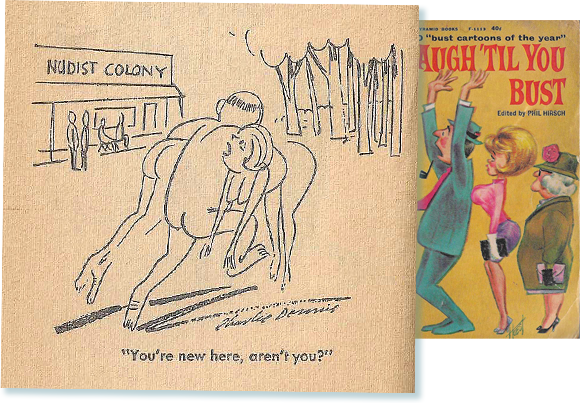 So these women at a nudist colony run into an unrelated naked man who grabs them and runs for the woods. And instead of screaming, one of them says, "Sir, I believe you have mistaken us for nude women who get kidnapped when, in fact, we are nude women who play miniature golf. Sir, my name is not Flesh Flesh. I'm Margaret, and this is Donna. Donna! Oh, Donna must be asleep, and sir, I'll thank you to stop biting me."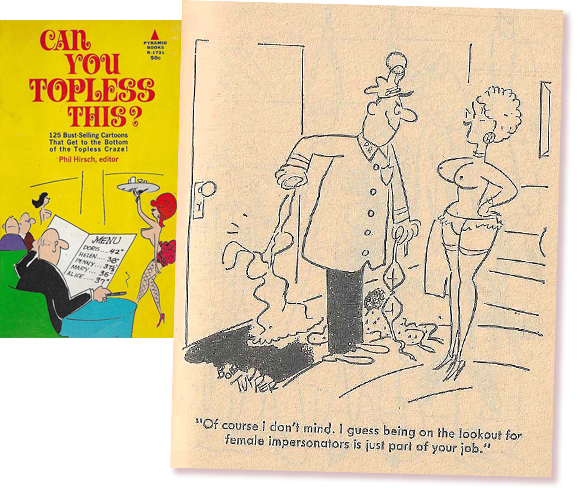 Some jokes really require the right context. Like if you only say, "A police officer broke into a woman's home to tear her clothes off," the joke won't land. You have to add, "She is fine with it because he's probably hunting transvestites." Get it? This one is a sex crime and a hate crime! Someone sat down to write a joke about tits, any joke about tits, and landed on "What if an unspeakable thing happened humorlessly?" This is troubling! I'm sorry I brought it to your attention!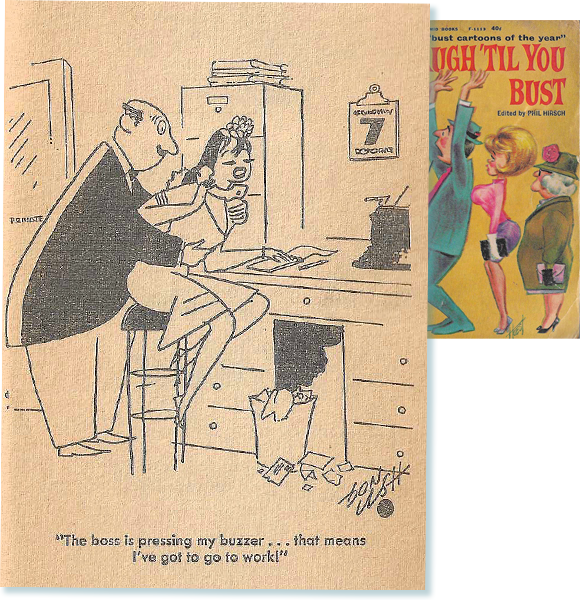 If I'm understanding this correctly, this woman is saying "Anyway, my boss is groping me, so I'll talk to you later." And it's a joke because administrative assistants used to have buzzers but also sometimes called their torso buzzers? I feel like I'm giving them too much credit. A sex criminal's therapist made them draw this for art therapy. If I saw this cartoon hanging on a refrigerator I would know without opening it it was full of lady heads.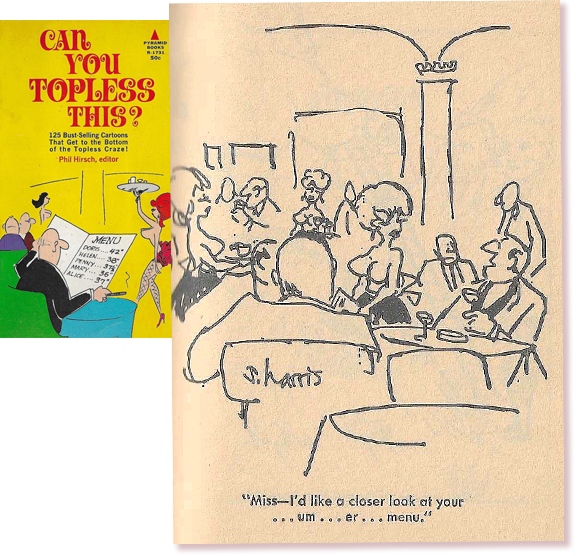 This is aggressively not good. It's the first nervous joke the squarest virgin would try during his first visit to a topless bar. I hope this cartoonist is still alive to know that in a book where most cartoons are drawings of horrible crimes with no punchline, this one stands out as a notably bad one. If a doctor was telling you he couldn't save your legs and this joke, he would call them bad news and worse news, in that order.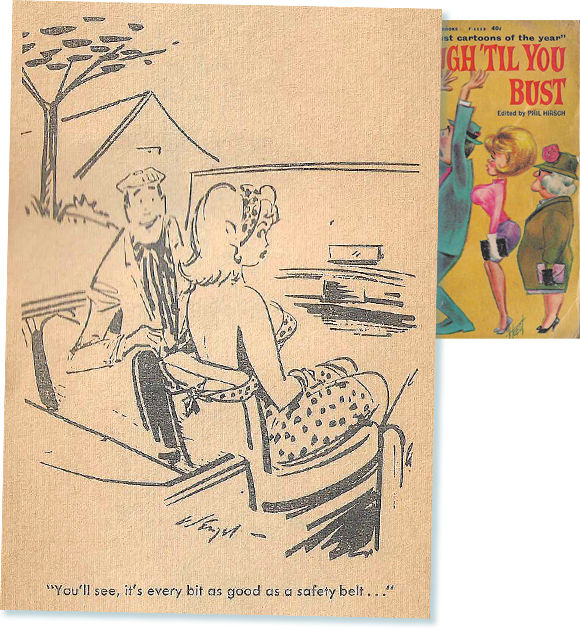 "'You'll die, but at least your final moments will be spent topless!' Is that anything? Is that funny? Maybe I'll ask one of my prisoners as I milk her." – This Cartoonist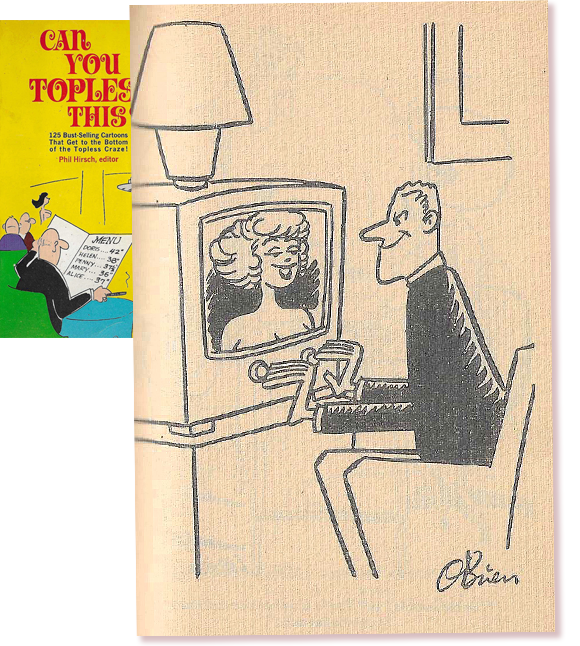 A lonely man fondles his television. Another cartoon done! Wait, maybe it needs something? Oh, of course. He's a creep! Just a lecherous, evil pervert getting off on how he's perfectly recreated an actress's nipples using the volume and channel knobs, and she has no idea. Ha ha, he'll never be anything to anyone, but if he was, he'd be a murderer. Get it!?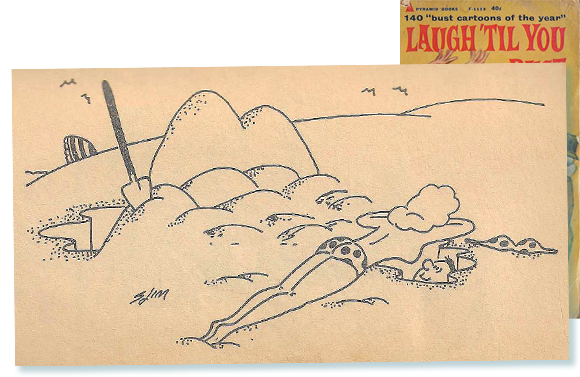 "I HAVE EXCAVATED TWO TONS OF SAND! CONQUERED PHYSICS THEMSELVES! ALL TO LEER AT YOUR NAKED CHEST, M'LADY! HELLO, YES, HI! I'M DOWN HERE! DON'T SCREAM, I HAVE A KNIFE, M'LADY."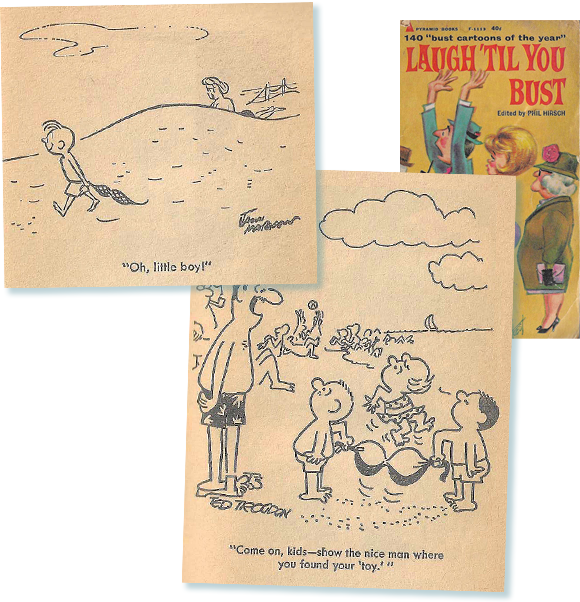 Between the two books, there were about thirty variations of this– kids stealing a sunbathing woman's top and stranding her alone and topless. I don't have a bit about it; I just wanted you to understand that many, many contributors heard "sexual humor book" and their first and only idea was "maybe something with kids?" Then somehow they all landed on the same "kid steals a bikini" gag. Well, not all. Let me show you one of the weirder ones: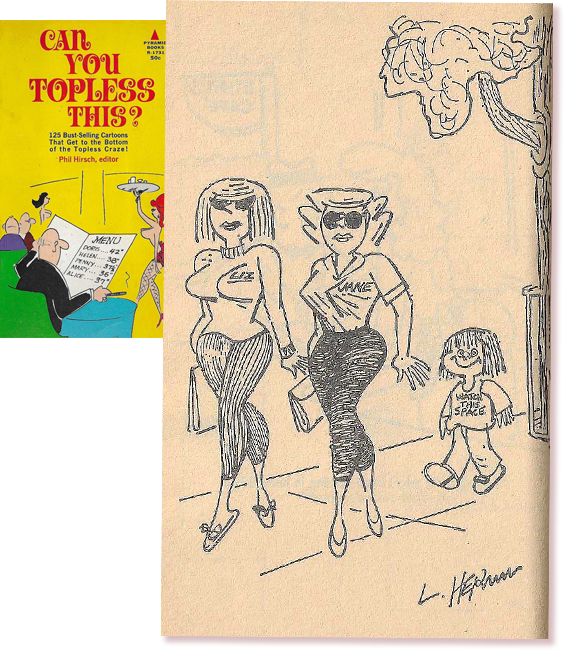 Phil Hirsch knows so many unique madmen. What misfiring pervert brain had this train of thought? Let's say it was a trend for busty women to wear their names on their shirts at the time. Fine, maybe. I don't know shirt trends now, much less a decade before I was born. He saw that and decided that since these names were on the boob part of the shirt, they must have something to do with the boobs. So now if, say, a child wanted to wear one of these shirts they could not, because they don't have boobs yet, and thus no name. So instead they would wear a placeholder shirt so they could be sexually objectified at a later date. See it's not weird! They're telling you to wait to stare at their chests! IT'S NOT WEIRD!
I can't believe how fucked up these books are. Let's get out of this section with just a regular groping: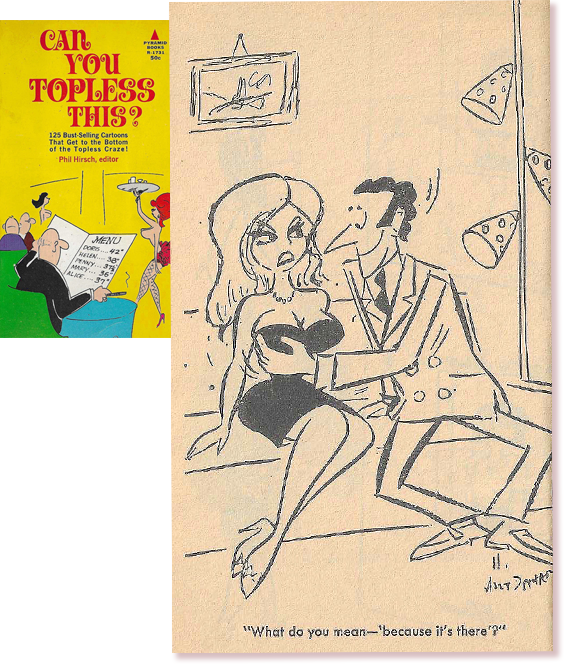 This captures that hilarious moment after a man refuses to explain his sexual assault! I bet the first caption to this was "Yes. Yes, this is enough fleŝ̷̟͐̀̽̑ͅh for the Corn Mȧ̶̗̦̌͠͝ͅn to feed. It shall be a fine hunt, a bountiful harvest, b̸̜̯̋̏rothers!"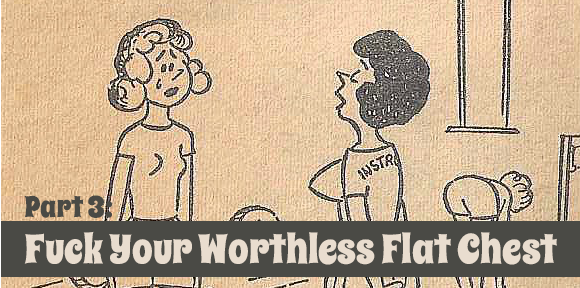 In a world where a book of topless cartoons is a good idea, there's nothing more useless than having a small bra. Here are some outrageous zings and japes about those subhuman flat cows who think they're people!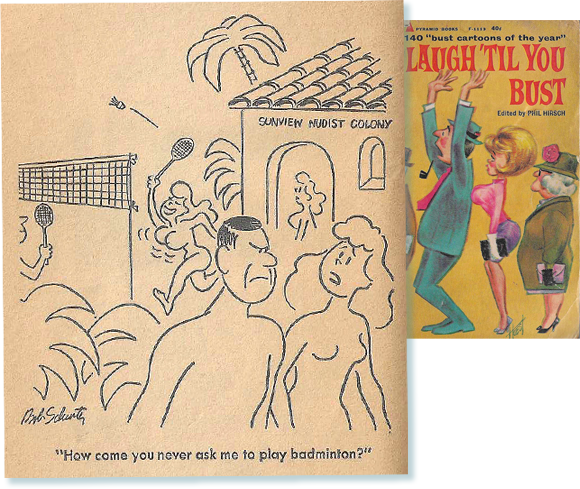 Look at how cranky this poor woman's husband is. He's so cranky about how her goddamn tiny boobs don't goddamn jiggle during badminton he's going to rejoin clothed society.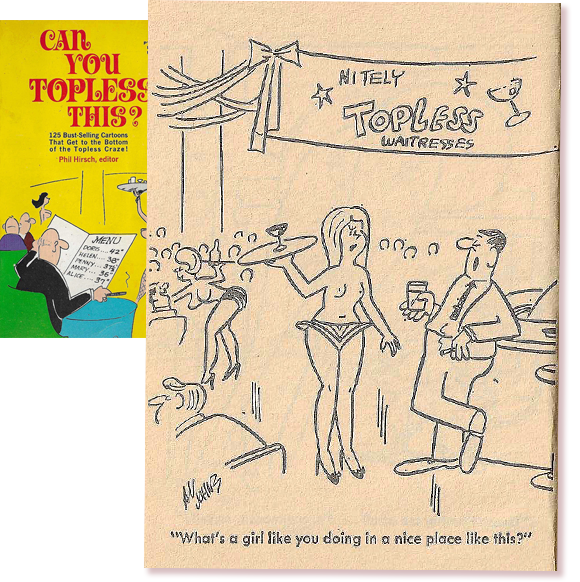 I like this one because she immediately knows what this guy means. Something about his tone made it clear he's not saying, "you seem too kind-hearted to be a sex worker." He's absolutely saying, "Why would the owner of those trash boobs ever take her top off?" Again, it's not ha-ha funny, but it makes sense if you think the small-breasted deserve to die alone in shirts. Oh no, I'm starting to realize these cartoonists might be bad people.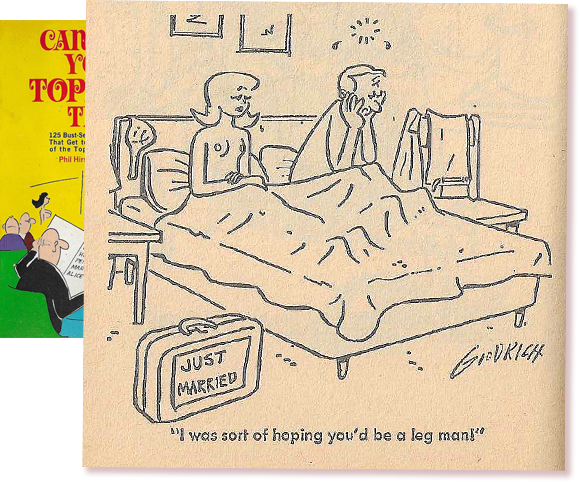 Part of what makes Phil Hirsch such a great topless cartoon curator is that he'll put cartoons by all manner of sex criminals in the same book as the guy who drew this, who thinks it's completely ordinary for a woman to keep her boobs a secret until her wedding night. It's sort of a relatable situation, though; right? Ha ha you stay chaste for 35 years to please God, then see your wife's small tits, ha ha, and act so disappointed she knows, ha ha, she knows you'll never be able to make love to her!
I'm not kidding when I say this sad Amish couple starting their sexless life together was on the same page as a cartoon about a topless diner where a customer told the waitress to make a shake out of her breast milk. From this book, it's impossible to know if 1967 was a lawless breast kumite or a depressing Christian theocracy.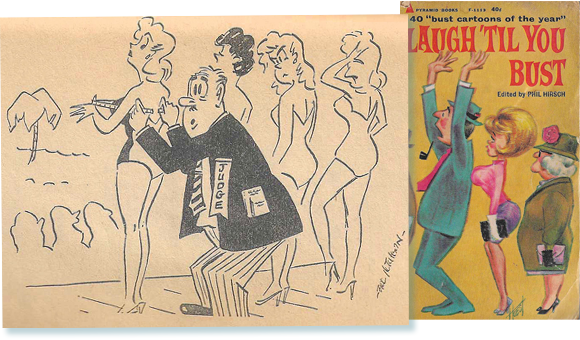 Before talent competitions, did beauty pageants have a part where a judge would publicly measure their tits? That can't be true. This seems like something a cartoonist would imagine if they had never seen a beauty competition and rated all women by bust size, but also did not trust women to tell the truth about their bust size. There was probably a rough draft of this where the judge was ponderously eating a pair of each contestant's panties.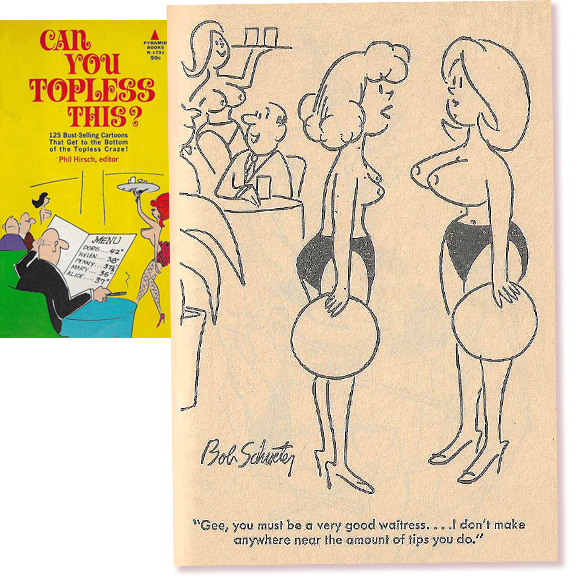 "Durr, I don't know how anything works," says one naked woman. "Nothing at all," responds the other naked woman. The joke here isn't great, but the author really understands women.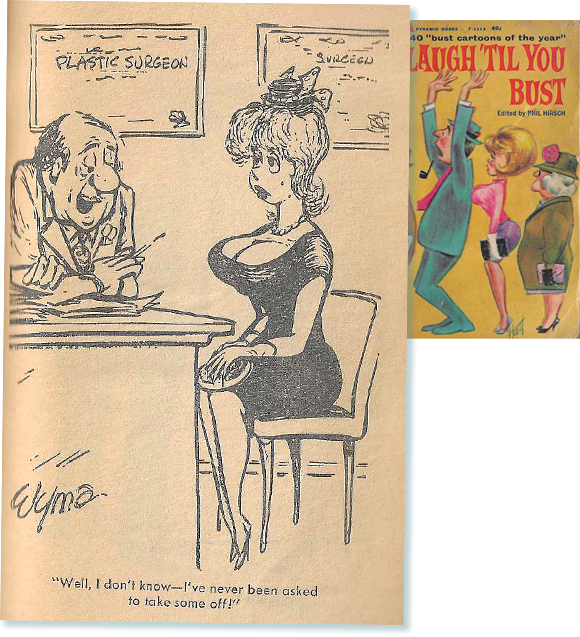 Think of how obsessed you would have to be with boobs that you would find a medical breast reduction, with no further context or details, a fully complete joke. This is like saying, "What else is in the news? Have you guys heard about this? There's a new kind of diaper you throw away. What's next? A diaper you can't eat out of?"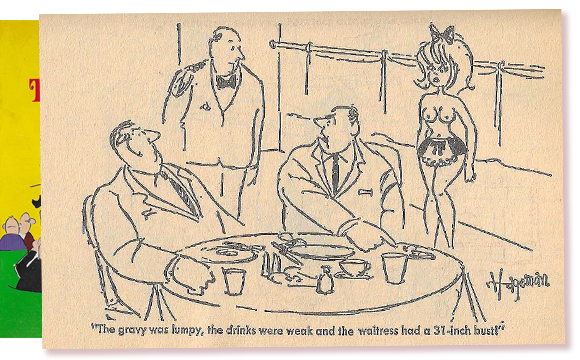 This angry man hates small breasts, but not as much as weak drinks and lumpy gravy. "That's right, you stand there and listen, you small-breasted beast," hissed this cartoonist at his silly drawing. "Aiiieeeeeee!!!!" he shrieked at his penis for the next hour.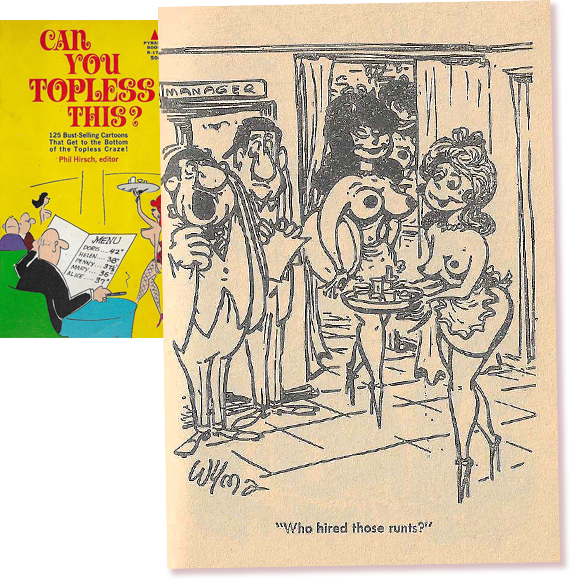 I don't really get this one. No, wait, I see it now. I guess it's kind of funny. Well, it might not be after I explain it, but let me try: her boobs aren't very big, so no one at the topless club will want to look at them. Ha ha and they say you ruin a joke when you explain it. Tell that to this waitress who is unemployable because of her small breasts!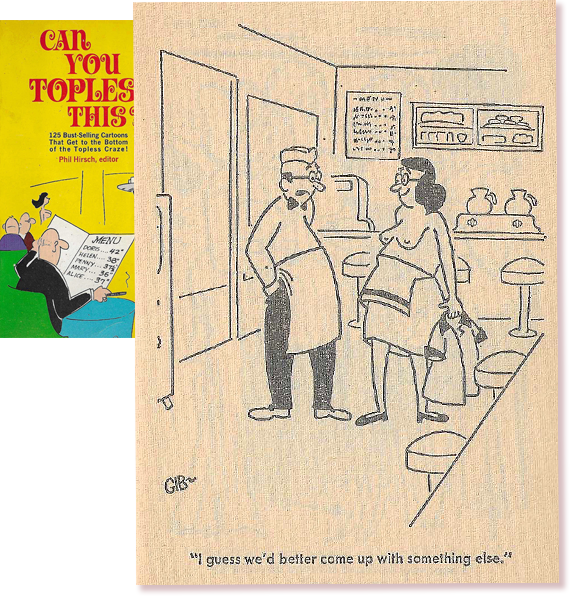 We've already seen a few versions of this "your tits aren't good enough for topless waitressing" joke, but I liked this lady's smile. The cartoonist could have had her react to this humiliation in so many ways, but he chose "I've been waiting my whole life to pop that shirt off." And maybe she's happy because she knows giant boobs aren't always an advantage…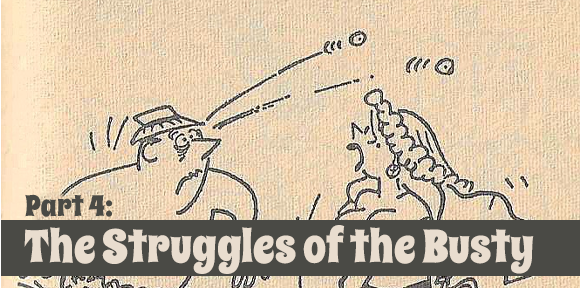 I hope you're ready to laugh, because these buxom ladies can't keep their tits out of anything!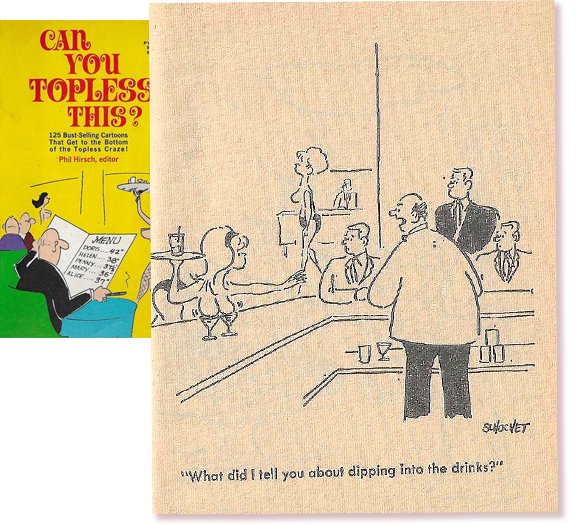 The bartender seems to think this dumb dingus keeps flopping her boobs into the drinks on accident, but there are only two glasses on the bar and nothing within her arm's reach. This is no accident. What could this woman be doing other than trying to drink with her tits? None of these cartoonists know anything about boobs, but this one definitely thinks you can breastfeed in reverse.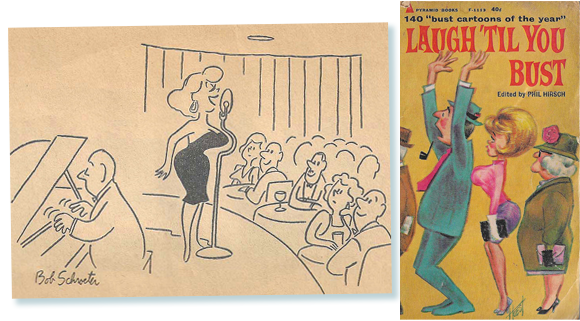 Oh, that's cute. The singer's breasts are so big they made her a special microphone stand!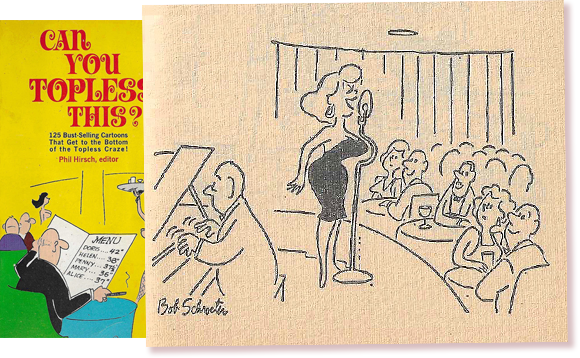 But I don't know if it was cute enough to put it in both books, Phil. And now you have me thinking about it, what is this shit? Dolly Parton had already been performing for 10 years with ordinary equipment when this book came out. And Led Zeppelin didn't make a special dick canal in Robert Plant's microphone stand. You idiot, Phil. What's next, a woman who can't wait for trains because her giant rack pokes over the tracks?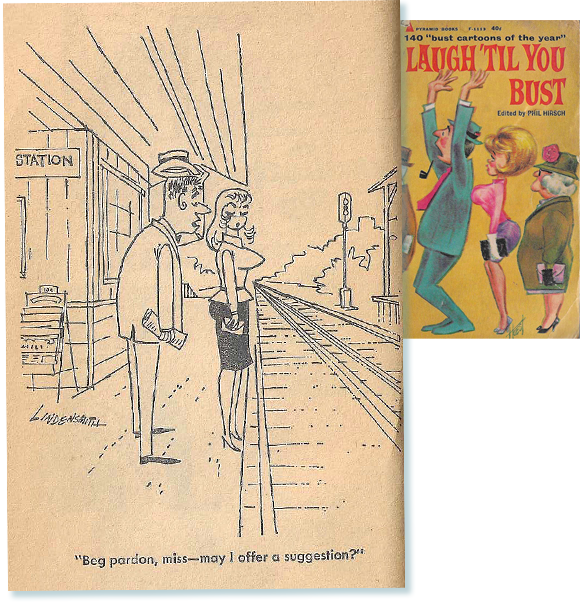 Every other man in these books greets women by grabbing their breasts and pulling. And here, in the one situation where that would be helpful, is when they're a perfect gentleman. Fucking unbelievable, Phil.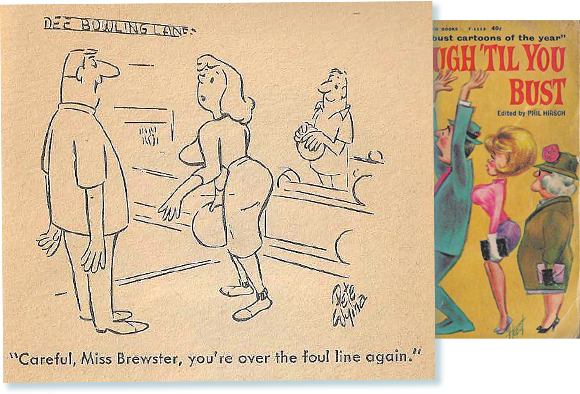 Let's forgive Phil and put ourselves in this world where the bowling foul line extends invisibly upward and any other player from around the bowling alley can walk up to you and declare you crossed it. Are you picturing it? Okay, great. Now her boobs should be funny.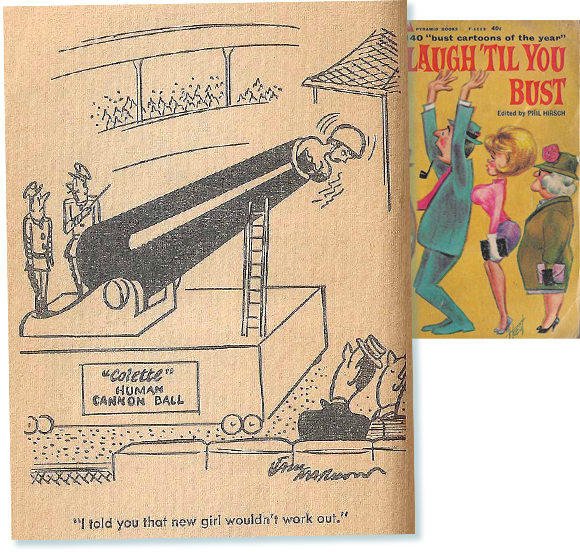 This one is fun because in order for it to work, the woman had to have taken a job as "Colette the Human Cannon Ball" without ever testing the cannon out. They were going to try launching her, for the first time ever, in front of a packed stadium. She was going to get smeared across the top of the tent and hear a voice say, "Welcome. We are the 17 previous Colettes. You are now member of the Dumbest Ghosts Ever Squad."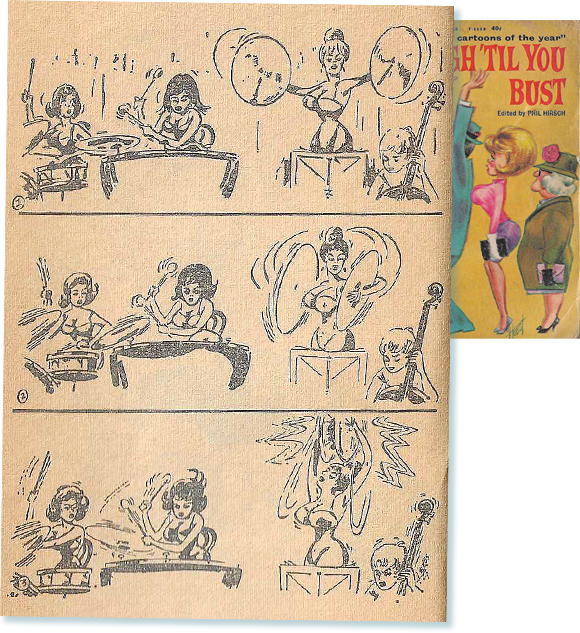 Like Colette XVIII, this woman agreed to perform without a single rehearsal. "Wait, I can't clang these cymbals because of my boobs" she suddenly realized. But then the MacGyver of paraplegic swimsuit percussion bands thought, "If I aim them just right, I should be able to hit them together above my head." She was right, and we've come to the end of her story.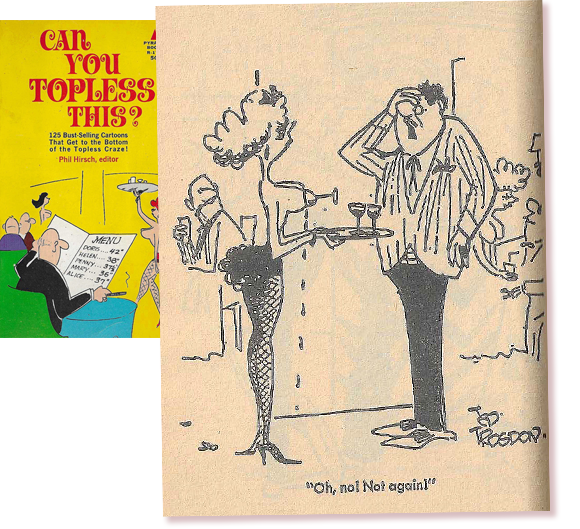 One major problem with big boobs is they're… always getting caught in martini glasses!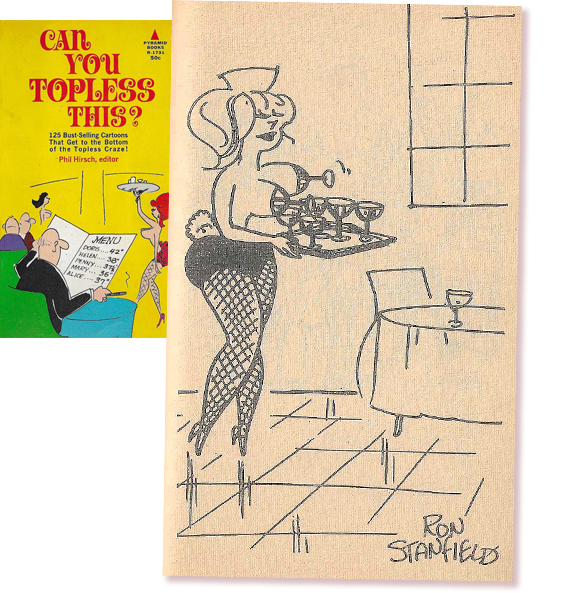 It happens so often, sometimes cartoons about it don't even get captions. "Oh, no! Not again, again!" I imagine her boss would say.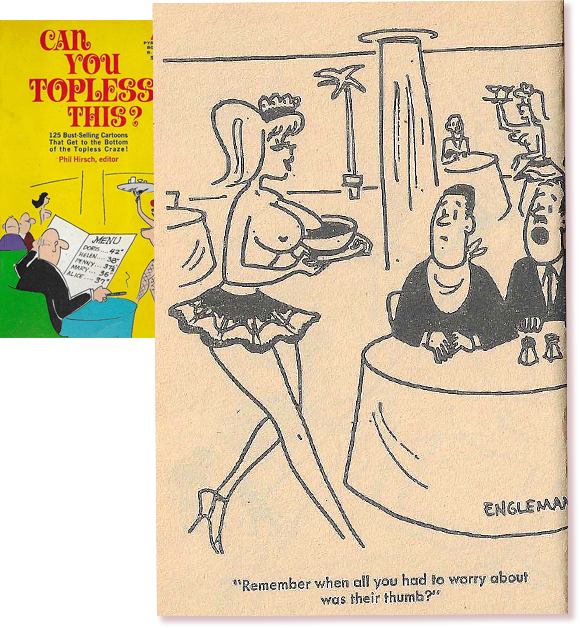 These two men ordered one bowl of titty soup for the table and they think it's modern topless society that has the problem.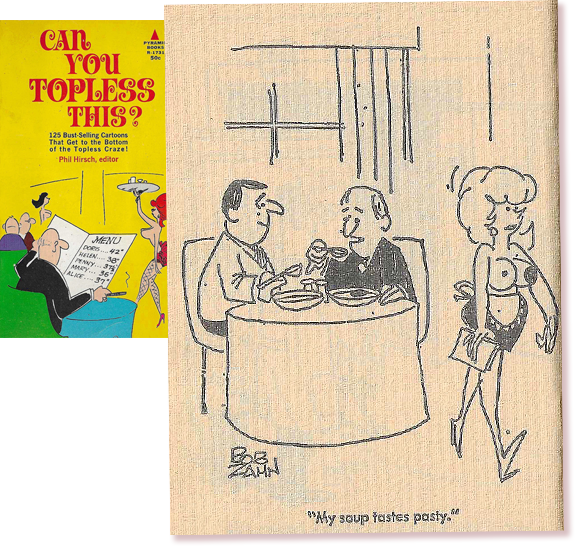 Phil, I was hassling you about including too many cartoons about boobs stuck in glasses and kids stealing bikinis, but you might have overdone it with the titty soup jokes too.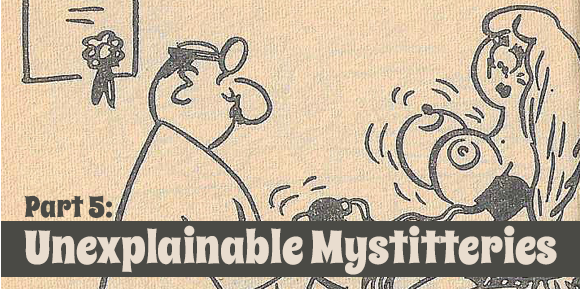 Whether it's because the cartoonist misunderstood comedy, or whether they had no breast experience, not all the jokes included in these books make sense. Let's explore some of these mystitteries together.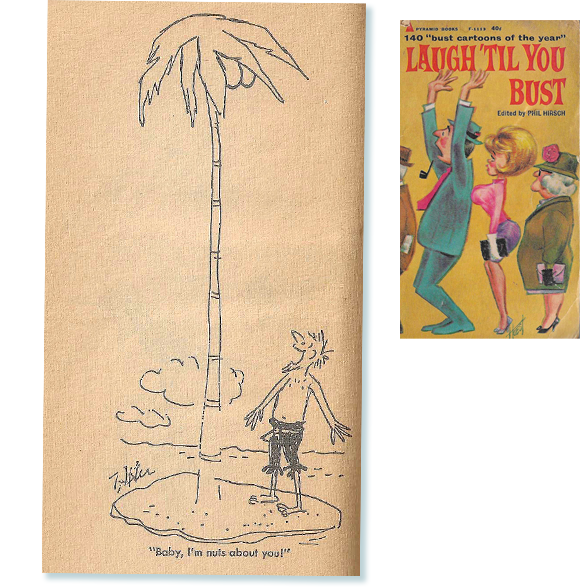 Phil, how bad do you have to be at making boob puns to accidentally publish a nutsack pun? Was it an accident? A prank? A dying man is about to fuck a tree's balls– this is no time for clownery!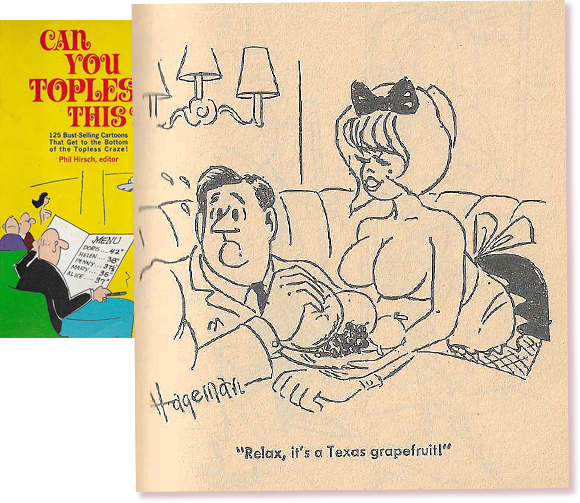 So this flustered man has gone to a topless restaurant and ordered a plate of fruit? And it comes unprepared in a big pile? And when it gets there he looks away and paws blindly into the food!? And touching a breast is his worst nightmare!?!? No! No, on behalf of my universe's laws, I refuse this! Take this back to hell with you, Phil!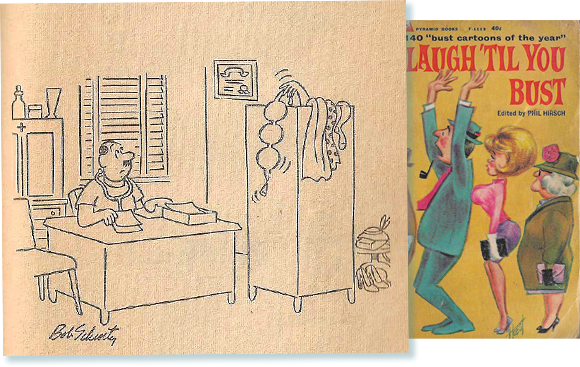 "I have a cartoon about a woman with three boobs, but I don't have a punchline yet," said Bob.
"What? Punchline? Boobs? I'm hearing a lot of these words for the first time here, Bob," replied Phil. "But they sound great. Let's put the thing in the book the way it is."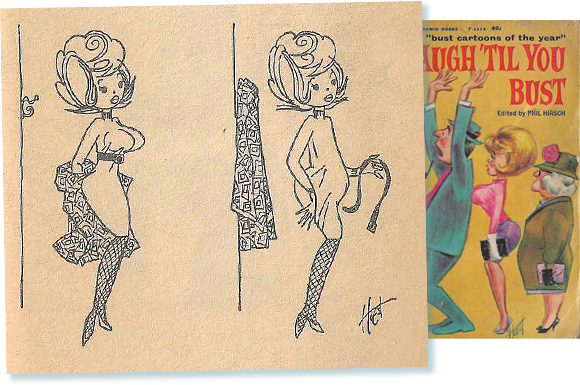 "I have taken off my belt. Time for my Earth breasts to fall into my human pelvis, as they do SQWAAARK."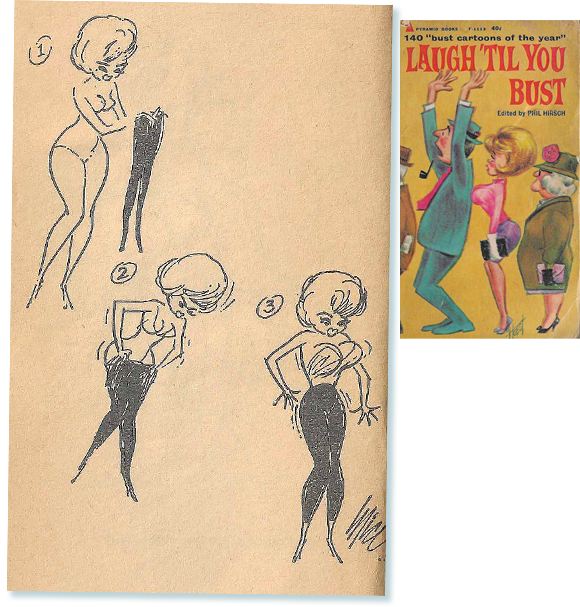 "Hark, fellow this-planet-native, KAAAAWWW, I have the opposite problem."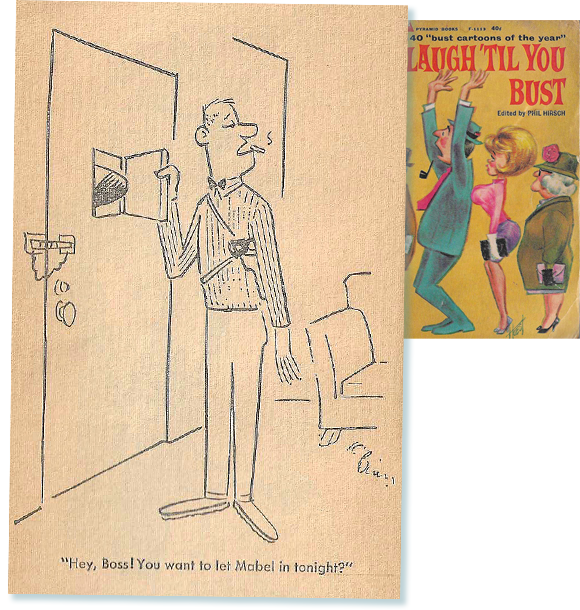 "I'm Mabel. I'm here to see the boss," says Mabel by wordlessly heaving one breast through the door's smaller boob door. I don't have anything mean to say about this one. I only wish this story went on forever.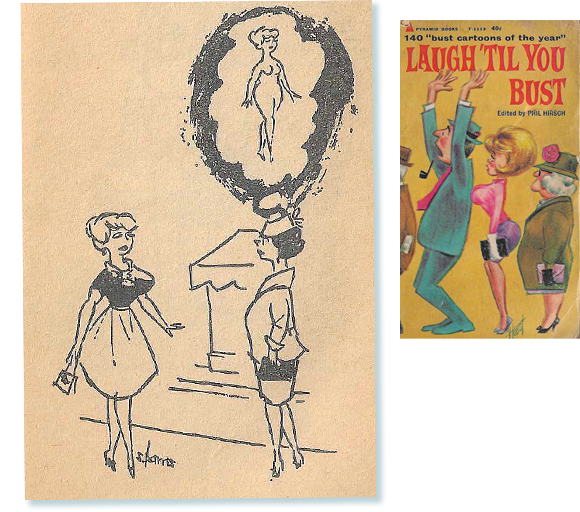 I'm not sure what is happening here. Is the woman on the right a witch, and this is some kind of anti-titty curse? Is this how women settled conflict in the '60s– facing off and imagining each other with smaller and smaller breasts? It's one thing to have the punchline of your comic be "unwanted groping" or "train tears your tits off" but this unexplainable madness? This might be worse.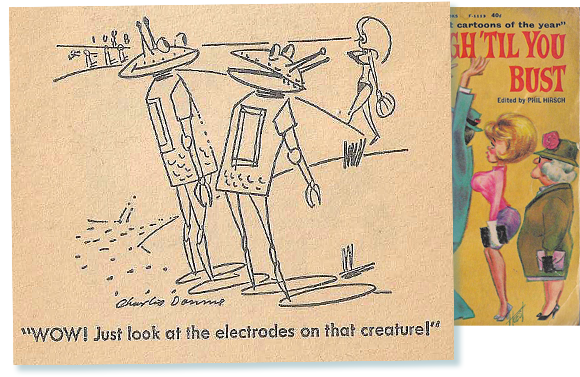 "Bleep blorp, we are robots! We have learned to be aroused by your fleshy mounds, though we never learned their names or function! Certainly this is a coherent comedy premise, bloop!"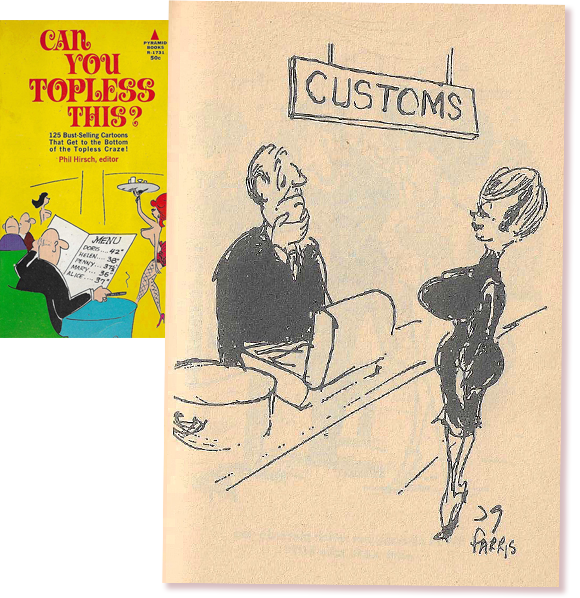 "No need to explain this one," said the cartoonist drawing a customs agent staring at tits.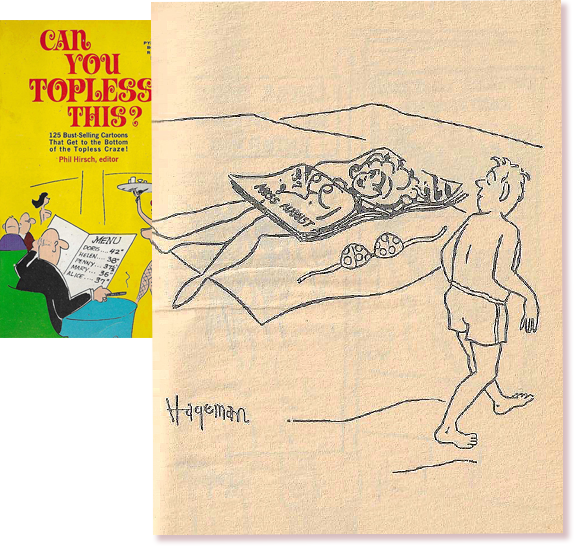 Is this some kind of metaphor for how 1967 men could only perceived women through a pornographic lens? Or did someone hide half a dead body under a weirdly gigantic nudie magazine? I understand the human brain instinctively wants to put puzzles like these together, so I apologize for leaving you with so many unanswered questions. To make up for it, I'll end things with a brilliant one.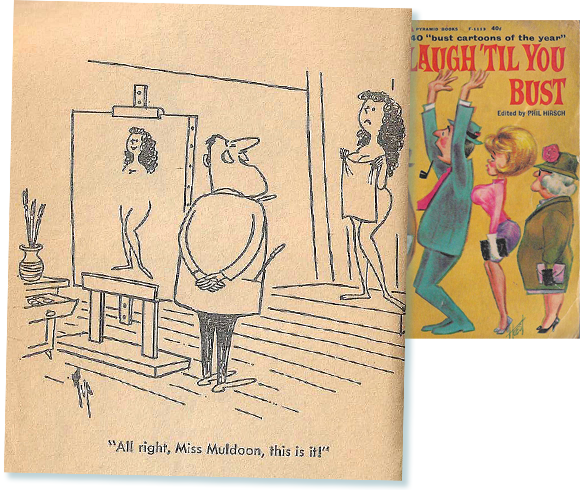 After so many cartoonists tried to turn sexual harassment into art, I'd argue one finally did it. I challenge anyone to say "show me your tits" more artistically than this.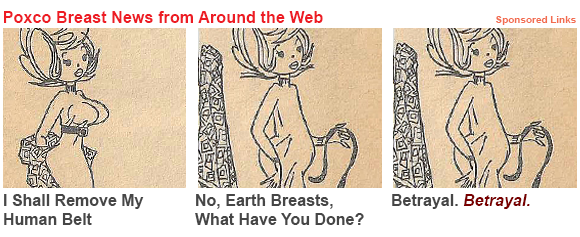 …
This article was brought to you by our fine sponsor and Hot Dog Supreme: James Boyd, who is the martini glass stuck to the titty of our heart.