Oh, hi! Do you like butt stuff, only you wish it was more of a clinical exploration of the erogenous clusters inside your anus? Then you'll love the 2003 VHS cassette tape, THE BETTER SEX GUIDE TO ANAL PLEASURE!
Warning: This article is explicit as fuck and technically safe for work, but holy shit is it going to catch the eye of anyone reading over your shoulder.
"Pleasure" is a word invented by gross people to be used only when having uncomfortably frank discussions about sex. "Pleasure" is what a couple explains they share when they eat out of each other's diapers. "Pleasure" is the word you purr when you list your top five concert fucks to your grandchildren. Anyway, the word "pleasure" appears on the box of THE BETTER SEX GUIDE TO ANAL PLEASURE nine (9!) times.
The box also praises the host, Jack Morin, PhD., as "the world's leading expert on anal eroticism."

Almost every tape like this is produced by grifters and crazy people, so the first question a potential customer should ask is, "Is there a single way to prove these wild claims right or wrong?" If it's a tape on witchcraft or picking the best dog, no. But in this case, yes, of course. You simply walk up to every other anal expert and say, "We each explore five butts; may the most erotic man win. WHO AMONG THE NEARBY WANTS TO GET PLOWED IN THE SPIRIT OF COMPETITION!?"
I'm having fun, but it turns out Jack fell into this role of, let's call it U.N. Assmaster General, as a therapist in San Francisco where clients had a disproportionate number of anal eroticism questions. It may be entirely academic, but given his dedicated research, data collection, and clinical specialization, he might really be the world's leading expert on anal eroticism, an absurd claim but awesome first date conversation starter.
In the spirit of this defying of expectations, the structure of my article will be this: I'll give my initial reactions to each section of the video as an absurd piece of tone deaf pornography marketed as an instructional tape. This thing truly is weird as fuck. Then, after watching the entire 60 minutes plus the generous, lengthy behind-the-scenes featurette, I'll add my Anal Hindsight, a section where we can compare my newfound butt wisdom with my first impressions. I'm making it sound more complicated than it is, but I am desperate for everyone to know this anal sex guide produced a segment just to show us everything that went into building a fake living room and pointing cameras at the fucking people.
Let's get started!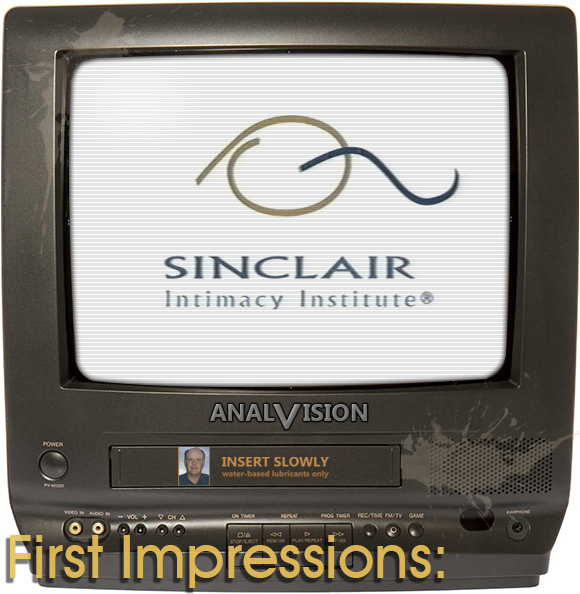 The SINCLAIR Intimacy Institute's logo swirls in while amateur saxophone music honks. It's, anally speaking, the closest you can be to fart sounds and still count as music. It seems impossible so much care went into designing and animating this and no one ever said, "Maybe let's try an anal sex production logo without the butt sounds."

The SINCLAIR Intimacy Institute is basically a group of adult toy salesmen who market themselves as medical experts. They seem to specialize in very common sense advice, but worded a little more gently than the Important Safety Instructions on your butt plug.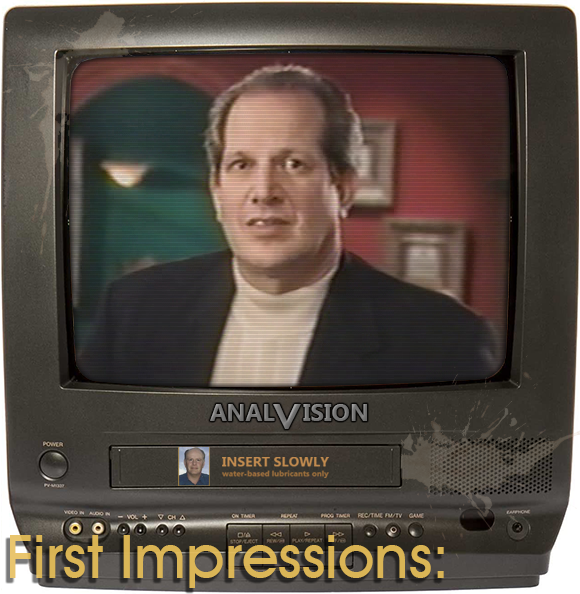 This man with no broadcast skills comes on and hisses the words "IT'S HARD TO TALK ABOUT SEXsss." With panic in his eyes, he scans each line of a dry cue card about the nature of eroticism. He's the least erotic man I've ever seen and I've watched Gene Simmons eat a corndog. They probably cut the part where he said, "I was once Important Safety Instructions on a butt plug when the kiss of a lonely Top Amazon Reviewer brought me to life." It would explain why he never says who the fuck he is or lists any qualifications. If Jack Morin is the "World's Leading Expert on Anal Eroticism," maybe this man, whoever he is, is "Cleveland's Usedest Diarrhea Guy" to offer a counter perspective?

It turns out the man I guessed was Cleveland's Usedest Diarrhea Guy, who "won't be beat on yesterday's and the day before's loose poop!" is an executive with the SINCLAIR Intimacy Institute, and this was the best of 14 takes. They actually make fun of this in the behind-the-scenes featurette. His employees found him terrible at this unnecessary, unhelpful thing he hated doing and had no reason to hire himself for! He got humiliated in the high-production video he put up the money for! I understand the stakes are very low in the world of introducing anal sex videos, but it's safe to say he failed much harder than should have been possible.
Let's meet some of the other participants.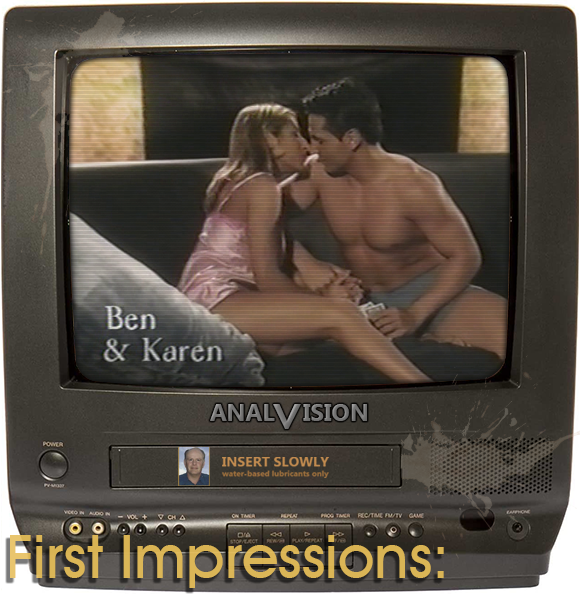 A couple things are made clear very quickly here. This video is going to include real couples sharing anal pleasure, and Ben and Karen aren't comfortable with any of that. They kiss like two counselors putting on a heterosexual demonstration at Mike Pence's Teen Camp for Demonic Possession and Gay.

This few seconds of an awkward kiss is basically all the Ben and Karen time we get. The SINCLAIR Intimacy Institute cut them almost entirely from the video. I think we've all discovered mid-anal that we may not have a ton of chemistry with a partner, but at least none of us have ever been declared "useless even for the purposes of education" like Ben and Karen.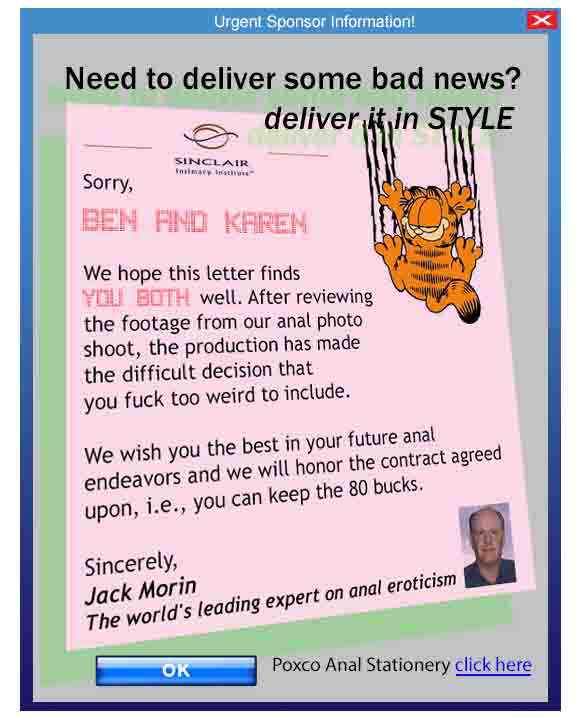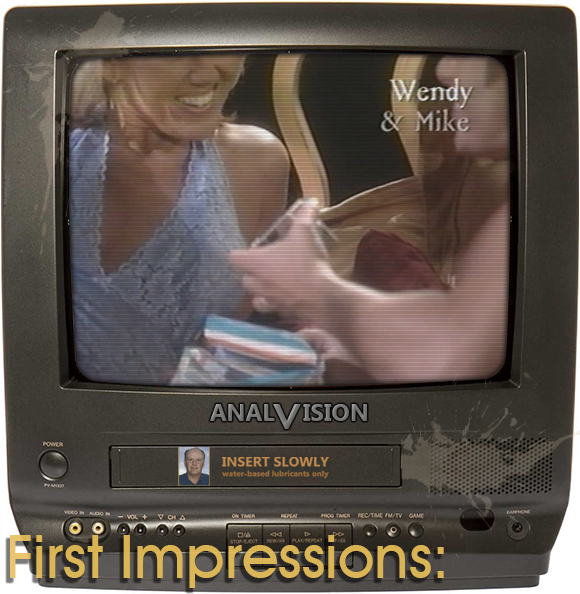 Wendy and Mike, as is customary, exchange cute little gifts before they let strangers film their all anal action.

Wendy has only had two lovers in her life, which means she went from full virgin to cowgirl-riding a man with her asshole in front of a documentary crew in one step. Erotically speaking, this is like trying your first joint on Thursday night and carving "TU ERES EL SIGUIENTE" on a DEA agent's body on Monday morning.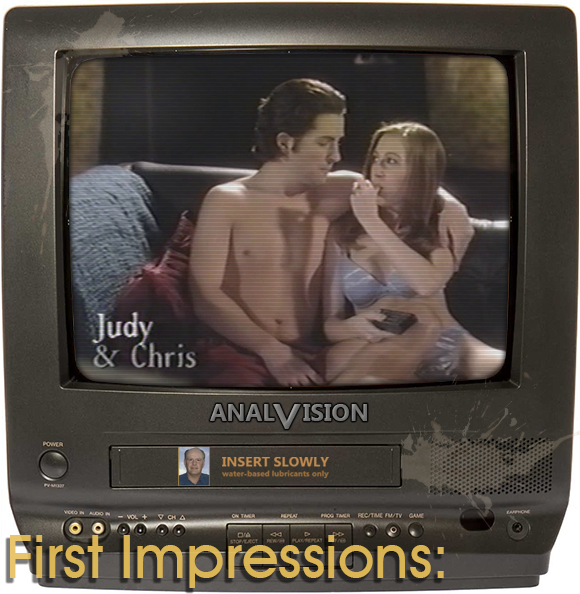 These two seem comfortable as hell. I get the feeling Judy and Chris have fucked in front of people before.

Of all the times they performed analingus on each other later, they never did anything to suggest I was wrong.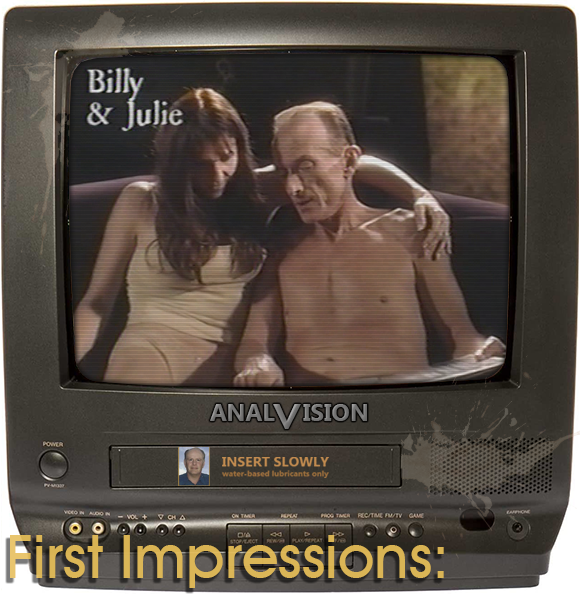 Here we meet Billy and Julie who seem to be going through a 1955 yearbook to see if Julie remembers Mort Krabheimer who Billy just received word had passed. Ahh, look at these pictures, they were chairman and treasurer of the Wichita High Wagon Burners Segregation Team, respectively. "I remember Mort," contributes Julie.

I'm making these two sound sexier than they were. Billy has a dick game any medical examiner would describe as "multiple lacerations and stab wounds." He fucks like he's specifically trying to remove the lubricant from Julie's colon in the least pleasant way possible. He fucks himself like that too. Every time the video mentions masturbation, you're guaranteed to see a shot of Billy cranking off with the determination of the legendary frontier explorers he grew up with. He is a cranky, joyless elderly man and whoever said, "Let's film him jerk off with crazy eyes and increasingly large things in his ass for hours," should be arrested.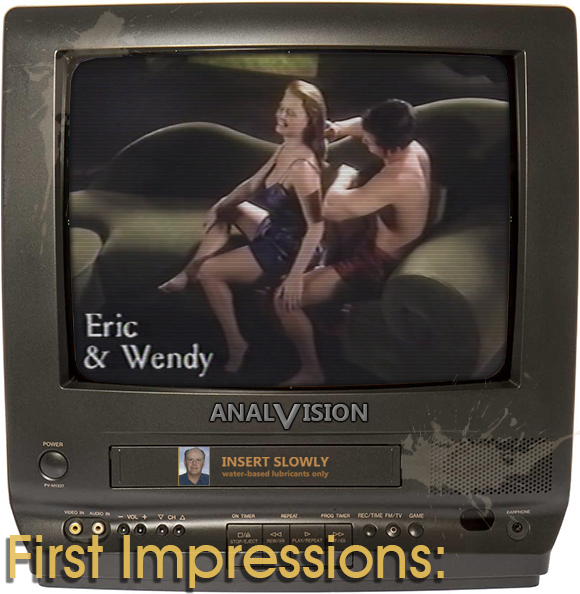 Eric brushes Wendy's hair; they seem nervous yet excited. "I hope you brought that hairbrush from home, Eric!" I shout at the TV. He probably did and it's a dumb joke, but I love this rush I feel from being smarter than the man untangling his wife's hair with a brush he found at an anal photo shoot, even if he's completely hypothetical.

They never do show the hairbrush go inside anybody's butt, but you're a fool if you think that proves it didn't happen.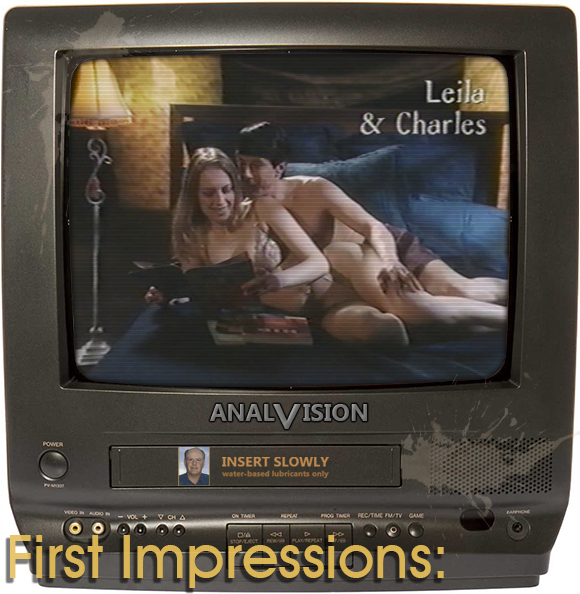 Leila and Charles seem to be going through some informative anal literature together. This is like a weekend project for them now that the garage is done. "Oh, it'll never be DONE," says Charles. Leila says nothing. She's heard this joke too many times and has decided to stop encouraging it.

Charles is super square and very much in love, and he says things like, "We become more comfortable exploring each other's bodies." I get the sense Leila is way more than he can handle and this public butt stuff is a desperate way to seem adventurous. He was definitely hoping she wouldn't see the flyers for this at their couples nude pottery workshop.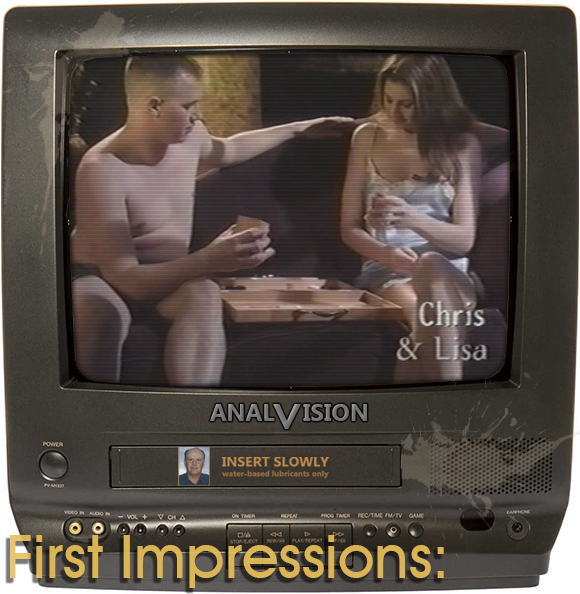 Chris and Lisa smooch over a game of mostly naked backgammon, which as a comedy writer would be on my short list of choices for most hilariously unsexy foreplay activity. Chris has the hairless build and bodyfat percentage of a toddler after his first haircut. He's a slow, soft tube of quiet perversion and Lisa seems like she might be in danger.

Lisa explores Chris' anus like they're poorly supervised children playing scientist. And it seems like they play backgammon with Loser Gets Hit in the Head With a Shovel Rules. Chris takes butt fingers with all the enthusiasm and rigidity of a pillowcase full of warm shrimp. I'll never be able to describe the theme of this video more artistically than Chris when he explains how he came to tolerate Lisa's anal explorations. This is an exact quote: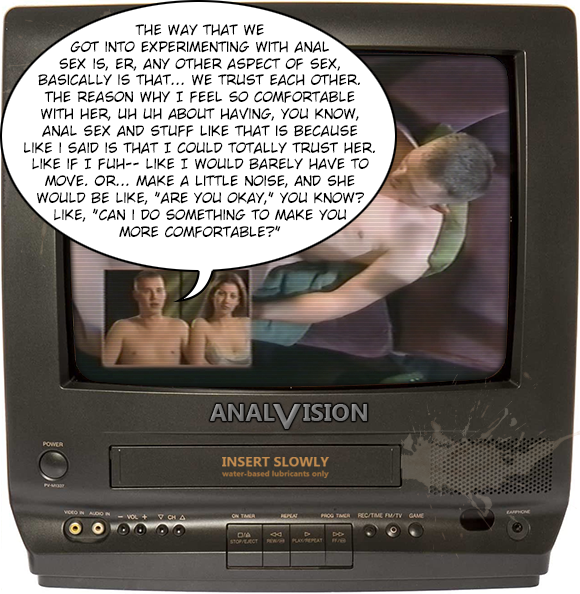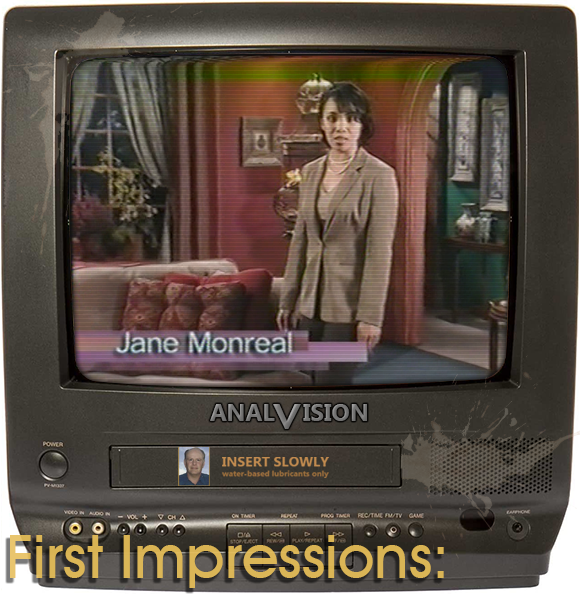 We finally get to the main title card and a woman walks onto a living room set, does not introduce herself, and declares, "WELCOME. IN THIS PROGRAM WE WILL LOOK AT ANAL EROTICISM." She delivers it like an actress playing a newscaster in a movie about undead snakes. And after rephrasing "In this program we will look at anal eroticism" many different ways, they show us her name is Jane Monreal (no medical or sexual qualifications listed). Here's the thing: there are no shortage of out-of-work sex experts. I hire them off LinkedIn all the time to Skype in and tell me which objects in my office could replace a human vagina. It only costs like $1800. Plus, there's also no Council For Truth in Erotic Claims. So if they didn't want to hire a host with a real sex therapy background, they could have simply declared Jane Monreal "City Comptroller of The Butt."

I made fun of how Jane Monreal sounded like a fake TV anchor before I found out she went on to be a Fox news reporter in Florida. Which means I stumbled backwards into a truly elegant joke. In the behind-the-scenes, the voiceover says she was chosen "because of her comfort level with the material and her professionalism" which implies the existence of at least some applicants who giggled the whole time Lisa fisted Chris.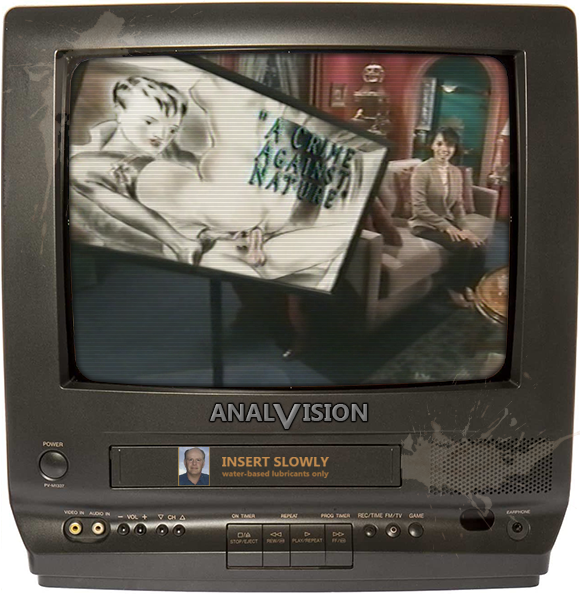 Jane takes a seat on the set couch NOT for anal sex and robotically lists the variety of options in anal self-pleasure. The copy was written by someone who had to fill 8 minutes with information on anal pleasure and had no way of hiding they had 7 minutes less than that of butt knowledge. Suddenly, and holy shit, wait, no, what, it pans to a tilted monitor featuring a pornographic drawing and the words "A CRIME AGAINST NATURE."
Jane does not mention this or even seem to know about it. She is still talking about the joy you can smash into your partner's filthy hole while the video jumps right into the history of criminalized assplay.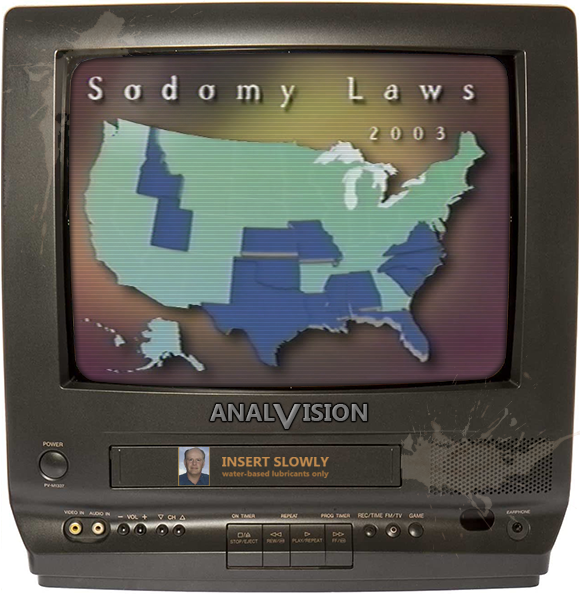 I hope you're ready to get sexy! Here's a brief history of our Great Nation's sodomy laws. It was illegal in some states, the ones you'd expect, and now here we are in 2003 where you can disguise a dildo advertisement as a beginner's sodomy guide.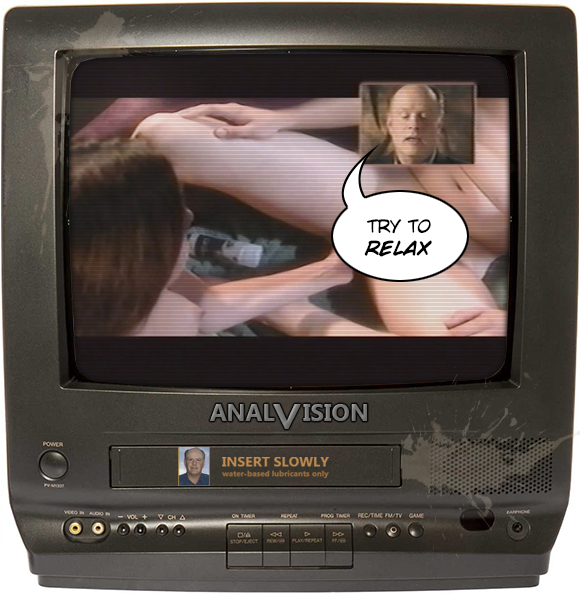 The vast majority of the video, about 45 of the 60 minutes, looks like this. Couples do things to their butt or the butt of their partner and an inset of Jack talks about the dos and don'ts of body cavity searches. There was no effort to time these two things together, so Chris might be getting beads pulled out of him while Jack talks about the importance of washing your rectum.
There's a great moment where Chris takes a deep breath and signals Lisa his anus is ready for another finger, nodding to her like she's a zipline guide and he's sure he's the bravest boy on the tour. Meanwhile, Jack is listing dozens of ways you can tell your partner you don't want something in your butt. "Let's wait. Let's try external stimulation. Let's do it another time…" You won't be surprised by this, but a huuuuge amount of anal play education is teaching you ways to gently break it to your partner you're not into anal play. We're only ten minutes into this video and all I've really learned about butt stuff is that most cultures hate it and I can delicately explain to each of them how they're right.
Let's move on to the Anatomy section, or as Jane introduced it, "LET'S EXPLORE THE NATURE OF ANAL PLEASURE."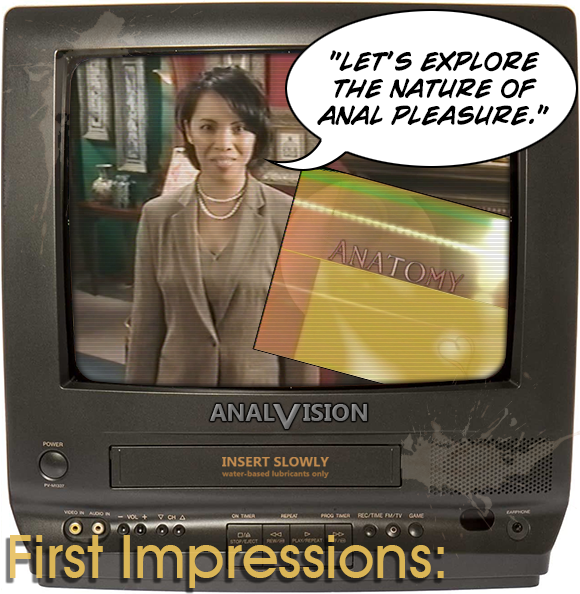 This is, by any definition, hardcore full-penetration pornography. Still, it does a good job avoiding what you'd call "sexiness." For one thing, Jack's head is constantly floating near the genitals and saying things like, and I quote, "elimination is a key function of the anal area." And each segment is broken up by a newscaster reading another bland cue card about how "rimming" is sweeping the nation. These are amateur couples terror-plowing one another in a deliberately clinical setting. I guess I don't know the perfect tone for a video like this, but it's definitely somewhere between this and "Hey, NASCAR fans, I'm professional driver Backdoor Larry– The Rocky Mountain Ass Man! And I'm here to show you and these lucky wet assholes how I lost my sponsors!"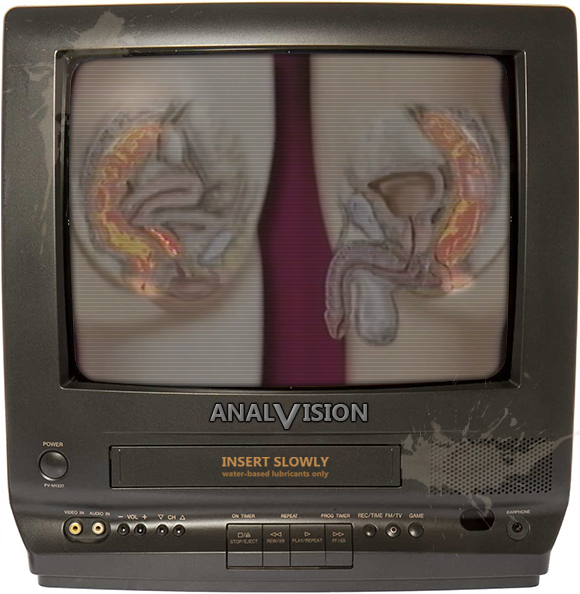 Anal sex is one of those things that seems pretty intuitive, but once you start writing the instruction manual you realize there are a lot of bases to cover. So this man's head is constantly floating there, rattling off butthacks as they occur to him. "The anus (shower first) contains many nerve clusters (and parasites), but you won't be able to get to her vaginal sponge through it, so you'll want to do some clitoral stimulation with your fingers (file your nails down) or a vibrating sex toy (available on the SINCLAIR Intimacy Institute's world wide Website), and you will rupture something if you don't relax (practice with a kegel regimen); remove all penises (or objects) slowly! Remember to smile! Communicate! This is fun, in my expert opinion we're having fun!!!"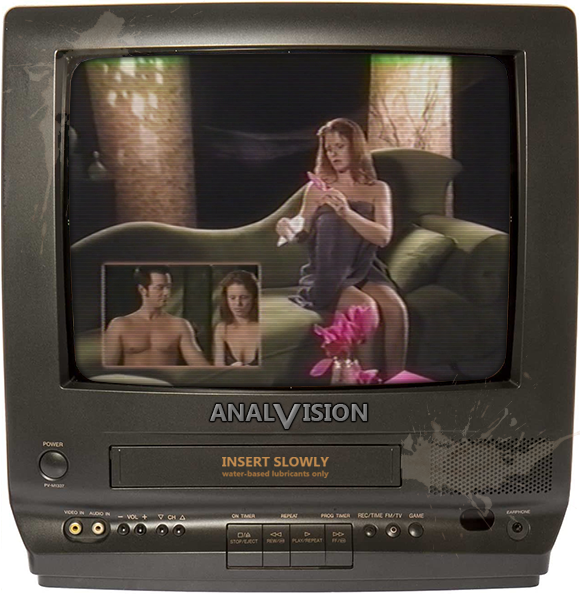 To drive home the pleasure part of all this anal pleasure, a big portion of the Anatomy section is watching Wendy clean the parasites and feces off her butt plugs. Speaking of, let's move on to TOYS.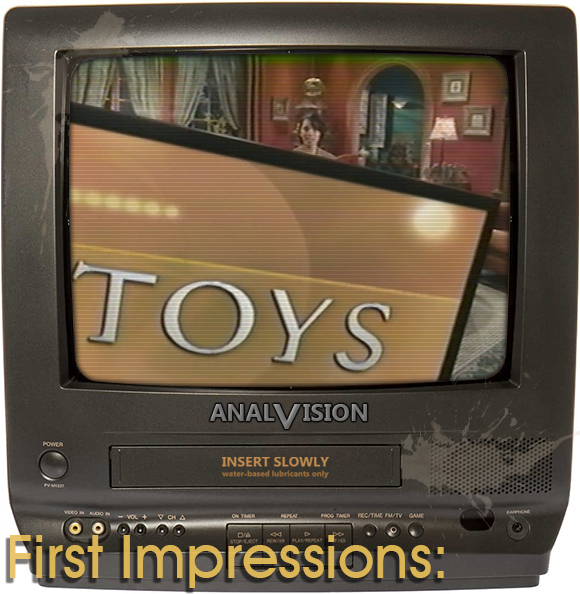 I've been a capitalist long enough to know a commercial when I see one, so I figure this section is going to hard sell me on some kind of "Anal Beginners Kit."

"The full kit includes 22 ounces of water-based lubricant along with The Regular, The Coward, and The Coward For Her."
These people spend a lot of time talking about sex toys, but no one -no one- is comfortable with it. This is the safest space anyone will have to discuss vibrating butt beads and they all act like they're going to crack up or their parents might barge in. It's so weird. Aside from everyone butt fucking on the same couch, no one involved had any idea what this thing should be.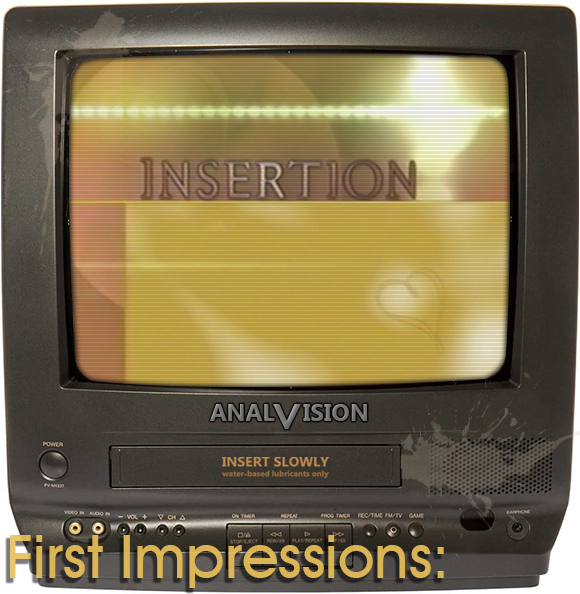 Yes! There's a whole title card just for INSERTION! And while we're talking about the graphic design, we should really take a moment to appreciate the bold decision of THE BETTER SEX GUIDE TO ANAL PLEASURE to use the color scheme of an unflushed toilet. This is, no lie, the actual line I typed in my Notes app while watching this:
"INSERTION is brown still. Good, great choice. No notes on brown. This part is definitely going to be shots of people sticking things up their ass while the inset explains how gross and life-threatening that can be."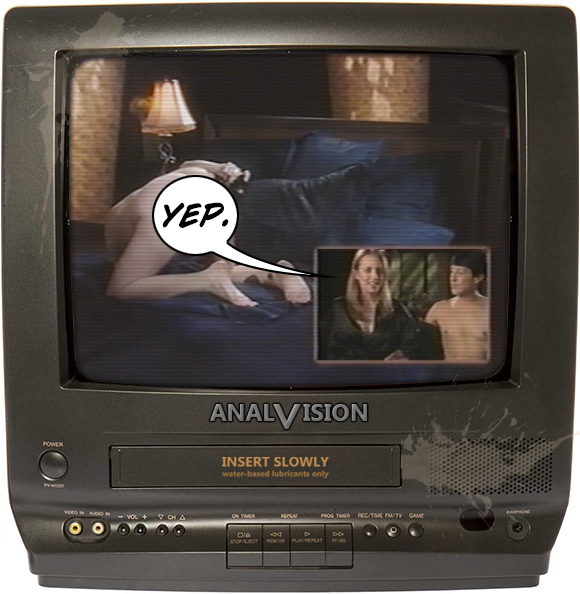 I was right. This part was unpleasant and went over a lot of ground already covered with some of the cast's less attractive sphincters. So now that we're very, very, very educated on the mechanics of purchasing items and safely navigating our colon with them, let's move on to SHARING PLEASURE.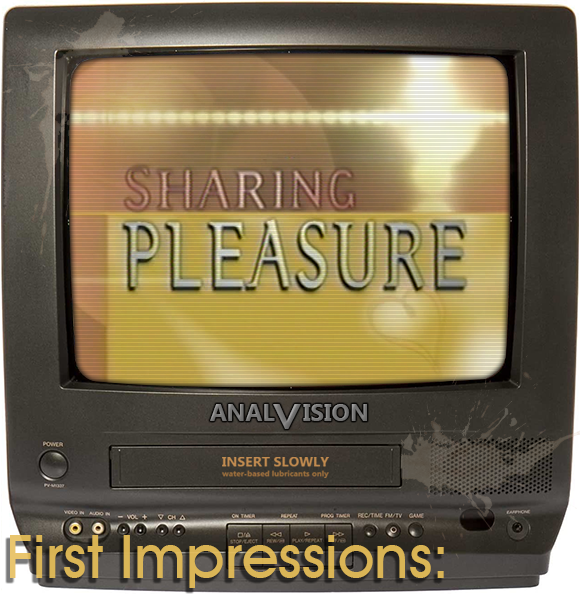 The video seems like it was edited by someone who did not want to spend a lot of time looking at amateur anal, so these chapter titles are pretty meaningless. None of the footage has lined up with the advice and we've already seen every couple go at it several different ways. Which means the announcement that we're about to SHARE PLEASURE comes as a shock– you mean, those people gazing into each other's eyes while they fisted weren't?

To be fair, Jack slightly changes his tone here from "you're going to hurt yourself trying this" to "teach that butthole to sing." Unfortunately, it seems like the director gave Billy "The Butcher Cock of Jackhammer Street" the note to add some tender communication to his lovemaking. He growls to his wife, "YOUR FINGERS FEEL SO GOOD, HONEY." I hate it. I fucking hate it so much.
Charles, the man who seems very much a passenger in his sexual adventure with Leila lays down so she can place a pinky in his ass the same way a Subway employee might put a fallen pepperoncini back in your sandwich. He explains in the inset, "With her touching me there and kissing me there, it slowly is becoming kind of an erogenous zone." He hates stuff in his ass as much as I hate Billy sweet talking through it.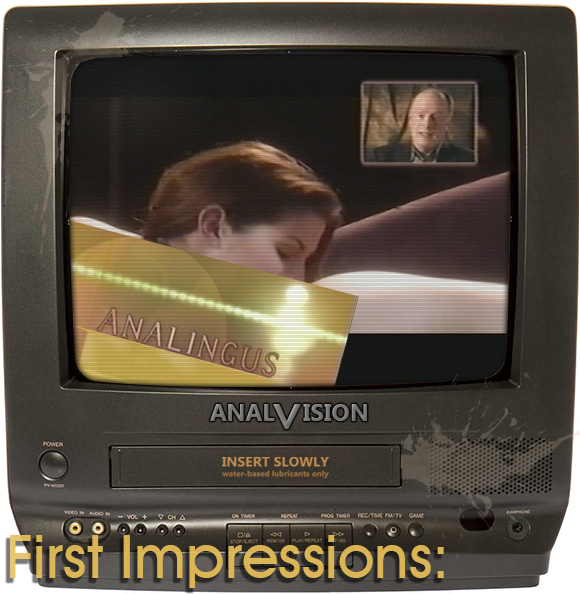 There are definitely going to be some safety precautions in the ass eating section, so I think we're done with the romance for a while.

Analingus is "popularly called rimming," which helps demonstrate the gap between academic knowledge of sucking someone's butt and practical understanding. These filmmakers are taking this raw, filthy thing done almost exclusively by people born after 9/11 and packaging it for elderly anthropologists. My point is, if I already have interest in putting ass in my mouth you don't need to give me the "street name" for it, Jack.
Anyway, now that I've written 3000 words about THE BETTER SEX GUIDE TO ANAL PLEASURE, let's move on to the final chapter.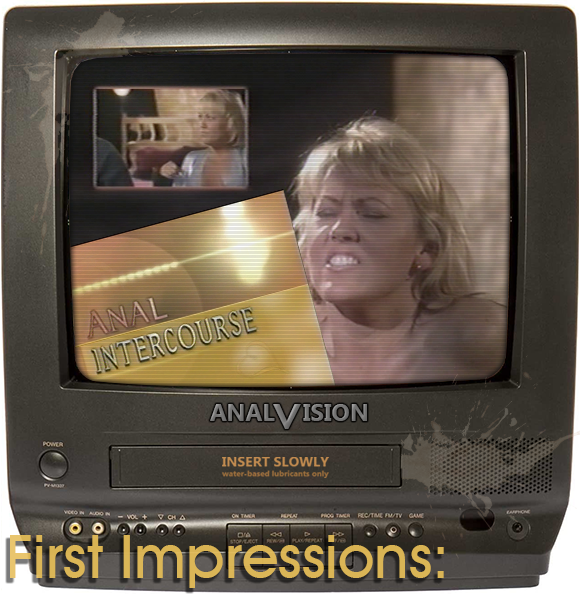 ANAL INTERCOU– hold on. We are 42 minutes in, we've watched every cast member get plowed multiple times, and we're only now starting the section on "ANAL INTERCOURSE?" At this point every viewer has a master's level education in the field of Anal Intercourse. If I was in a taxi and had to perform anal intercourse on the way to the hospital, the headline would be, "COOL PASSENGER WOWS IN ASS FUCKING EMERGENCY."

For twenty minutes, all we've learned comes together to create education magic. Each couple has graphic anal sex while an inset of them describes all the trust, cleaning, work, and communication that went into it. It's exactly porn, but the performers were probably paid less, and you never stop feeling like an alien observing human mating behavior. I learned a few things, and it's, without question, the most lavish butt plug commercial that will ever be filmed.