I have a lot of respect for people who are fans of Steve Buscemi as a concept. No particular favorite role, they like that Steve Buscemi exists, and they want to celebrate that with Steve Buscemi merch. However, Steve Buscemi doesn't sell Steve Buscemi merch for some unfathomable reason, so the world at large has taken care of it for him with mixed results.
There's some truly glorious Steve Buscemi merchandise out there that is painstakingly handmade with care, and then there are the cynical unlicensed cash grabs. Somewhere in between lies this handmade five thousand dollar…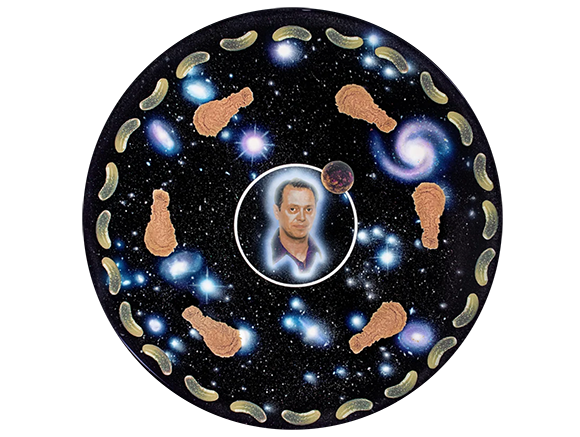 Before you're like, that's way too expensive for a single plate, let me first say the shipping for the Buscemi plate v5 is free! Also, it's one of a kind, handmade; no one else has ever considered or will ever consider making this plate ever again. The Etsy seller who made it, LocalArtGlassPDX, surprisingly sells mostly glass Christmas ornaments and, way less surprisingly, bongs.
They only have five plates total in their shop. Three of them feature realistic looking fake pigeon shit all over the plate, and the final one is also a Steve Buscemi plate! If Steve Buscemi plate v5 is too pricey for you, perhaps consider the more reasonable but less detailed Buscemi v3 at only two thousand, two hundred dollars. The existence of a version three and version five of this plate means that three people are currently displaying a four-digit priced Steve Buscemi relic in their homes.

What is this plate commemorating about Steve Buscemi? His simple existence. At least three people are so hyped about Steve Buscemi that when people come over for dinner, they break out the good dinnerware, and it's this– the actor drifting indifferently through the cosmos with chicken drumsticks. But if you'd like a more religious take on the star of Con Air and Billy Madison, maybe consider a…

Just because the glassblower who made those beautifully intricate plates didn't also make Steve Buscemi Christmas ornaments doesn't mean they don't exist. Feast your eye on this purveyor of holiday spirit: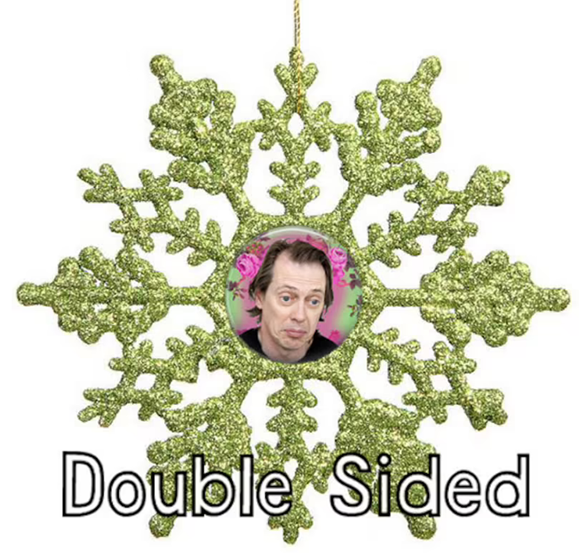 Even Steve Buscemi looks surprised and impressed to find himself on this Christmas ornament. I like Steve Buscemi better than most Christmas mascots. If I had the option to meet, in person, Frosty The Snowman or Steve Buscemi, I'm definitely going Buscemi, so I guess why not put him on my Christmas tree? He's never made anyone's holiday worse, unlike that son of a bitch, The Grinch, who keeps showing up every single year. And speaking of always being there for you, you should see…

Now you might be asking yourself,"If people like Steve Buscemi so much, are there Steve Buscemi body pillows?" Naturally, this was your first thought, right? Everyone immediately wondered and then Googled that exactly like I did; phew. Great! Because there is not only one Steve Buscemi Body Pillow, there are multiple Steve Buscemi body pillows.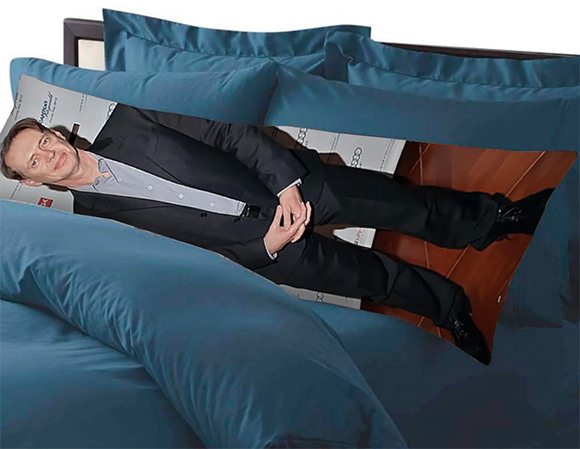 I think this is my personal favorite Buscemi body pillow because it's the Buscemiest. Other body pillows that try to do an artist rendering of Steve Buscemi make him a little too handsome, and it renders him unrecognizable.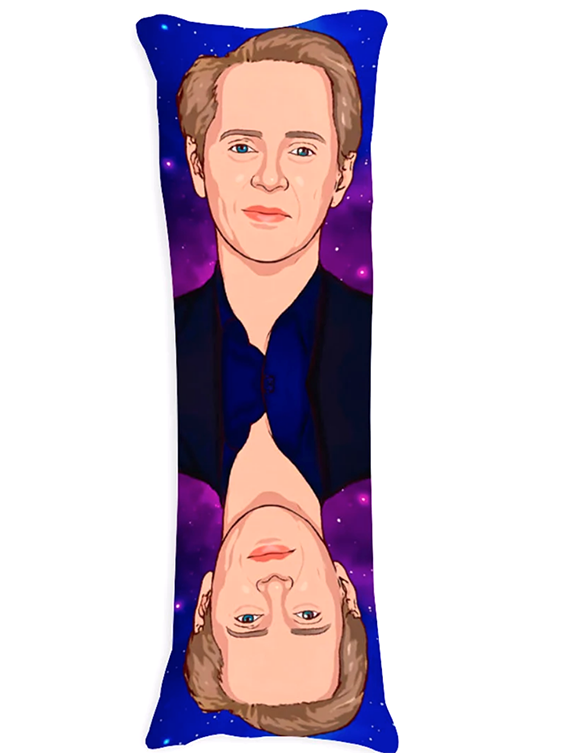 Who is this man? He's blond? Is this somehow knockoff-knockoff Steve Buscemi merch? It feels at least twice removed from what Steve Buscemi actually looks like. This looks like a police sketch of Clay Aiken on an awkward date with Kevin Spacey. The shop that sells this mostly has pillows featuring hot, buff, shirtless, actors and then they're like, "Oh, also, here's Steve Buscemi! What hold does this man have on the world?" For instance, look upon the…

This Steve Buscemi comforter is on the opposite end of the Steve Buscemi attractiveness scale. Here Steve Buscemi looks way less attractive than he really is, to the point that he's legally a goblin. Do we as a society have any actual goddamn idea what this man looks like? Is Steve Buscemi a walking Rorschach test? And, unrelated, does he kind of look like a Father who doesn't think his daughter is living up to her full potential to anyone else? I'm writing for a prestigious hot dog website, dad blanket!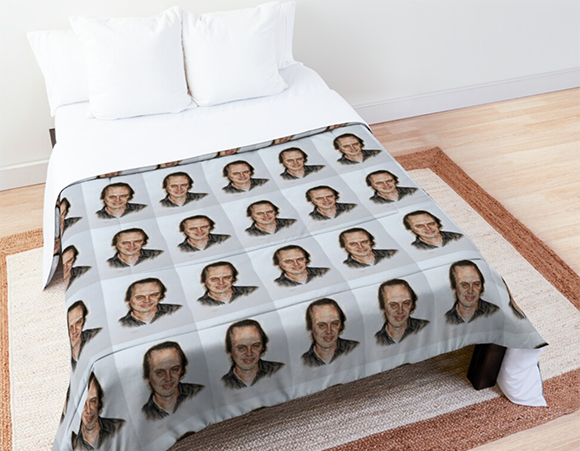 My most controversial Steve Buscemi opinion is that any single piece of Steve Buscemi merchandise alone is ok to own, but if you walk to someone's house and they have a Steve Buscemi body pillow on top of this Steve Buscemi comforter, and you don't immediately walk right back out, whatever happens next is your fault. There were signs.
The Steve Buscemi discomforter also comes in Gordon Ramsey and Danny Devito, which I get. Those are Buscemi-tier famous people. Oddly, this comforter's place in its world makes more sense to me than any other Buscemi product. Luckily, understanding something doesn't mean you have to like it. But no one could possibly not like a nice…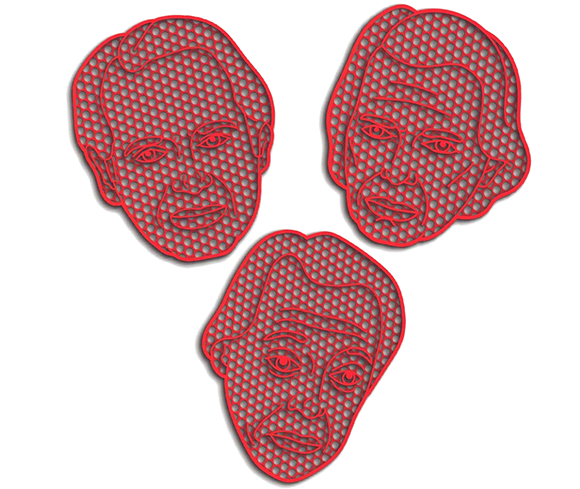 I've seen celebrity cookie cutter heads on Etsy for everyone from JoJo Siwa to Kim Jong Un, so I wasn't surprised that I found Steve Buscemi Cookie Cutters. Though I was a little surprised that they were sold out on Amazon. So many people want to eat Steve Buscemi's face!
I guess because lots of other celebrities have cookie cutters, I'm going to say this is Lawful Neutral Steve Buscemi merchandise. In America, we celebrate great acting by giving people little golden statues of a bald man and consuming their visage in pastry form. But in no country should we allow a…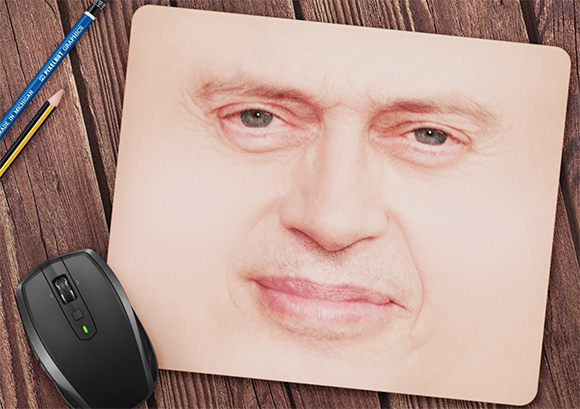 The best review for this product says. "…taking it to work with me. My coworkers will hate it!" Which makes me understand the target audience for this. They're young; they're hip; they're ok with their desk looking like Ed Gein's bachelor pad. I Googled "steve buscemi alive?" after seeing this just to make sure.
I have to say this facial expression does radiate big dick energy. That mousepad is trying to fuck you, but in a respectable way. Once again, I have to ask what the hell does Steve Buschemi look like? And am I into it or not? Do I want to go out on the town in…

We've got Buscemi dresses, scrunchies, leggings, and T-shirts. I get this unauthorized use of Steve Buscemi's image. You have to wear something to cover your no thank you bits and sinner buds, and sometimes you want to accomplish that while also reminding people of the concept of Steve Buscemi. They'll, if they're not monsters, thank you for it.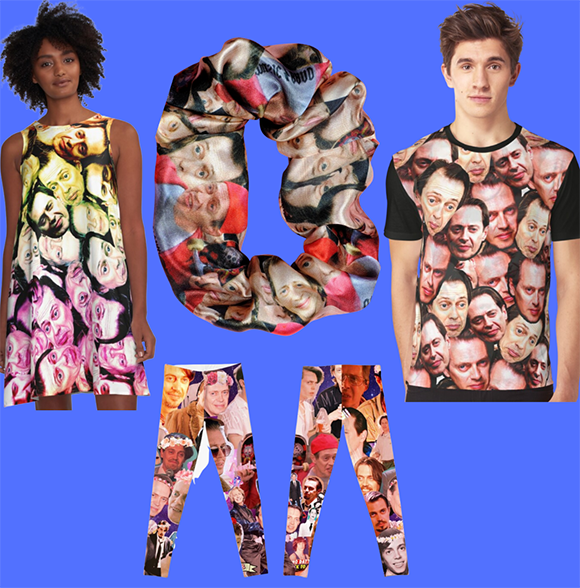 These clothes make a statement, and that statement is, Steve Buscemi, he's a guy! Remember him? He was in The Big Lebowski, I Now Pronounce You Chuck and Larry! I like him enough to put a hundred pictures of his face on my body because, why not? In fact, why not make your wedding vows on a…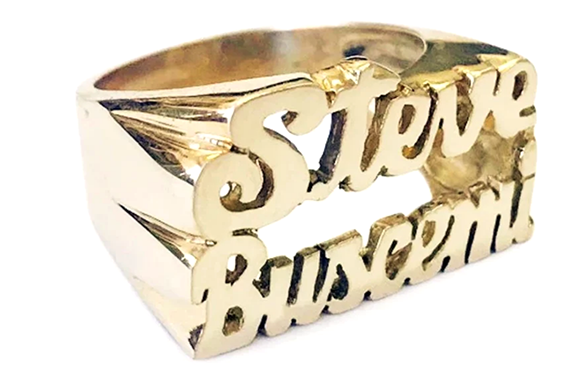 Buyers claim this ring is "Almost as perfect as Steve Buscemi himself." It's available in multiple finishes, including gold plating, for $92 dollars.
Imagine the power of fucking someone up with this ring on. Imprinting ɘvɘt5 imɘꜿ5u8 right on their forehead. People will ask your opponent if they got beat up by some kind of prototype military robot, and they'll have to shamefully reply, "No, just the wife of a man who really loves Steve Buscemi."
Let's take a quick break on our…

Another advantage of Steve Buscemi controlling his own merch line would be that he could, on occasion, pass on a product. No man dreams of having his face on a toilet seat. And yet, Steve Buscemi has lived what other men dare not even dream of.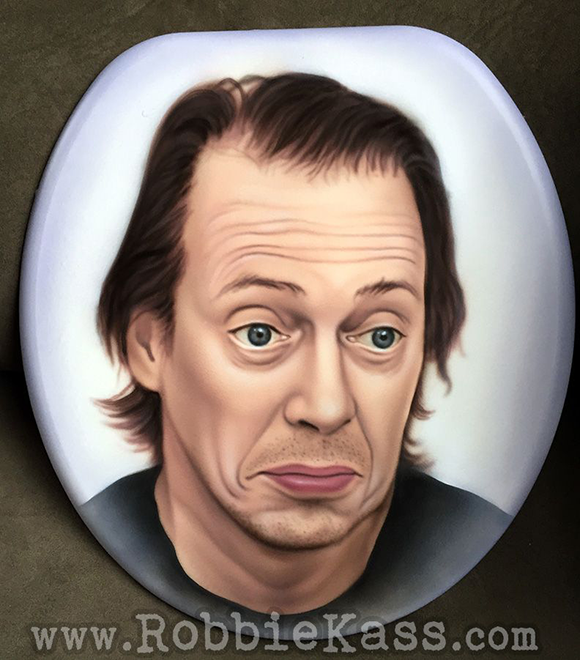 How is this the best picture of Steve Buscemi on this damn list? The most talented artist on here put his work on a toilet seat? This came from a Google image search, it's no longer for sale, and the website no longer exists, but I found proof that it was sold at some point, and several other celebrity toilet seats that were created along with it, including Barack Obama and Daniel Radcliffe. Maybe it was part of some overarching artistic statement about how celebrity is toilet?
My one critique of this artwork is that if I were going to have a celebrity on my toilet seat, I wouldn't want them to have a look on their face that said they're only mildly impressed by my quickly incoming genitalia. He should look blown away by whatever's going on down there. That would be a real self-esteem builder! This look is a little too perplexed for me. It says, "Hm, I've never seen one that looked like that before," which is the last thing you want a celebrity toilet seat to say to your crotch.
Well, when I make myself a celebrity toilet seat expression expert, it's probably time to wrap up an article. Please don't reach out to me with your description of Steve Buscemi. I'm truly afraid everyone sees a different man when they look at him, and now that I've discovered that fact, a dark cabal of Hubie Halloween fans are going to hunt me.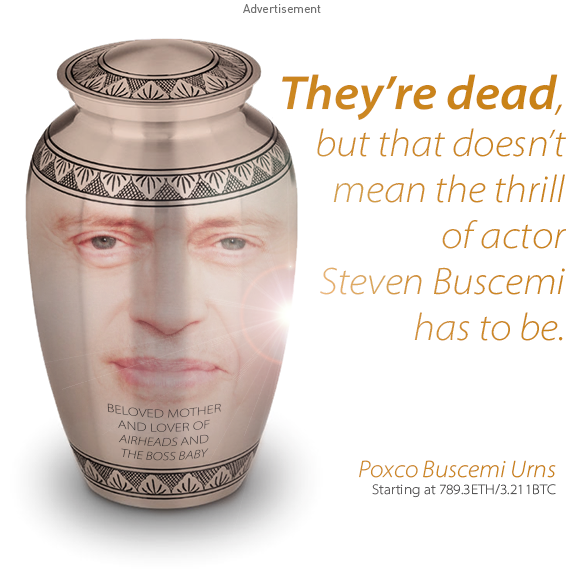 …
This article was brought to you by our fine sponsor and Hot Dog Supreme: Patrick Herbst, who is as valuable to us as an unlicensed Steve Buscemi plate. Exactly as valuable. Certainly not more.