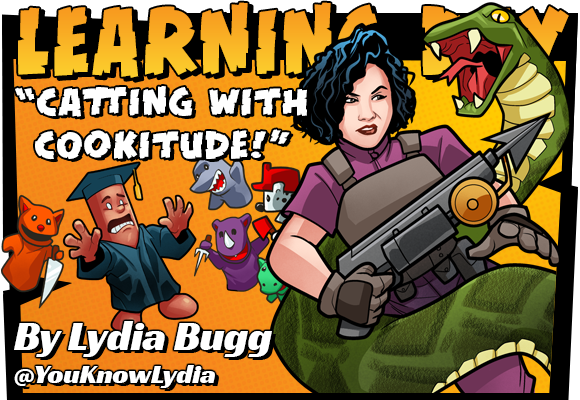 My darkest secret is that for about six months I've been working on an article about the evolution of Garfield's culinary palate and it has driven me to near madness. Six months of research on Garfield! Ronan Farrow took less time to expose Harvey Weinstein. Sure, I haven't been staying up until five AM pouring over timelines and listening to witness testimony, but I've just been spending a lot of time thinking about lasagna.
My original plan was to cook a bunch of recipes from all of Garfield's cookbooks and try them, but things shifted a little when I recently learned I have sky-high blood pressure for a woman my age. I asked my doctor if it would be ok for me to eat roughly 12 to 25 lasagnas, and he said no. Well, technically, he said, "You know how when you put Mentos into a bottle of Coke, it makes a big geyser of Coke shoot out? The lasagna is mentos, your blood is Coke, and your heart will shoot out of your body into the sky if you eat that much lasagna." Lame.
So, here is everything I learned about Garfield's culinary palate before I, like so many seekers of the holy grail before me, had to stop for health reasons. The first chilling Garfield cookbook fact I've learned is that one appears almost exactly every ten years like a witch's curse. Once a decade, a Garfield cookbook must enter the world and sew chaos in our taste buds.
Still, ten years is a long time, right? I expected to find way more Garfield cookbooks. Food is this character's whole deal, so you would think he'd have more available. The first Garfield cookbook I was promised turned out to be a children's book about Garfield and Odie trying to bake cookies in the microwave and accidentally creating sentient life in the form of a cookie blob monster. Garfield eats his nightmare child, and the story ends with a single recipe in the back for party cupcakes, which is "buy a box of fucking cupcakes." I guess when you're a cat and a dick you think this counts as a cookbook?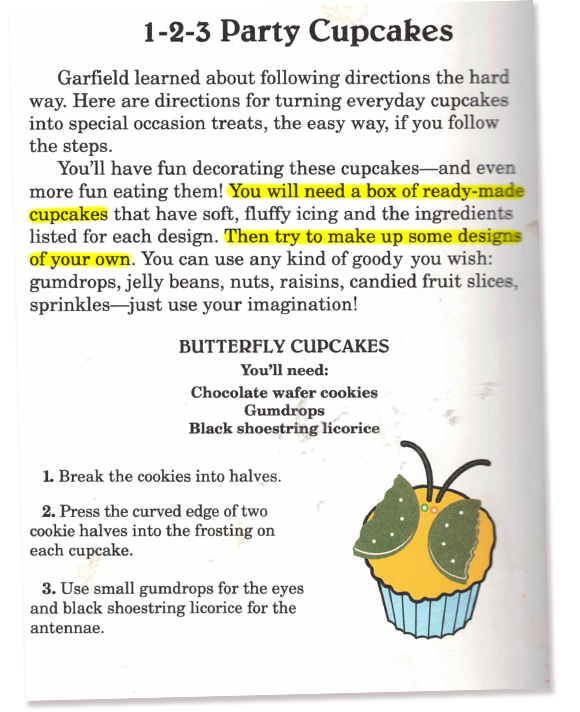 Yeah, Garfield learned about following directions the hard way. He almost fucking died. Garfield LEARNS ABOUT COOKING Any Cat Can Cook teaches children the exact opposite of the title. It should be called Garfield Learns About Cooking If You Do It Wrong, Your Food Will Come Alive And Try To Murder You, Also Why Cook You Can Just Buy Cupcakes, Dumbass. Gift this to a child if you want them to fear the act of cooking to their very core.
Thankfully it was a full eleven years (from 1992 to 2003) before another Garfield cookbook was birthed into this world, I'm going to assume by being pulled from the bowels of Tartarus by Satan himself. This is a full cookbook with a few Garfield cartoons peppered throughout to remind you that Garfield very much likes food, so you should listen to his authority on the subject. It's called I'm in the MOOD FOR FOOD: IN THE KITCHEN WITH GARFIELD.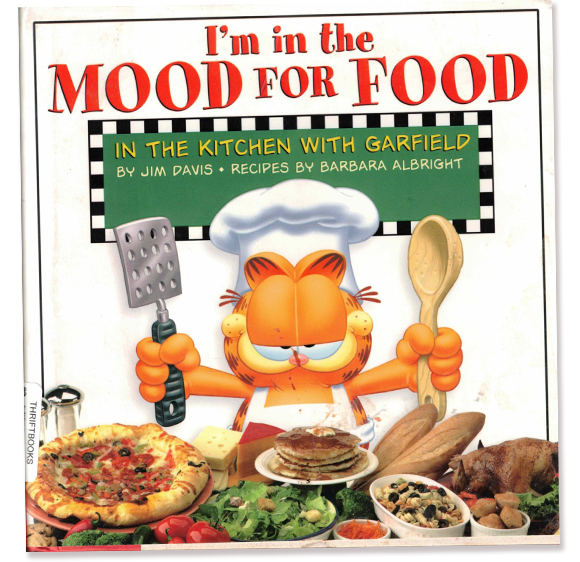 This cookbook's biggest crime is naming one of the dishes "Gonna Be A Hot Time In The Ol' Mouth Tonight Cheesy Jalapeno Poppers," and then telling you to deseed the jalapenos, which removes pretty much all of their heat and then not add a single other spicy element. Also, I wouldn't normally associate Garfield with a dish called "Beat Me. Whip Me. Make Me Eat Rosemary Scalloped Potatoes," but apparently, he's a freaky little guy. This cookbook confirms it, Garfield fucks. Garfield naughty fucks.
I cooked up the "Life In The Fast Lane Deluxe Lasagna" from this book shortly before learning it was like juggling flaming chainsaws in my internal organs. The proportion of sauce the recipe calls for vs. the amount it expects you to use was way off. I had to desperately scrape half the sauce off the first layer and remove an entire layer of noodles to accommodate the proper sauce-to-noodle ratio. I don't know what kind of Garfield vortex I was supposed to pull the rest of the sauce from, but in the end, it turned out to be a perfectly fine, if a little bland, lasagna. If you told someone you got the recipe from a cat, they'd call it "better than you made it sound."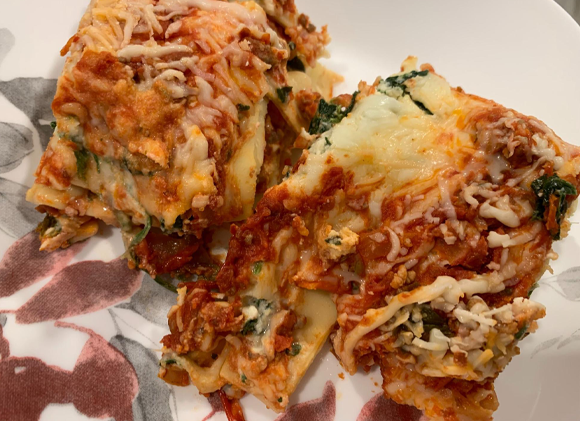 When 2013 rolled around, the curse of the Garfield cookbook struck again. America was in a great place. Barack Obama was president, Ironside was catching crooks Wednesdays on NBC, and Garfield produced his greatest cookbook to date, GARFIELD… RECIPES With Cattitude!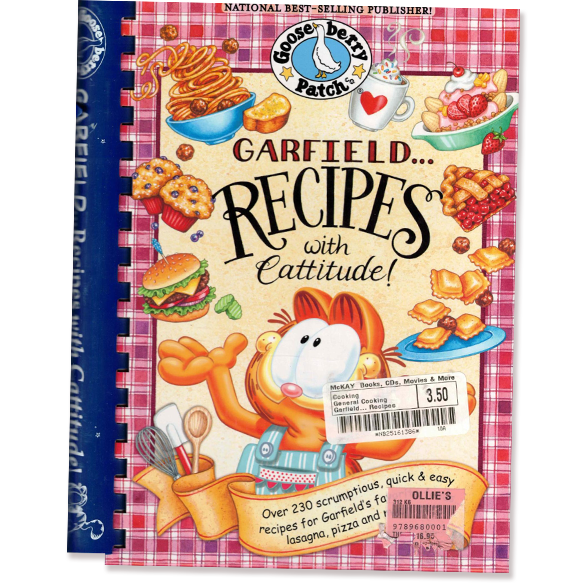 My copy of this book went through two different used book stores before it made it to me, and I have no idea why. I want to be buried with this Garfield cookbook when my terrible heart eventually goes full Mentos out of my chest because I won't stop eating the incredible food from GARFIELD… RECIPES With Cattitude!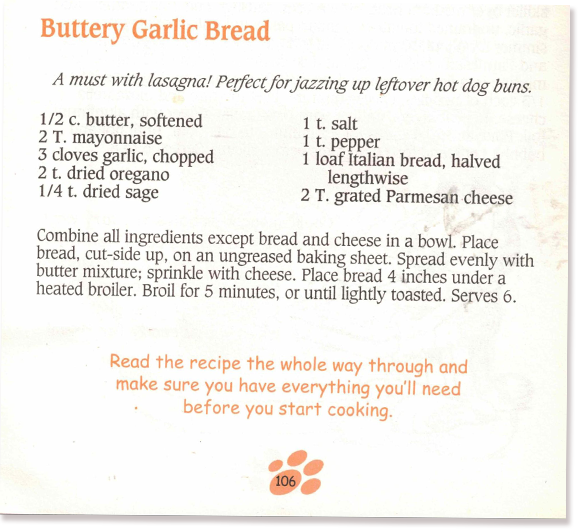 I never thought I would be so evangelical about mixing mayonnaise and butter and putting it on a leftover hotdog bun. Some people might call this recipe peak sadness food, and they would be correct, but they would also be missing the hell out.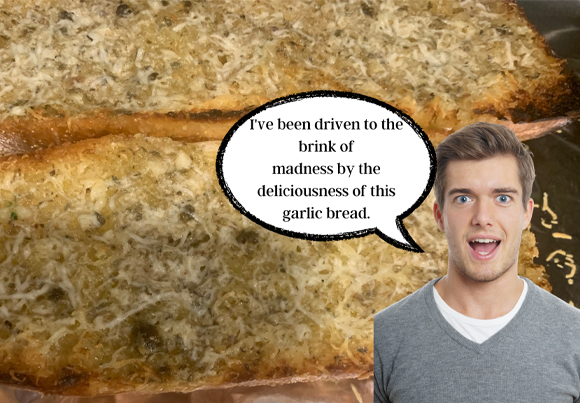 Did I burn it a little? Yes. Did it matter? Not at all. This recipe is the maximum amount of cholesterol you can legally feed someone without being charged with homicide. It tastes like winning the Nobel peace prize for fucking so good.
The maker of GARFIELD… RECIPES With Cattitude! is Gooseberry Patch, who collects recipes by getting midwestern women to send them in for no payment other than a chance to win a copy of the cookbook they helped write. Then Gooseberry Patch slaps some sort of Garfield related name on the dish, and suddenly your mother's cake recipe becomes "Garfield's BDSM Chocolate Dom Surprise." It's the kind of cookbook where every recipe has five ingredients, takes fifteen minutes to make, and tastes like french kissing a butter sculpture of Julia Child. I mean every word of that in a good way.
This is where Garfield should have quit. The fact that a Garfield cookbook comes out every ten years chills me to the bone, but not as much as the fact that one recently appeared three years early, in 2020 instead of 2023. As is tradition for all things appearing in 2020, Garfield's Guide To Lasagna, Cooking Nature's Perfect Food is the most cursed Garfield cookbook.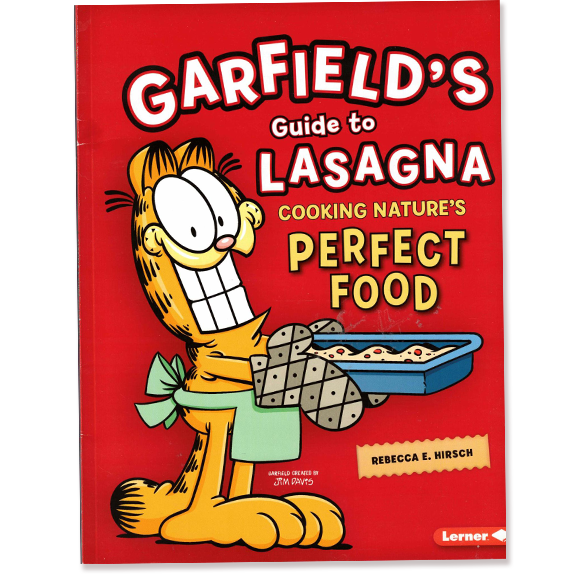 It's a cookbook full of only lasagna recipes that is far too willing to play fast and loose with what is and is not "a lasagna." According to this, any two or three things layered together make a lasagna. Layering flour tortillas, Mexican cheese, refried beans, and salsa in a casserole pan and baking it in the oven does not make a "Terrific Tex-Mex Lasagna." That's a culinary Frankenstein horribly offensive to at least three different cultures. Somewhere out there, an Italian has that recipe taped to a punching bag.
I'm sorry, but if lasagna noodles, cream cheese, ricotta, berry jam, and sliced berries qualify as a "Berry Breakfast Lasagna" then an orgy is a "Preeminent People, Latex, and Sweat Lasagna." The word "lasagna" is not a toy, Garfield!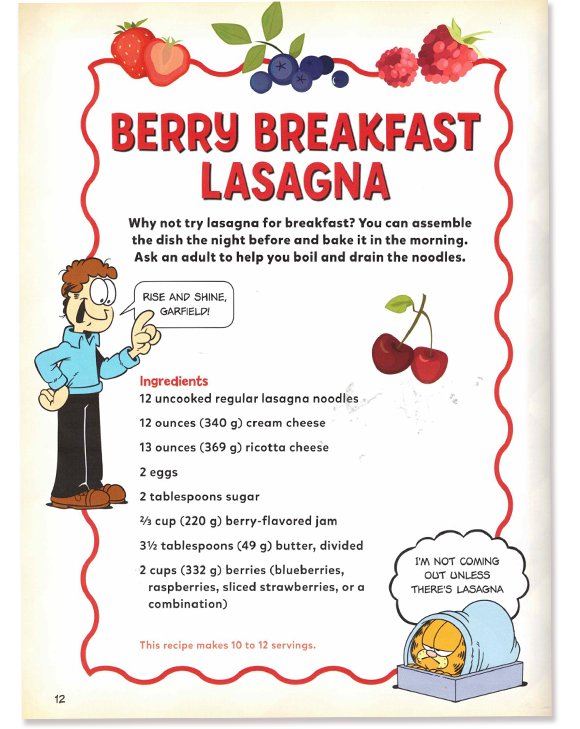 2020 was a big year for Garfield food, not only because of this horrendous cookbook. It was also the year that GarfieldEats, the world's first Garfield-themed restaurant, closed its doors. GarfieldEats served the classic fast-casual restaurant fare of pizza, lasagna, and coffee, which it called Garficcinos. It was a restaurant that begged you not to leave on the front of the building, which felt a lot like a trap.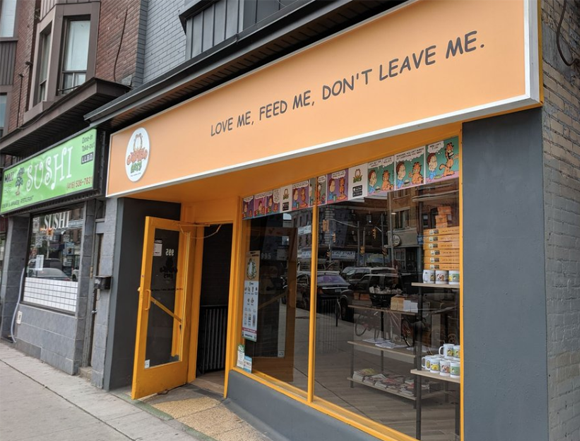 The reviews were spotty at best for GarfieldEats. The only ones left on Yelp accuse the restaurant of giving them food poisoning with undercooked Garfield-shaped pizza and complain there were no bathrooms available to customers– two problems you do not want to combine. All of the food had to be ordered through an app which apparently didn't work very well. One customer claimed they tried to cash in a 100% off coupon that was on the app and was denied because it had been uploaded in error.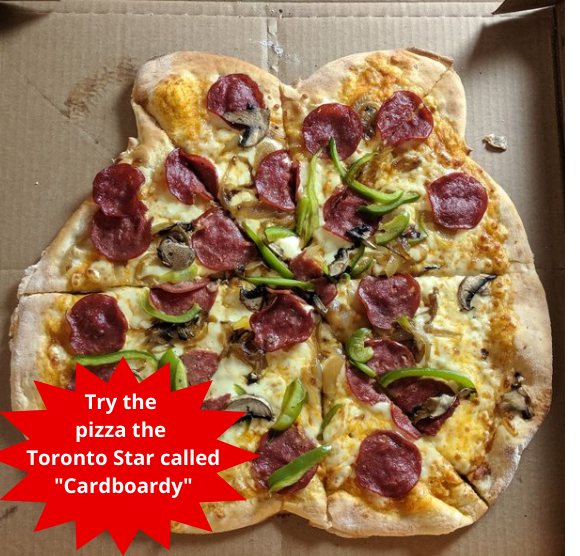 You would think that if you were going to base your entire ordering system around an app, making sure the app works would be your number one priority. However, GarfieldEats creator Nathan Mazri thinks outside the box! He was obsessed with making Garfield food the way Norman Bates is obsessed with his mother, and the results of his obsession were much the same.
Nathan Mazari had an orange suit made and spent three years branding himself as the Garfield guy. After GarfieldEats closed down, he briefly attempted to make a line of Garfield frozen foods, until eventually, on Christmas Eve 2021 Paramount, which now owns Garfield, took the license away from him.
I can't say for sure why, but Nathan tying himself so closely to the Garfield brand was probably becoming an issue. He got kind of Qanony for a bit about COVID. Then, When Chris Pratt was announced as the new voice of Garfield, he made an Instagram post that started with, "To Whom It May Concern, It should have been me," Along with this photograph: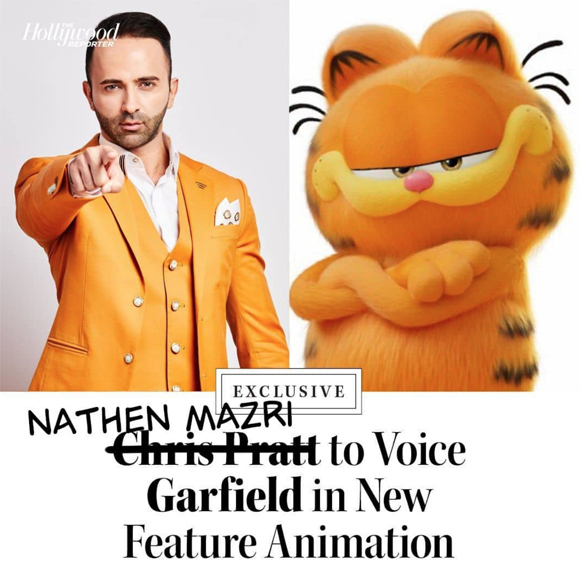 He then spun out, attempting to do a full 180 from Garfield and becoming a Scooby-Doo guy. He started wearing a purple suit and got the license necessary to convert his Garfield frozen lasagna line into a Scooby-Doo-themed frozen food line called Scooby-Doo Eats. You know, the famous lasagna loving dog, Scooby-Doo!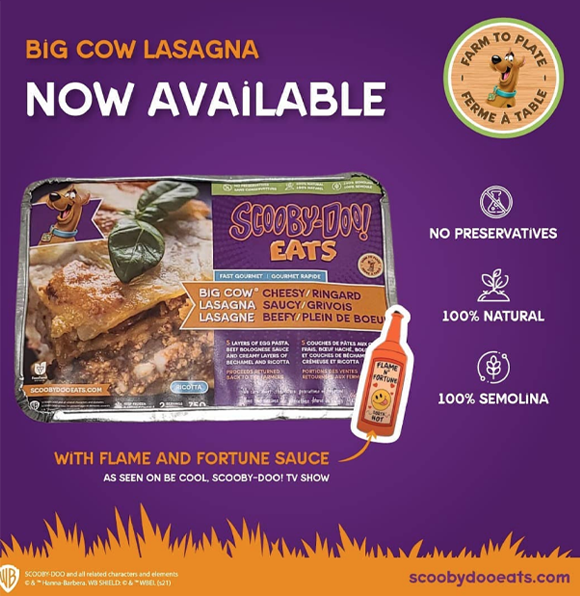 While I was collecting these nightmare Garfield cookbooks, I was also checking in on Nathan Mazri's Instagram, which means I've been slowly watching a man without a brand spiral. Who is he, who is anyone, without Garfield? The Scooby-Doo thing fell through pretty quickly, and Mazri decided his next personality relaunch would be structured around updating the brand of celibacy. I have no joke to put here that would ever be better than these photographs: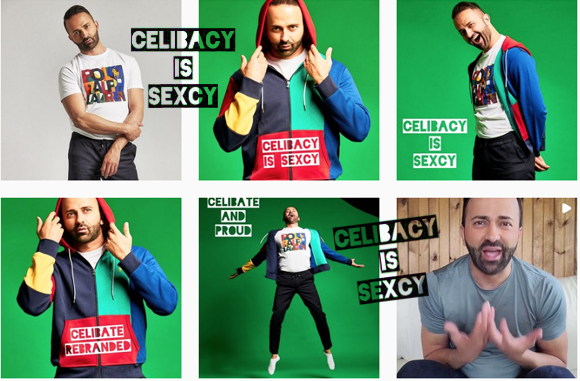 Unbelievably, Mazri then turned back to Garfield in 2022, even after shunning him for Scooby-Doo AND the act of not fucking. He tried to sell GarfieldEats NFTs even though he still didn't own the license. At one point, he attempted to sell a stylized photograph of his Garfield frozen lasagna for $70.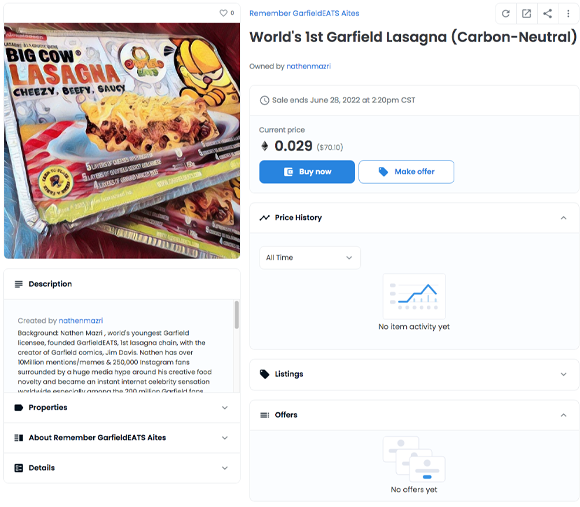 You'll probably be shocked to hear that this also did not work out, which made Nathan pull a villain turn no one could have seen coming. Nathan decided that if he couldn't have Garfield, he would become Garfield. He created his own character, a brown cat in an orange suit who loves cheese, hates boomers, and promises to "cleanse this bitch of an Earth." Garfield shattered this man.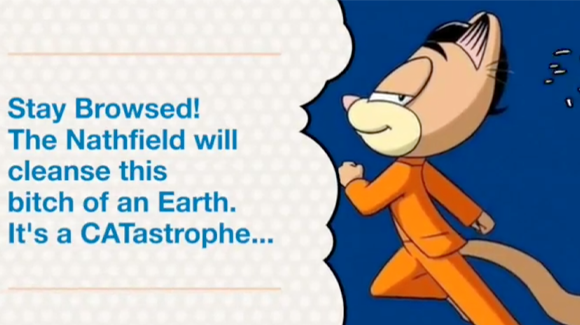 If you go to Nathfield's Instagram profile, the first thing you'll learn is that "Unlike Garfield Nathfeld is not lazy." Other than his hatred of Garfield, Nathfield's personality seems to be built around some kind of unspecified superpower that he's gained from his orange suit. There's a lot of talk on the Nathanfield Instagram page of a 2027 apocalypse that Nathfeld is trying to stop, which is either a pitch for a TV show or a legitimate attempt to start a cult around an off-brand Garfield.
So, there you have it. I set out to learn about Garfield food tie-ins, ruined my health, and ended up heavily invested in what might be a Garfield-adjacent religion. Please respect my journey. It was all totally worth it for that garlic bread.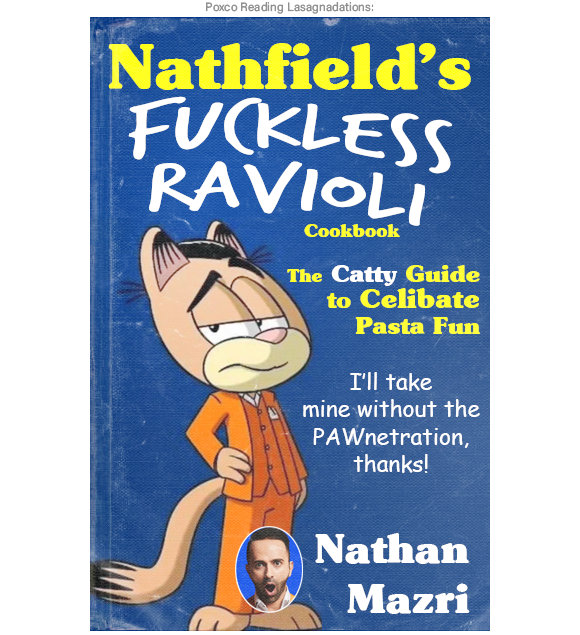 …
This article was brought to you by our fine sponsor and Hot Dog Supreme: AnAndy, inventor of Andyfield, the sassy cat who will burn the world.