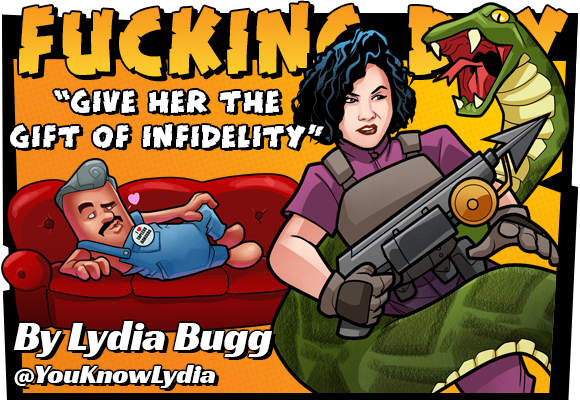 The internet is an amazing place. It has allowed us to tailor literature for underserved niche groups that could never have found what they were looking for in the pre-internet era. Finally, people who have been scouring the shelves of The New York Public Library for years seeking advice on how to bang their girlfriend's friends have an answer! These few lonely souls who are smart enough to read but dumb enough to think you have a shot at banging all of their girlfriend's friends can end their search thanks to a brave man named Guy Blaze.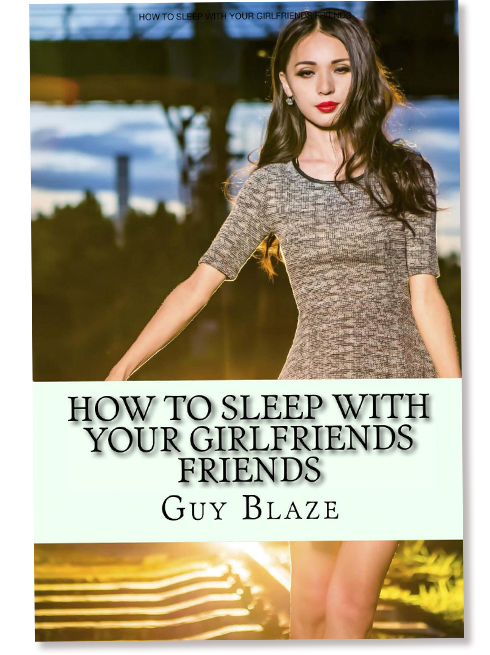 I was deeply hoping this book was a trap. I fully expected to slide this bad boy open on my Kindle and find that it was page after page of the words, "Come on, man, think about your life, think about your choices. DO BETTER," like "all work and no play makes Jack a dull boy" but as a self-help tool for assholes. Sad to report that was not the case.
The author of this book directs most of his advice toward men but to be inclusive, I'm going to assume some women might want to purchase the book too. However, in my experience, if you're a woman and you want to bang all of your girlfriend's friends, you have, and they're your friends too, and you're all on a rugby team together, because it's 2022 and the world doesn't have quite as many hangups about sex anymore.
Which makes me ask, why is this book necessary in 2022? It was written in 2016, but even then, if you wanted to fuck a bunch of people, there were like 75 apps for that. This book takes the joy of sex and makes it into a stressful, manipulative James Bond RPG. However, that's not how the author of the book describes it. According to Guy Blaze, this sleeping with your girlfriend's friends thing is a "fun community experience."

Fun for whom, Guy Blaze? Because it doesn't sound fun for anyone, even the person doing all of the friend fucking. This book recommends rules, reconnaissance, and costumes, and only some of those things are good for sex. When I think of a fun community experience, I think of a food and wine festival, maybe an outdoor movie where you can bring your dog, not a high-stress covert orgy that only some people know they're involved in.
Guy Blaze's system for community engagement is devised around a theory he calls "community dick." It uses a combination of shame and military-style disinformation tactics to ruin a group of women.

The basic theory behind community dick is that women will not reveal that you're a cheater to their friends if they are the ones you are cheating with. This makes it less likely you'll get caught cheating. Therefore, it's a good idea, and a fun experience, to bang a whole friend group, even on occasion… the ugly friends.

Yes, you may have to treat a person you don't want to have sex with like a human being. I'm sure it will be a struggle. You can try and picture them as an unfuckable, yet pleasant object, like a cactus with a tiny flower on top or a beautiful ice sculpture of the NFL logo.
You might look at a book title like How To Sleep With Your Girlfriends Friends and assume that Guy Blaze knows nothing about women, but let me tell you, that's false. Women are mysterious and unknowable creatures, but someone has taught Guy Blaze our ancient wisdom. I'm not saying he's a good guy, but this man understands what women want on a fundamental level.

Never in my life have I loved anything more than a snack. If I ever birth a human child, I would ditch it in a minute for some Twizzlers "especially when you couple that with dinner as well." Guy Blaze knows how to be a good boyfriend! And being a great boyfriend is step one in sleeping with all of your girlfriend's friends.

Weirdly, Guy Blaze understands that there aren't a lot of good guys out there, so by his estimation, women are in such high competition for the few good men they'll totally bang their boyfriend's boyfriend if he seems like a nice enough guy. Women aren't aware that nice guys typically don't have sex with all of their girlfriend's friends. It's a weird blind spot for us, like how T. Rexes can't see you if you hold still. Guy Blaze has found our one weakness! Our second if you count snacks!
This book is great at giving advice without any actual advice attached. For instance, it tells you tons of apps are available to help you hide your cheating from your girlfriend, explains all of the fantastic things they can do, and then names none of them. When I typed cheat on girlfriend into the app store, all I got was a bunch of ads for AI Girlfriends that I could potentially cheat on.

This is the same way he gives advice about sex. He says the sex with your girlfriend should be "mentionable" so that she will talk about it with her friends. I feel like you mention things for many reasons, and I'm not sure mentionable is what you want sex to be? I mention things to my friends that are surprising, disgusting, and oddly pungent all the time.
He means mentionable because it's so good, but again no details on how to make that happen, which feels like he's just using mentionable sex as a way to brag he's very good at sex with suspiciously little details. No follow up questions, just do it good. The good way! So that when she goes to her friends she'll talk about it.

Again, Guy Blaze seems to understand something about women. Yeah, there is a double standard within society about how many sex partners a woman should have vs. a man. Good job, I'm so proud of… he's using this information for what? Leverage to sleep with all of this girlfriend's friends? I see. I see. For the first time in my life, I'm a little bit in favor of book burning.
I would say that Guy Blaze is a scumbag if I hadn't read Guy Blaze's hard and fast rules on what makes someone a scumbag. Sleeping with all of your girlfriend's friends doesn't make you a scumbag. You're only a scumbag if you get one of them pregnant. You know, like how if you shoplift with your eyes closed, it's not illegal because no one saw you do a crime.

I don't think this means he actually thinks getting your girlfriend's friend pregnant makes you a scumbag, more that your girlfriend will consider you a scumbag. Her opinion should be the only thing that matters to you, which is why Guy Blaze, curator of fun community experiences, leaves you with one parting word of wisdom. You should never brag about having sex with all of your girlfriend's friends because that would be gay.

Your girlfriend (referred to hereinafter as the bitch) is the only one whose opinion should matter to you, which is why you should carefully construct a reality wherein everyone in her life who matters most to her is lying to her. Caring about anyone but the woman who you are cheating on with all of her friends is the gayest thing you can do.
Check out Guy Blaze's other books on Amazon, including How To Get A Fat Girl To Pay You, The Guy Blaze Interracial Dating Series, and How The Internet Killed Marriage. Oh, he's named Guy Blaze because everything he says makes you want to set him on fire. I get it now!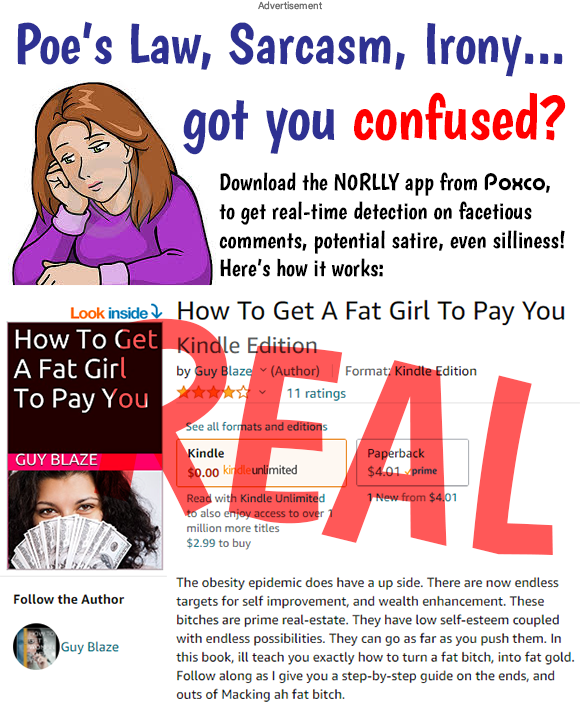 …
This article was brought to you by our fine sponsor and Hot Dog Supreme: Josh S, who always properly invoices his women, plus-size or not.