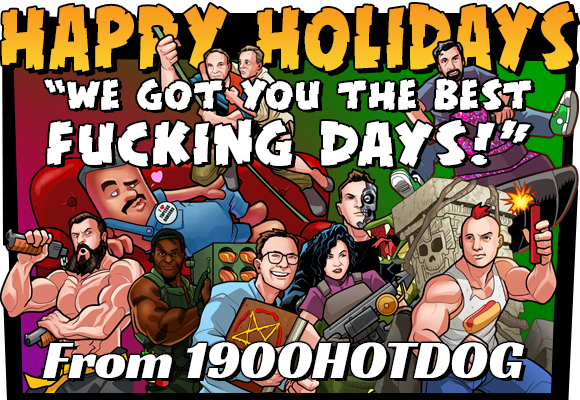 Fuck you. We mean that sincerely, it comes from the core of our sacral chakra, which is the one that controls the balls. Get fucked. That's what we hope for you in the upcoming year, and if that doesn't happen, at least you can go fuck yourself. Here's to all the good Fucking Days we've had, and the many great Fucking Days to come.
Oh we should've spelled that differently. It would've been cute.
Best of 2022 Fucking Day #1: Diebel Blog by Seanbaby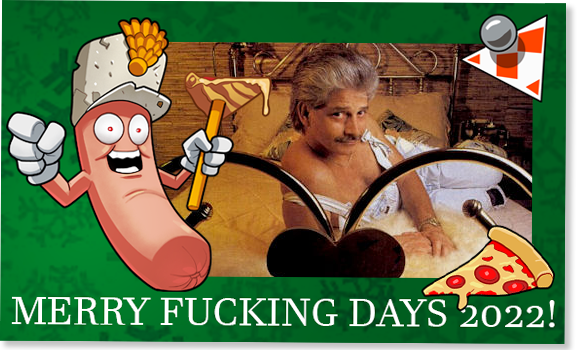 This is the article that finally made Don Diebel take legal action against Seanbaby. He issued copyright strikes and takedown notices to the 1900HOTDOG hosting service and Patreon. Our host will never give a shit, but Patreon, like every major media platform, errs on the side of pulling content at the first complaint. We explained the situation reasonably to Patreon, cited legal precedent, basic logic, and the actual letter of the law, and then hovered over the delete button, knowing what was coming next. They fucking sided with us! It's the first time that's ever happened in the history of modern IP enforcement! We'll have to word this very carefully now that we know Don Diebel is reading it, ready to take legal action: Hahahahahahahahaha-
Best of 2022 Fucking Day #2: How to Pick Up Japanese Girls by Seanbaby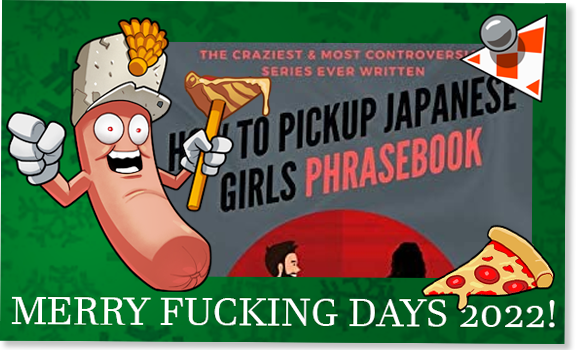 "Do NOT read or attempt to read this book if you are: a female, a boring conservative type, simple-minded, LGBT, a feminist, a non-player, a devout religious person, a weak pussy or if you suffer from any other types of bullshit sensitivity factors." Those aren't our words, that's how this Japanese phrasebook starts. That's how this Japanese phrasebook. Starts. If you bought this assuming it'd teach you to say "I think you're super neat, do you like to ride go-karts" in Japanese, what you'll actually learn are the Japanese words for "don't thank me, thank my cock!" and "I am in jail for NOT sex crimes, I have done normal crimes. Do not listen to the police."
Best of 2022 Fucking Days #3: Hunk Boat by Seanbaby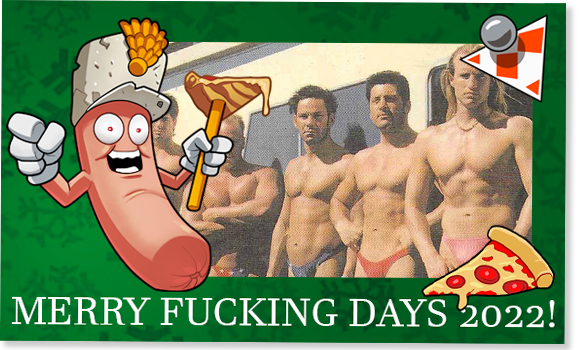 Quick, what's the best vehicle for hunks? Dune buggy? You idiot, you god damn idiot. These hunks will be quickly nude, they'd knock themselves unconscious with their huge floppy dongs on the first jump. A hang glider? That is begging, absolutely begging for raptors to attack their huge floppy dongs. Think this through. You know the answer: It's houseboat. Placid houseboat, the perfect vehicle for huge floppy dongs and tight buns to cavort. It actually might be illegal to rent a houseboat for non-cavorting purposes.
Best of 2022 Fucking Day #4: Dick Fight Island 2 Part 1 by Brockway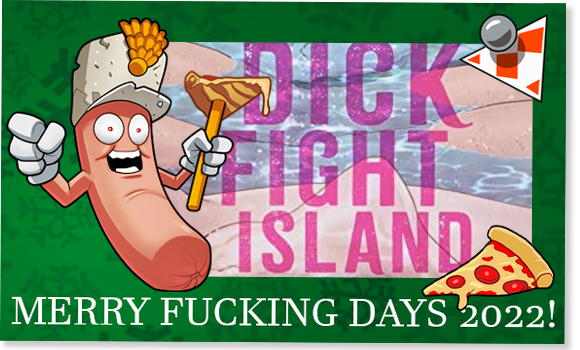 In 2021 Brockway introduced us all to Dick Fight Island. We showed up ready to laugh at the elaborate dick armor, but fell in love with the rich worldbuilding, dense characters, and the complicated but relatable ways they jacked each other off in battle. We returned in 2022 ready for more Ultimate Cockfighter and were ambushed once again by a complex weave of relationships that mostly dealt with the messy aftermath and psychological fallout of participating in a dickfighting kumite.
Is this… is Dick Fight Island art??
Best of 2022 Fucking Day #5: Dick Fight Island 2 Part 2 by Brockway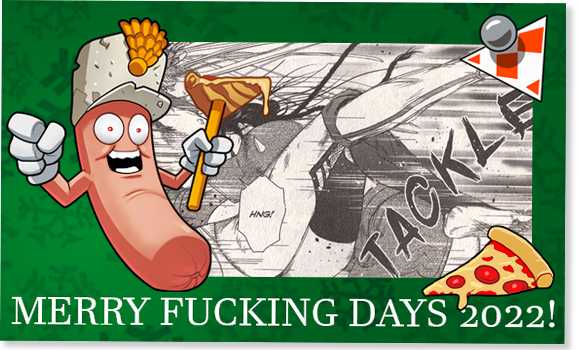 Yes, it is.